A 62-year-old man identified as Richard Floyd N. was killed after a deadly pedestrian crash on Clairemont Mesa Boulevard on Tuesday morning, September 7.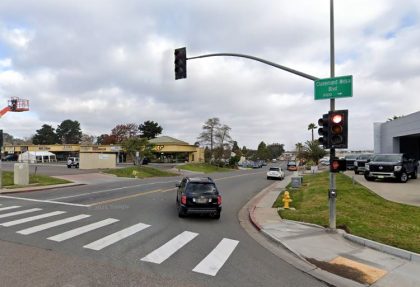 The fatal crash transpired at approximately 5:40 a.m. on Clairemont Mesa Boulevard at Mercury Street.
The elderly pedestrian was attempting to cross Clairemont Mesa Boulevard when a Subaru suddenly struck him. It's unclear why the Subaru struck the pedestrian.
The older man was immediately taken to Sharp Memorial hospital, where he later died while undergoing treatment.
Information about the accident is limited at the moment. It's unclear whether drugs or alcohol played a role in the collision.
An active investigation of the case is currently underway.

Fatal Pedestrian Accident Statistics
Accidents involving pedestrians often lead to serious injury and death. Pedestrians lack the protection drivers and motorcycle riders have in the event of a fatal accident. SHSO data estimates that 6,721 pedestrians were killed on U.S. roads in 2020, an increase of 4.8% from the 6,412 pedestrian fatalities in 2019.
Every day, hundreds of pedestrians are seriously injured or killed due to traffic accidents regardless of whether they were walking on sidewalks, crossing the intersection, in a marked crosswalk, or sharing the road's shoulder.
Children and the elderly in California are especially a risk of injury or death in a pedestrian accident. Approximately 4,000 elderly Americans were injured in the previous year, while 700 were killed across the country due to pedestrian accidents. Some common reasons for pedestrian accidents are negligent driving, speeding, and drivers failing to yield to pedestrians.
San Diego County Wrongful Death Attorney for Victims of Fatal Pedestrian Accidents
Their family's grief and sorrow may prompt them to make poor choices in their case. This is why it is recommended to hire a knowledgeable wrongful death attorney immediately after the accident. Lawyers can help families file a wrongful death claim, which lets them recover compensation for the damages they incurred due to the accident. These expenses can be in the form of lost income, funeral costs, physical and emotional suffering, and distress.
Our team from Arash Law understands the pain of losing a loved one from a fatal pedestrian accident. Our team takes every pedestrian injury and wrongful death case on a contingency basis, which means you don't have to worry about paying us until we win your settlement.
Our lines at Arash Law are always accessible. If you have any concerns or questions about your claim, you are always welcome to pay us a visit at any of our offices in Los Angeles, Sacramento, San Francisco, Riverside, Orange County, or San Diego. You can also call our hotline (888) 488-1391 for a FREE Consultation.