Two people were hurt, including a child, after a traffic collision involving a motorcycle in La Presa on Friday morning, July 9.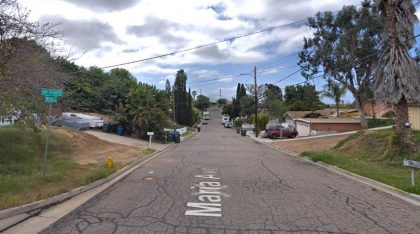 The accident happened at approximately 7:30 a.m. at the intersection of Maria Avenue and San Diego Street. A westbound Nissan Altima sedan was traveling on San Diego street while a Honda CBR motorcycle was heading northbound.
As the Nissan entered the intersection, the Honda CBR motorcycle reportedly struck the driver's side for unclear reasons. Due to the severity of the impact, the motorcyclist was ejected onto the roadway.
The motorcycle rider sustained serious injuries from the mishap. He was taken to Scripps Mercy Hospital. Meanwhile, his younger passenger sustained a laceration to the head and was taken to Lady's Children's Hospital for treatment.
Drugs and alcohol were not considered as factors in the accident. The identities of the involved parties have not been disclosed. The case is currently under investigation. Authorities will attempt to determine the factors that caused the collision and the liability.

Motorcycle Accident Statistics
Motorcyclist fatalities and injuries are increasing at an alarming rate across the United States. After all, approximately 8.7 million motorcycles were registered in the United States in 2017. Motorcycle accidents claimed the lives of 5,014 motorcyclists in the year 2019. Motorcycle riders have 16 times the risk of injury and 35 times the risk of a fatal crash than car passengers.
But there is a way to avoid sustaining fatal injuries in the event of a traffic accident. Motorcycle riders are encouraged to dress appropriately and wear a helmet every time they ride their motorcycle to prevent catastrophic injuries. Wearing helmets was estimated to be 37% effective in preventing motorcycle deaths.
Motorcyclists can also sustain damages such as emotional scarring and expensive property damage. While nothing can reverse the damage incurred in a motorcycle accident, the civil courts offer a financial remedy to injured parties.
Personal Injury Attorney for Victims of Motorcycle Accidents in San Diego County
After a motorcycle accident, you likely have a lot of pressing questions. You might have serious injuries that require immediate medical attention. You may wake up in the hospital days after the crash, dazed and confused. A motorcycle accident can be extremely stressful and overwhelming, especially if you are injured. Although it is possible to pursue a personal injury claim on your own, it is preferable to enlist the assistance of an experienced attorney to ensure that you receive the compensation that you are entitled to under the law.
No matter your circumstances, know that you can speak to an attorney regarding your injuries and property damage right away. The sooner you consult with an attorney, the better. Our motorcycle accident attorneys from Arash Law have helped thousands of people recover after accidents similar to yours. Our attorneys will assist you in filing your claim. Aside from that, they can also speak with insurance companies on your behalf. Call (888) 488-1391 for a FREE Consultation with a personal injury attorney in California.