An unidentified person was killed after a rear-end collision involving a big rig in Bonsall on Thursday morning, April 15.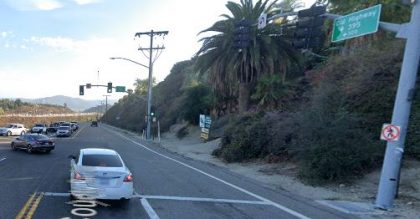 The deadly crash happened at approximately 9:05 a.m. on the southbound lanes of Interstate 15 Freeway near the exit ramp to Old Highway 395.
A 2021 Dodge Charger was initially heading south at high speed when it suddenly rear-ended a big rig.
One person was killed in the accident. The identities of the involved parties have not been disclosed.
The California Highway Patrol is currently investigating the case. Witnesses that can give more information about the accident are urged to contact the CHP's Oceanside office at (760) 643-3400.

Fatal Big Rig Rear-End Crash Accident Statistics
Rear-end accidents are some of the most common types of car accidents in the state of California. According to the California Highway Patrol (CHP), there were 118,029 drivers involved in rear-end injury car accidents and 405 drivers involved in rear-end collisions with fatalities in 2011.
A rear-end accident occurs when one vehicle collides with the car immediately in front of it. Because the leading driver cannot usually prevent the collision, a rear-end accident is often (but not always) the fault of the rear position driver. Some common reasons why rear-end accidents occur are distracted driving, tailgating, reckless driving, and driving under the influence.
'Big-rig' is the term used for the tractor-trailers and semis with which we share the road. These names are used interchangeably for huge cargo-carrying trucks. While the average car weighs in at about 4,000 pounds, a big rig can top out at 80,000 pounds. This immense size discrepancy can lead to serious, often deadly accidents. A fully loaded big rig needs as much as 20 to 40 percent more stopping distance.
Wrongful Death Attorney for Victims of Fatal Big Rig Rear-End Collisions
Suddenly losing a loved one due to a deadly rear-end accident may leave the victim's family vulnerable to manipulation and bad decisions. When facing cases like this, it's vital to have an experienced wrongful death attorney to assist the victim's family with their claim.
Attorneys can serve as a helpful legal guide for the victim's family. They can also negotiate with insurance companies on behalf of their clients. Through the wrongful death claim, the victim's family can seek compensation for the damages (such as loss of companionship and income, pain and suffering, and emotional distress) that the accident has caused them.
Whether you need a rear- truck accident attorney, a car accident lawyer, a motorcycle lawyer, or another type of injury attorney, we can help you access the compensation you deserve. Call Arash Law at (888) 488-1391 to schedule your free consultation with an experienced California auto accident lawyer.