One unidentified person was killed after a deadly hit-and-run pedestrian accident in Chula Vista on early Tuesday morning, June 1st.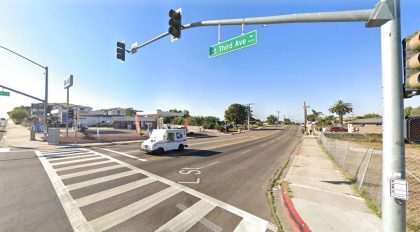 According to the initial reports from local authorities, the accident took place in the 900 block of Third Avenue at around 12:30 a.m.
A man estimated to be in his 40's-50's was hit by an unspecified vehicle on the roadway under unclear circumstances.
Emergency personnel later arrived and found the victim on the roadway. Despite the medical personnel's life-saving measures, the man could not survive his injuries and was pronounced dead at the scene.
The driver did not stop to render aid and fled the scene. Information about the suspect's identity and a description of his vehicle is unavailable at the moment.
The Chula Vista Police Department is currently handling the case. They are actively pursuing the whereabouts of the hit-and-run driver.

Fatal Hit-and-Run Accident Statistics
It is apparent in this case that the liability falls on the hit-and-run driver for leaving the victim wounded and fleeing the scene. The suspect will most likely face criminal charges once caught. Hit-and-run accidents still occur on U.S roadways every day. Every minute, at least one hit-and-run accident occurs somewhere in the U.S.
In 2016, approximately 2,049 hit-and-run fatalities were reported in the U.S. Annually, around 682,000 hit-and-run accidents occurred in the country. Pedestrians are common victims of hit-and-run accidents.
Unfortunately, around one in five pedestrian accidents are caused by hit-and-run drivers. Sixty percent of people killed in hit-and-run accidents are pedestrians. There are several reasons why hit-and-run drivers flee the scene. They might be intoxicated or impaired by drugs, face legal difficulties, be uninsured, or be illegal aliens.
Wrongful Death Attorney for Victims of Fatal Hit-and-Run Accidents in San Diego County
The sudden death of a loved one due to a fatal traffic accident can be emotionally stressful and overwhelming for the victim's family. It can be even more devastating when the suspect is nowhere to be found.
Hit and run accidents are exceedingly complicated, but being adequately compensated for the full range of your injuries is likely to mean the difference between recovering completely and not doing so.
If your loved one was killed by a driver who fled the scene of the accident, you must speak with a dedicated hit and run victim attorney as soon after the accident as possible. A claim can bring justice to the responsible party, give you family closure, and provide financial compensation for your losses.
Arash Law sympathizes deeply with those who have lost family members or spouses because of negligence. We want to help you get the most out of your wrongful death claim in California. Call our office at (888) 488-1391 today to discuss your accident with a lawyer for hit-and-run cases.