One unidentified person was hurt after a major motorcycle crash in Encinitas on Thursday morning, August 5.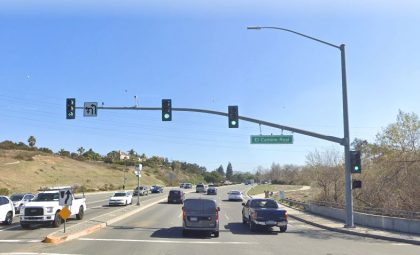 The accident occurred at approximately 8:05 a.m. at the intersection of Olivenhain Road and El Camino Real in Encinitas. An SUV and a motorcycle reportedly collided on the roadway under unclear circumstances.
How the collision occurred, and the reason it happened has not been determined. The motorcycle rider was injured in the mishap.
He was immediately taken to an area hospital to receive treatment. The SUV driver was uninjured in the mishap.  The identities of the involved parties have not been disclosed.
Local authorities are further investigating the case. They will attempt to determine the factors and the liability in the crash.

Motorcycle Accident Statistics
Motorcycle accidents often result in serious injuries and, in the worst-case scenario, death. Riders on motorcycles are especially vulnerable to collisions and can easily sustain catastrophic or fatal injuries. Motorcycle riders are undeniably among the most vulnerable drivers on the road.
According to the National Highway Traffic Safety Administration (NHTSA), motorcycle riders are 16 times more likely to be injured and 35 times more likely to be killed in a crash than car passengers, according to the National Highway Traffic Safety Administration (NHTSA). Motorcycle accidents are on the rise across the country at an alarming rate.
After all, in 2017, the country registered approximately 8.7 million motorcycles. In 2019, 5,014 motorcycle riders were killed in accidents. To avoid catastrophic injuries, motorcycle riders are advised to dress appropriately and wear a helmet whenever they ride their motorcycle. Helmet use was found to be 37 percent effective in reducing motorcycle fatalities.
San Diego County Personal Injury Attorney for Victims of Motorcycle Accidents
Motorcycle accidents frequently result in serious injuries that can be expensive to treat. You could end up in the hospital for days, dazed and confused, resulting from the accident. While awaiting the outcome of the official investigation, the victim is encouraged to file a personal injury claim with the assistance of an attorney. Victims can seek compensation for the damages (such as lost income and emotional distress) caused by the accident through a personal injury claim.
Whatever your circumstances, you have the right to consult with an attorney about your injuries and property damage as soon as possible. The earlier you seek legal counsel, the better. Time and again, studies have found that injury victims who have an attorney receive higher settlements than those who do not have a lawyer. There are many reasons why this is the case. You have the legal right to compensation for all your injuries and losses that someone else's negligence caused.
Your attorney can handle all communications with the defendant's insurance company and file a lawsuit on your behalf if the insurance company refuses to make a fair settlement offer. If you are looking for a motorcycle accident attorney, please consider calling our team at Arash Law now (888) 488-1391. We offer free consultations with no obligation to retain our firm. We also work on a contingency-fee-basis, meaning you don't pay a dime unless we win you compensation.