An unidentified person was killed after a deadly bicycle crash in Oceanside on Saturday morning, May 22.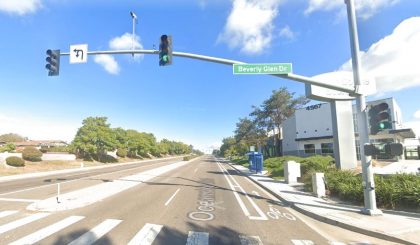 The fatal accident took place at Oceanside Boulevard and Beverly Glen Drive at approximately 1:50 a.m.
The bicyclist was reportedly traveling westbound on Oceanside Boulevard when an unspecified vehicle suddenly struck him. How the collision occurred, and the reason why it happened has not been established.
The bicyclist sustained fatal injuries from the accident and was pronounced dead at the scene. The identities of the involved parties have not been disclosed.
The driver that struck the bicyclist was arrested and is currently being investigated for "driver impairment." Witnesses that can give more information about the accident are urged to contact Collision Investigator Clint Bussey at 760-435-4412.

Fatal Bicycle Accident Statistics
California law classifies bicycles as vehicles. Therefore, bicyclists must behave as they would when driving a motor vehicle. They must obey roadway rules, including stopping at red lights and riding in the same direction as traffic.
Bicycles also have the same rights as other vehicles. They have a right to ride in the roadway when there is no bike lane. Unfortunately, motorists often disregard the rights of bicyclists and ride too closely or try to pass them when it is unsafe to do so.
According to the National Highway Traffic Safety Administration, approximately 840 cyclists were killed in motor-vehicle-related accidents in 2016, accounting for 2 percent of traffic fatalities.
Cars striking bicycles is the number one cause of bicyclist injuries and deaths in California. In many of these cases, the driver failed to yield the right of way, didn't check for bikes before pulling out, ran a stop sign or red light, or wasn't paying attention while driving.
Wrongful Death Attorney for Victims of Fatal Bicycle Accidents in San Diego County
Suddenly losing a loved one due to a deadly bicycle accident can be quite devastating and overwhelming. The victim's family may be left vulnerable and emotional after their loss, so hiring a capable Fresno County wrongful death attorney is essential.
Filing for a wrongful death claim is necessary as the victim's family will receive compensation for the damages, such as medical expenses, lost earnings, emotional trauma, and pain and suffering that the tragic accident has caused them.
Our attorneys at Arash Law can assist you with your case. We understand the grief you are going through with the sudden death of your loved one. To make it less stressful for you, we can file a claim and talk with the insurance company on your behalf.
In the event of any bicycle accident in California, speak to Arash Law about your possible options. Call (888) 488-1391 or contact us online.