An unidentified 19-year-old woman was injured after a major hit-and-run accident on South Grade Road on Wednesday morning, February 10.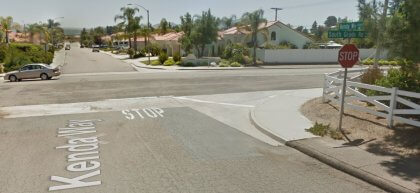 The accident took place on South Grade Road near Manzanita View Road in Alpine at approximately 11:15 a.m. The woman was reportedly walking south along the western edge of South Grade Road when an unspecified vehicle suddenly struck her.
The driver that hit the woman did not stop to render aid and fled the scene. The victim sustained serious injuries from the accident.
She was airlifted to Sharp Memorial Hospital in San Diego for treatment. Local authorities are actively pursuing the hit-and-run driver. They are currently investigating the case.
Witnesses that can provide information about the hit-and-run driver's whereabouts are urged to contact the El Cajon office (619) 401-2000.

Hit-and-Run Accident Statistics
Leaving the scene after an accident is a crime in itself. If you drive in California – or any state in the nation – you take on the tremendous responsibility of helping to keep our roads safe for everyone who travels on them.
Part of this responsibility includes adhering to the rules of the road. In California, if a driver is involved in a traffic accident, that driver must pull off the road (as safely as possible) at the scene of the accident. In such a situation, not doing so can be classified as either a misdemeanor or a felony.
Unfortunately, hit-and-run accidents occur in the U.S. every minute. Every year, approximately 682,000 hit-and-run crashes are recorded all over the country since 2006, with an average of 2,000 reported deaths annually.
Hit-and-run accidents have been increasing at an alarming rate. Since 2009, hit-and-run deaths have been steadily rising by seven percent annually. Common victims of these hit-and-run crashes are pedestrians.
Alpine County Personal Injury Claim for Victims of Hit-and-Run Accidents
Being injured by another driver in a car accident is never easy. Still, if the other motorist doesn't even bother to stop, accept responsibility, and provide aid, it makes the situation that much more difficult. Many victims of hit and run accidents don't realize that even though the at-fault driver disappears, they are still likely to be entitled to compensation for the medical expenses, lost wages, and pain and suffering incurred.
While you probably cannot imagine leaving the scene of a car accident, the simple fact is that some drivers are far less scrupulous than others. This is exactly why hit and run victim attorneys exist. Every driver must stop if they are involved in a traffic accident, and most of us wouldn't consider doing otherwise.
To receive compensation for the damages, the victims are encouraged to pursue a personal injury claim with their attorney's help.
Attorneys are capable of assisting their clients throughout the process. They can also speak with the insurance company on behalf of their client. Our lawyers at Arash Law are capable of doing just that. Call our office at (888) 488-1391 today to discuss your accident with a lawyer for hit and run cases.