One unidentified person was seriously hurt after a two-vehicle traffic collision in Pacific Beach on Sunday morning, March 7.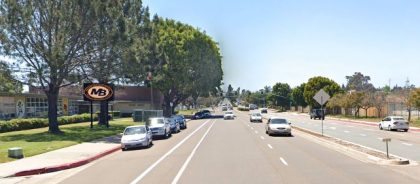 The collision occurred at around 10:08 a.m. at 2475 Grand Avenue, near Mission Bay High School in Pacific Beach. A silver sports utility vehicle and a red sedan were involved in the collision.
How the accident occurred, and the reason why it happened has not been established.
One person was trapped in the wreckage and was extricated by firefighters.
The extricated person was then rushed to Scripps Memorial Hospital La Jolla with serious injuries.
The identity of the involved parties has not been disclosed at the moment. The San Diego Police Department is further investigating the case. They will attempt to determine the factors that affected the accident and the liability.

Two-Vehicle Collision Statistics
Car accidents are one of the leading factors of injury deaths in California. According to the National Highway Traffic Safety Administration (NHTSA), over 3,304 recorded fatal car accidents in California in 2017.
These accidents are caused by various reasons, such as distracted driving, drunk driving, and driver over-fatigue.
Your damages are the losses that the negligent driver caused. There are many other losses you might suffer as a result of a car accident. Some of these (like auto repair bills) are easy to value. Others (like pain and suffering) are more difficult. Insurance companies are notorious for trying to devalue the losses that are hard to value.
Facing cases like this alone can be quite challenging. With the help of an experienced San Diego personal injury attorney, the victims won't need to deal with the stressful paperwork that comes with filing a claim.
San Diego County Personal Injury Attorney For Victims Of Two-Vehicle Collisions
While waiting for the official investigation results, the victim is encouraged to pursue a personal injury claim with his attorney's help. The victims are entitled to seek financial compensation for the medical expenses, lost earnings, emotional trauma, and pain and suffering that the accident has caused them through the personal injury claim.
Your personal injury claim starts by opening a claim with the other driver's insurance company. If you choose to do this before hiring an attorney, be careful: the insurance company will likely ask you to make a recorded statement about how the accident occurred. This can be used against you later.
If you believe you have grounds to file a claim, retain a local car accident attorney in California near you who can help you navigate car accident laws. Arash Law has decades of experience throughout California and has secured million-dollar settlements and verdicts for our clients.
Call (888) 488-1391 for a FREE Consultation with a personal injury attorney in California.