One unidentified person was killed after a deadly rear-end accident in Rancho Bernardo on early Wednesday morning, March 31st.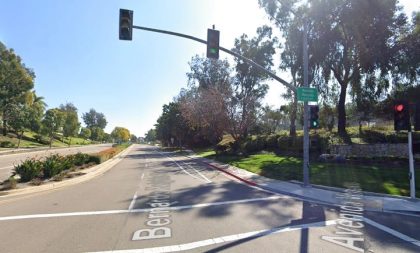 The fatal accident happened at around 12:40 a.m. near the intersection of Bernardo Heights Parkway and Avenida Venusto.
A 1990 Chevrolet Corvette driven by a 23-year-old man was heading southbound on Bernardo Heights when, for unclear reasons, the driver lost control and rear-ended a parked work truck.
The Chevrolet driver sustained serious injuries and was immediately taken to Palomar Medical Center for treatment. Unfortunately, the Chevrolet driver later succumbed to his injuries and was pronounced dead.
The California Highway Patrol is currently investigating the accident. They will attempt to determine whether drugs, alcohol or speeding were a factor in the crash.

Fatal Rear-End Collision Statistics
A rear-end accident occurs when one vehicle collides with the car immediately in front of it. Because the leading driver cannot usually prevent the collision, a rear-end accident is often (but not always) the fault of the rear position driver.
According to the California Highway Patrol (CHP), there were 118,029 drivers involved in rear-end injury car accidents and 405 drivers involved in rear-end collisions with fatalities in 2011. Some common reasons why rear-end accidents occur are distracted driving, tailgating, reckless driving, and driving under the influence.
Faulty brakes can also be a factor in rear-end accidents. In this scenario, liability will depend on why the brakes were faulty. If the driver did not properly maintain his or her vehicle, this could be negligence, and the driver would be at fault for the collision.
If the vehicle were sold with defective brakes, the accident would be the auto manufacturer's fault. So in the case of defective brakes, the victim or the victim's family could sue the auto manufacturer, the manufacturer of the brakes, or even the dealer that sold the defective vehicle.
Wrongful Death Attorney for Victims of Fatal Rear-End Collision in San Diego County
Suddenly losing a loved one due to a deadly rear-end accident may leave the victim's family vulnerable to manipulation and bad decisions.
When facing cases like this, it's vital to have an experienced wrongful death attorney to assist the victim's family with their claim. Attorneys can serve as a helpful legal guide for the victim's family. They can also negotiate with insurance companies on behalf of their clients.
The best rear-end accident lawyers in California are right here at Arash Law. Our experienced injury attorneys have over twenty years of experience. We have collected over 200 million dollars for our clients. We have helped accident victims in San Francisco, Riverside, San Jose, San Diego, Sacramento, Sherman Oaks, and California. We can help you access all sources of compensation so that your legal rights are protected.
Whether you need a rear-truck accident attorney, a car accident lawyer, a motorcycle lawyer, or another type of injury attorney, we can help you access the compensation you deserve. Call (888) 488-1391 to schedule your free consultation with an experienced California auto accident lawyer.