A 60-year-old man identified as Frank N. was killed after a hit-and-run driver struck him in Ocean Beach on Friday night, May 21st.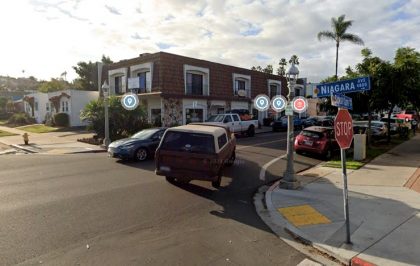 The deadly accident transpired at approximately 11:00 p.m. on the access road off the 4800 block of Niagara Avenue in Ocean Beach.
A large white vehicle reportedly struck the victim for unclear reasons. The driver did not stop to render aid and left the scene.
A civilian attempted to perform CPR on the victim before the paramedics arrived. Emergency personnel later arrived at the scene, and unfortunately, despite their life-saving efforts, the victim eventually succumbed to his injuries. The victim was pronounced dead at the scene.
Surveillance footage from the area caught an image of the hit-and-run driver's vehicle. The suspect's vehicle is believed to be an early 2000s model of a Chevrolet Suburban or a GMC Yukon with a sunroof.
Witnesses that can give more information about the suspect's identity and whereabouts are urged to call San Diego County Crime Stoppers at 888-580-8477 or contact the agency online at sdcrimestoppers.org. Anyone that can give information that may lead to the suspect's arrest is eligible for a reward of up to $1000.

Hit-and-Run Accident Statistics
Leaving the scene after an accident is a crime in itself. Unfortunately, hit-and-run accidents still occur on U.S roadways every day. Unfortunately, around one in five pedestrian accidents are caused by hit-and-run drivers. Sixty percent of people killed in hit-and-run accidents are pedestrians.
According to the Governors Highway Safety Association, pedestrian fatalities in the U.S. have increased by 27 percent from 2007-2016, while other traffic-related deaths decreased by 14 percent.
Children and the elderly are at the highest risk of suffering an injury or fatality while walking anywhere in California. Last year, 4,000 elderly Americans were injured in pedestrian accidents, resulting in more than 700 deaths across the country.
San Diego County Wrongful Death Attorney for Victims of Fatal Hit-and-Run Accidents
The sudden death of a loved one can be quite devastating for the victim's family. It may leave them vulnerable to manipulation by insurance companies and other parties; it is necessary to have an attorney by your side to fight for your rights to avoid this.
When facing cases like this, it's vital to have an experienced San Diego County wrongful death attorney specializing in fatal pedestrian hit-and-run accidents to conduct an independent investigation and assist them with getting a wrongful death claim.
The victim's family can seek compensation for the damages (such as loss of income and companionship, funeral costs, pain and suffering, and emotional distress) that the fatal accident has caused them through the wrongful death claim.
The dedicated hit-and-run attorneys at Arash Law are committed to helping you recover from the damages you've suffered. Our dedicated legal team has decades of experience fighting for the rights of accident victims just like you. We're available to help 24 hours a day and seven days a week, so please don't hesitate to call our office at (888) 488-1391 today to discuss your accident with a lawyer for hit and run cases.