One person was killed while another was injured after a head-on traffic collision in Santa Ysabel on Monday morning, January 25.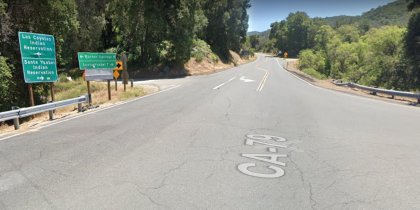 The deadly accident transpired around 9:00 a.m. on Highway 79, south of Highway 76 in Santa Ysabel. A southbound 2018 Ford T250 van veered over a set of double yellow lines and later collided head-on with an oncoming 2007 Ford F450 truck.
The reason why the Ford T250 veered off the road has not been established. The 62-year-old driver of the Ford T250 died as a result of the accident. The other driver sustained minor injuries from the accident and was rushed to Palomar Medical Center for treatment.
Drugs and alcohol were not considered as factors in the accident. Local authorities are further investigating the case.
Fatal Car Accident Statistics
Car accidents are becoming a significant issue in U.S. roadways. Millions of people are injured every year due to motor vehicle-related accidents.
Tens of thousands of drivers and passengers lose their lives each year due to crashes. According to the United States Department of Transportation's Fatality Analysis Reporting System (FARS), there were 33,654 fatal vehicle crashes in 2018, which caused 36,560 deaths.
When a car accident occurs, the victims, their families, and the entire community are often devastated. The California Office of Traffic Safety (OTS) reports that there were 3,563 car accident fatalities throughout the state in 2018 alone. Thousands of people must deal with grief and sudden loss in the wake of California's deadly accidents.
Head-on collisions commonly occur in a traffic light, stop sign, or blind intersections and on freeways. Head-on collisions mainly happen when drivers are distracted or are experiencing over-fatigue.
Wrongful Death Attorney for Victims of Fatal Head-on Collisions
If you recently lost a loved one in a motor vehicle accident, you are familiar with this. You might wonder how you will ever be able to live your everyday life again. It will take time, and there are no quick fixes, but you can learn to cope and rebuild your life. One step that many families find helpful after losing a loved one in a car accident is meeting with a compassionate fatal car accident attorney.
An experienced fatal car accident attorney can assist the victim's family filing for a wrongful death claim. Filing a wrongful death claim after a fatal car accident is vital. It can help the victim's family seek financial compensation for the medical expenses, lost earnings, emotional trauma, and pain and suffering that the accident has caused them.

The sudden unexpected death of a loved one can be quite confusing, among other things. It would help if you didn't have to be confused or overwhelmed with wrongful death laws during this emotionally difficult time. A fatal car accident attorney from our office can handle the legal issues for you. Call Arash Law today at (888) 488-1391 or contact us online to schedule your free no-obligation fatal car accident case review.