One person was killed after a deadly pedestrian accident in Scripps Ranch on Sunday evening, August 8.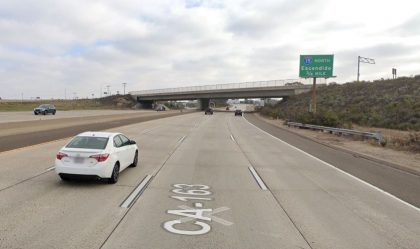 The accident occurred on the southbound lanes of State Route 163 near the transition road to Interstate 15 in Scripps Ranch at around 8:32 p.m. The man was reportedly walking next to traffic on State Route 163 when a passing vehicle suddenly struck him under unclear circumstances.
Unfortunately, the man sustained life-threatening injuries in the accident. He was pronounced dead at the scene. It is unclear whether drugs and alcohol were a factor in the crash.
The identities of the involved parties have not been disclosed. State Route 163 was closed down to give way for the cleanup and investigation. The case is currently under investigation.

Fatal Pedestrian Accident Statistics
Every day, millions of people navigate the U.S. roadways. Some people walk to reach their destination. Unfortunately, pedestrian accidents have been on the rise as the years go by. According to the Governors Highway Safety Association, pedestrian fatalities in the United States increased by 27% between 2007 and 2016, while other traffic-related deaths decreased by 14%.
In the year 2016 alone, there were 5900 pedestrian deaths in the country. Meanwhile, California is considered a hot spot for pedestrian accidents. California is one of the most dangerous states for pedestrians.
The golden state's fatality rate is 25% higher than the national average. In 2018 alone, 893 pedestrians were killed while 14,000 were injured on California roadways. Pedestrian accidents frequently result in serious injury or even death. Unlike passengers in private vehicles and motorcycle riders, pedestrians are not protected from fatal accidents.
San Diego County Wrongful Death Attorney for Victims of Fatal Pedestrian Accidents
Often, pedestrian accidents result in serious injuries that may require life-long treatment and medication. Unfortunately, this is not the case for everyone as there are victims who cannot survive their injuries.
The victim's family is entitled to pursue a wrongful death claim after the sudden death of their loved one. With the wrongful death claim, the victims can seek financial compensation for damages like loss of income, funeral expenses, pain and suffering, and emotional distress.
Arash Law is one of the most widely-known and thriving California injury law firms with a legal team of over 50, who collectively give unparalleled customer service and results. Our firm's sought-after trial attorneys have won multimillion-dollar verdicts and settlements in catastrophic injury & wrongful death cases. Call our office at (888) 488-1391 today to speak with a pedestrian accident lawyer about your accident.