An unidentified man was killed due to a fatal hit-and-run pedestrian accident in San Diego on Tuesday morning, December 15.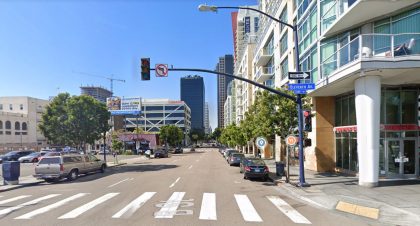 According to the local authorities' initial reports, the accident occurred at around 9:05 a.m. at B Street and 11th Avenue.
The pedestrian was attempting to cross the street when a tractor-trailer struck him at the intersection. One of the truck's back tires rolled over the pedestrian while he was lying on the ground.
The pedestrian was airlifted to an area hospital due to the severity of his injuries.
The driver of the tractor-trailer did not stop to render aid and fled the scene. Information about the suspect's appearance and the vehicle has not been released.
Hit-and-Run Pedestrian Accident Investigation is Underway
The California Highway Police is currently investigating the fatal crash. They are attempting to search the whereabouts of the hit-and-run driver.
It is apparent in this case that the liability falls on the hit-and-run driver for leaving the victim wounded and fleeing the scene. The suspect will most likely face criminal charges once caught.
Unfortunately, around one in five pedestrian accidents are caused by hit-and-run drivers. Sixty percent of people killed in hit-and-run accidents are pedestrians. Common reasons why hit-and-run drivers flee the scene are intoxication, driving without a license, and fear of getting arrested if they remain.
When facing cases like this, it's essential to have an experienced San Diego County personal injury attorney specializing in hit-and-run accidents to conduct an independent investigation. During the investigation, attorneys need to consider and thoroughly examine all the possible contributing factors of a hit-and-run accident, such as road conditions, signage visibility, and road lighting.
San Diego County Personal Injury Attorney for Victims of Hit-and-Run Accidents
It can be quite challenging to deal with injuries caused by hit-and-run accidents as it can disrupt all aspects of life, such as family, work, and finances.
Pending the official investigation results, the victims are entitled to pursue a personal injury claim with their attorney's assistance. The victims can demand financial compensation for their medical expenses, lost earnings, emotional trauma, and pain and suffering through the personal injury claim.

If you have a nagging suspicion that someone is to blame for your spouse or family member's death or injury, contact Arash Law. We have the resources you need to pursue justice for wrongful death and the experience to ensure fair compensation. We're conveniently located throughout California, with offices in Los Angeles, Sacramento, San Francisco, Riverside, Orange County, and San Diego, and are happy to visit you. Call (888) 488-1391 for a FREE Consultation with a personal injury attorney in California.