Three people were injured, including two U.S. Customs and Border Protection officers, after a two-vehicle crash in Otay Mesa on Wednesday afternoon, May 26.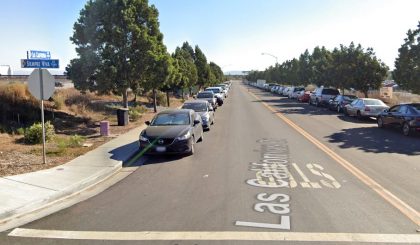 The collision transpired at approximately 4:20 p.m. in the area of Siempre Viva Road at Las Californias Drive in Otay Mesa.
A pickup and an SUV were involved in the collision. How the collision occurred was unclear, but one of the vehicles T-boned the other.
Three people, including two CBP on-duty officers, were injured from the crash. All of the injured parties were taken to an area hospital for treatment.
Additional information about the accident is unavailable at the moment. Local authorities are further investigating the cause of the accident. It's unclear what caused the crash.

Two-Vehicle Collision Statistics
Every sixty seconds, a car accident occurs in the U.S. According to the National Highway Traffic Safety Administration (NHTSA), over 3,304 recorded fatal car accidents in California in 2017.
There are many different types of car accidents that lead to injuries in California. T-bone accidents happen when a car is hit on the side by the front or rear of another motor vehicle. As a broadside collision, these accidents often cause severe injuries for each car involved.
Be very careful any time you are merging onto a highway. Allow plenty of space between yourself and other cars, and never try to force your way in. If other drivers do not allow you into the merging lane, simply wait patiently with your turn signal until there is an opening.
Negligence, recklessness, and breaking the law are at the heart of most "accidents." Attention to the road, competence behind the wheel, and proper vehicle maintenance can reduce the odds of getting into a collision.
Personal Injury Attorney for Victims of Two-Vehicle Collisions in San Diego County
If you've suffered injuries in a car crash, you need legal advice from experienced California accident lawyers. The other driver's insurance company is not on your side. Their job is to pay you as little as possible.
Insurance companies tend to pressure their victims to settle for a quick payout even though the case is worth more. They would attempt to limit the compensation and disregard the long-term consequences and suffering that a victim might experience.
The experienced car accident lawyers at Arash Law are here to help. We help victims of all types of auto accidents protect their legal rights and file successful injury claims. We will fight hard to protect your legal rights and find all potential sources of compensation for your losses.
We have collected over 200 million dollars for clients across the state, and we will fight hard to get you the compensation you deserve, too. Call (888) 488-1391 or contact us online to schedule your free consultation. Let us handle the insurance paperwork and claims process so that you can focus on making the best recovery possible from your injuries.