Two people were hurt after a multi-vehicle collision involving a semi-truck in Mission Valley on Tuesday afternoon, May 25.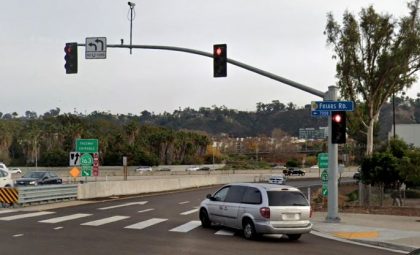 The accident happened around noontime on the State Route 163 off-ramp to Friars Road in Mission Valley.
Five vehicles, including a big rig, were reportedly involved in the collision. How the accident occurred, and the reason why it happened have not been established.
The semi-truck spilled approximately 50 gallons of fuel after the crash. The agency's Hazardous Materials team was called to clean up the spill.
Two people were seriously injured as a result of the collision. They were taken to Scripps Mercy Hospital for treatment. Local authorities are further investigating the accident.

Big Rig Collision Statistics
All drivers, especially truck drivers, are advised to maintain a safe distance when traveling behind another vehicle. Driving too close to another car can increase the risk of accidents as the driver's reaction time would be too limited. Unfortunately, one out of three commercial truck drivers is reported to have mild to severe sleep apnea, affecting their attentiveness and performance.
According to the U.S. Department of Transportation data, almost 4,000 people were killed in tractor-trailer accidents in the U.S. back in 2015. The number of semi-truck accident fatalities from 2009-2015 rose to a whopping 22 percent. Eleven percent of all traffic fatalities also involved a tractor-trailer back in 2015.
Tractor-trailer crashes are usually caused by loss of control of the truck, a tire blowout, a disabling or non-disabling vehicle failure, excessive speed, lane drifting, improper truck maneuvering, and driver fatigue.
San Diego County Personal Injury Attorney for Victims of Big Rig Collisions
Dealing with a severe injury after an accident can be quite stressful as it can affect almost all aspects of life, such as family, work, and finances. While waiting for the official investigation results, the victim is entitled to pursue a personal injury lawsuit with the help of their attorney. Through the personal injury claim, victims can demand compensation for medical expenses, lost earnings, and future loss of profits or medical care.
Arash Law is a semi-truck accident law firm in California, and we have been helping victims of truck accidents like you for several decades. The dedicated legal team at Arash Law in California has the experience, knowledge, and commitment to guide your claim toward its most beneficial outcome skillfully. Our semi-truck accident firm is committed to helping you obtain the compensation you deserve!
Call (888) 488-1391 for a FREE Consultation with a wrongful death attorney in California.