An unidentified 61-year-old woman was seriously hurt after a car crash in Mira Mesa on Thursday morning, October 28.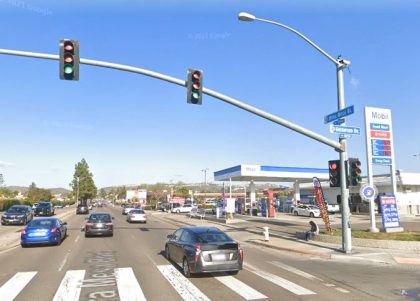 The crash happened at approximately 10:00 a.m. at the intersection of Mira Mesa Boulevard and Greenford Drive.
A Subaru Impreza driven by a 17-year-old teen was traveling westbound on Mira Mesa Boulevard when it attempted to turn onto Greenford Drive, where an eastbound Audi A4 sedan struck it.
The older woman who was a passenger in the Subaru sustained significant injuries in the crash. She was taken to an area hospital for treatment.
Information about the accident is limited at the moment. The identities of the involved parties have not been disclosed.
Local authorities are currently investigating the cause of the collision.

Car Crash Statistics
Every sixty seconds, a car accident occurs somewhere in the United States. It's not surprising, given that millions of vehicles pass through U.S. highways every day. Every year, at least four million people are injured in traffic accidents across the country.
According to the Fatality Analysis Reporting System (FARS) of the United States Department of Transportation, 33,654 fatal vehicle crashes in 2018 resulted in 36,560 deaths. A T-Bone accident occurred in this case. According to the National Transportation Highway Safety Administration, T-bone collisions kill approximately 8,000 people in the United States each year.
Crash research and accident data analysis have revealed that T-bone accidents account for 13% of all automobile accidents in the United States. Furthermore, T-bone accidents account for 18% of all fatal vehicle accidents. Most "accidents" are the result of carelessness, recklessness, or breaking the law. Accidents can be avoided by paying attention to the road, being competent behind the wheel, and maintaining your vehicle correctly.
Car Accident Attorney for Victims in San Diego County
Due to the nature of the collision, liability may be evident in many cases, and the other motorist is clearly at fault. In many cases, the at-fault driver will claim that they had the right of way or had the signal and that the other driver was at fault.
Side-impact collision injuries can be severe, and T-Bone accident victims are frequently left with long-term pain and suffering, significant medical expenses, lost income, and other financial damages. As a result, seeking the advice and counsel of an experienced side-collision accident lawyer in San Diego County is critical.
We at Arash Law have a long history of providing our accident injury clients with aggressive legal representation. Our knowledgeable San Diego car accident attorneys have years of experience handling a wide range of accident claims. Allow us to handle your paperwork and protect your legal rights so you can concentrate on your recovery. Call (888) 488-1391 for a Free Consultation with a San Diego car accident attorney.