A 20-year-old man identified as Christopher L. was killed due to a multi-vehicle traffic collision on Bay Bridge on Sunday evening, January 17.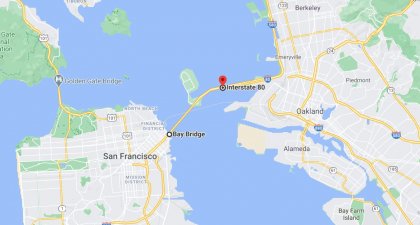 The accident transpired at around 5:00 p.m. in the eastbound lanes of Interstate 80 at the Bay Bridge. Several dirt-bikes and all-terrain vehicles collided on the roadway. Approximately 15 dirt bikes were reportedly involved.
The riders were initially attempting to exit from Sterling Street and Fourth off-ramps when they re-entered the wrong side of the bridge on the Fremont Street on-ramp. They then continued to travel east on the westbound lanes of Bay Bridge's upper deck.
Lee, a part of the dirt bike riders group, reportedly crashed his bike near the Treasure Island ramp. A fellow biker then picked up Lee. The biker drove away from the scene as authorities attempted to pursue them.
The rider then crashed into the center median, causing Lee to be ejected from the dirt bike. He landed on the roadway, where he was unfortunately struck by a passing pickup truck. Lee sustained life-threatening injuries from the accident. He was then pronounced dead at the scene.
Police apprehended the rider that attempted to escape the scene with Lee. His injuries were treated, and authorities later arrested him.
Fatal Multi-Vehicle Collision Investigation is Underway
Multi-vehicle collisions usually involve three or more vehicles. A "chain-reaction commonly causes this type of accident," wherein one car will bump into another, which will cause the other vehicle to potentially crash into another one.
Multi-vehicle collisions are very complex and can be complicated to deal with, as there are several drivers involved and multiple angles to take into account. It can be quite challenging to pinpoint liability during a multi-vehicle collision investigation. Fortunately, Arash Law specializes in fatal car accidents resulting in death.
Fatal roadway accidents are grave tragedies that impact the lives of so many people involved. Although a wrongful death lawsuit cannot reverse your loss, it is a small step toward holding negligent people accountable.
San Francisco Wrongful Death Attorney for Victims of Fatal Multi-Vehicle Collisions
Families may have to make sacrifices to pay for these costly yet necessary health care treatments. If you or a loved one has been involved in a fatal car accident, contact us today. Our car accident lawyer in California may be able to recover compensation for your injuries, medical costs, loss of wages, pain and suffering, and other road traffic accident-related expenses.
Dealing with the sudden death of a loved one can be overwhelming for the victim's family. It may leave them vulnerable to manipulation by the opposing party and insurance companies.
While waiting for the official investigation results, the victim's family is entitled to pursue a wrongful death claim with their attorney's assistance. Through the wrongful death claim, the victim's family can seek compensation for the damages such as funeral expenses, loss of companionship and income, emotional distress, and pain and suffering that the accident has caused them.

If you believe you have grounds to file a claim, retain a local car accident attorney in California near you who can help you navigate car accident laws. Arash Law has decades of experience throughout California and has secured million-dollar settlements and verdicts for our clients. Our car accident team can investigate your crash, identify the potential defendant(s), and file your claim with the civil court system as quickly as possible. Don't delay – you're just a phone call away from learning your legal options. Call (888) 488-1391 or get in touch online to schedule a free case evaluation.