The two women that were killed after a deadly hit-and-run crash on Second Street on New Year's Eve have been identified.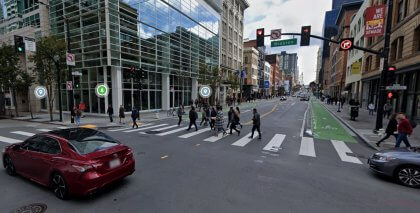 The tragic accident transpired on December 31, 2020, at approximately 4:00 p.m. on Second and Mission streets. The victims were reportedly attempting to cross the intersection when a stolen gray Honda suddenly struck them. The Honda driver did not stop to render aid and fled the scene on foot.
The Honda driver was later identified as Troy M. He initially ran a red light and T-boned another vehicle, which caused him to lose control before spinning into the intersection where the two victims were walking.
The two women sustained fatal injuries from the crash. They were later identified as 60-year-old Elizabeth P.  and 27-year-old Hanako A. They were sadly pronounced dead on New Year's Eve.
The suspect was proven to be driving while under the influence at the time of the accident. He had been previously arrested multiple times on car theft charges, possession of burglary tools, and violating his parole terms.
After local authorities located the suspect, he was later arrested on suspicion of DUI, hit-and-run, and vehicular manslaughter.
Fatal DUI Hit-and-Run Accident Investigation is Underway
Local authorities are further investigating the case. Witnesses that can give more information about the accident are urged to contact the SFPD at 415-575-4444 or text a tip to TIP411, starting the message with "SFPD."
Leaving the scene after an accident is a crime in itself. Unfortunately, hit-and-run accidents occur in the U.S. every minute. Every year, approximately 682,000 hit-and-run crashes are recorded all over the country since 2006, with an average of 2,000 reported deaths annually.
Hit-and-run accidents have been increasing at an alarming rate. Since 2009, hit-and-run deaths have been steadily rising by seven percent annually. Common victims of these hit-and-run crashes are pedestrians.
Common reasons why hit-and-run drivers flee the scene are intoxication, driving without a license, and fear of getting arrested if they remain.
San Francisco Wrongful Death Attorney for Victims of Fatal DUI Hit-and-Run Accidents
Dealing with a loved one's sudden death due to a deadly hit-and-run crash can be quite overwhelming and often stressful for the victim's family. While waiting for the official investigation results, the victim's family is encouraged to file a wrongful death claim with the assistance of their attorney.
Filing a wrongful death claim will allow them to receive compensation for the damages (such as loss of income and companionship, pain and suffering, funeral expenses, and emotional distress) that the accident has caused them.

If you have a nagging suspicion that someone is to blame for your spouse or family member's death, contact Arash Law. We have the resources you need to pursue justice for wrongful death and the experience to ensure fair compensation. We're conveniently located throughout California, with offices in Los Angeles, Sacramento, San Francisco, Riverside, Orange County, and San Diego, and are happy to visit you. Call (888) 488-1391 for a FREE Consultation with a wrongful death attorney in California.