One unidentified female pedestrian was killed after getting struck by a BART train at Powell Street Station on Monday afternoon, September 13.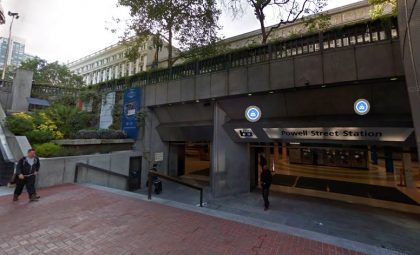 According to the initial reports from local authorities, the fatal train accident occurred at the Powell Street BART Station at approximately 3:24 p.m. The woman was struck by the BART train, and her body was dragged along the trackway.
It's unclear why the woman was struck by the train. The woman was fatally injured in the mishap. She was pronounced dead at the scene.
Her identity has not been disclosed. The Powell Street BART Station was temporarily closed. No other injuries were reported.
Information about the accident is limited at the moment. Local authorities are further investigating the case. They will attempt to determine the factors that caused the crash to occur and the liability.

Fatal Train Accident Statistics
Public transportation, including the Los Angeles Metro, Amtrak Thruway bus, California Rail, and local bus lines, are ideal for navigating busy cities. No driving or parking fees are necessary, and you can multitask while you wait.
Trains accidents occur far too frequently throughout the country. , nearly 600 train collisions happen in the United States each year, with 75% of them occurring at railroad crossings. Over 2,000 people were injured in these incidents, which also resulted in 600 fatalities.
According to the Federal Railroad Administration of the Department of Transportation, an estimated 80% of railroad crossings in the United States lack adequate warning devices. In the U.S., the deaths of more than 7,200 pedestrians have been reported since 1997, all of which occurred while they were on a train platform. In the U.S., pedestrian accidents on railways are among the leading causes of death.
Several issues are involved in pedestrian train accidents, including neglect, outdated technology, unrestricted access to rail lines, difficulty seeing, and fast trains. Investigators will take these factors into account when conducting the investigation.
San Francisco County Wrongful Death Attorney for Victims of Fatal Train Accidents
Trains either result in catastrophic injury or fatalities. In the event of a fatal train accident that claimed the life of a loved one, you can seek compensation through a wrongful death claim. In California, people hurt in train accidents are legally entitled to receive reimbursement for all losses incurred. This includes medical bills, suffering, pain, lost wages, and diminished life quality.
The victims of the accident have two years to file from the date of the incident. If you're dealing with a municipality-owned public bus or train system, you may want to bear this in mind. If you're unsure about the defendant or the timing of filing charges, consult with a lawyer.
To schedule a free case evaluation, please call Arash Law at (888) 488-1391 or contact us online. Our skilled train accident lawyers in California have extensive experience dealing with insurance companies. They understand the losses that victims suffer after a motorcycle accident and how to protect your claim from lowball tactics. Allow us to protect your legal right to compensation so you can concentrate on recovering from your injuries.