A multi-vehicle collision at an intersection in San Francisco injures an on-duty police officer and three others on Wednesday morning, March 31st.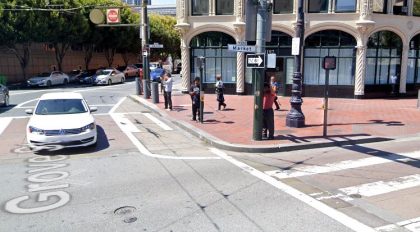 According to the San Francisco Police Department's initial reports, the accident occurred at around 11:00 a.m. at the intersection of Market and 8th.
Several vehicles collided on the roadway, including a motorcycle, for unclear reasons. The circumstances and the number of vehicles involved have not been established.
A police officer and three other people were hurt as a result of the collision. All of them were taken to an area hospital for treatment.
Additional information about the collision is unavailable at the moment. Local authorities are further investigating the accident.

Multi-Vehicle Collision Statistics
Multi-vehicle collisions are just one type of car accident. It usually involves three or more vehicles. A "chain-reaction commonly causes this type of accident," wherein one car will bump into another, which will cause the other vehicle to crash into another one potentially.
Negligence, recklessness, and breaking the law are at the heart of most "accidents. Attention to the road, competence behind the wheel, and proper vehicle maintenance can reduce the odds of getting into a collision.
Every 60 seconds, a car accident occurs in the U.S. This means approximately 5.25 million car accidents occur every year throughout the country. In 2019, approximately 4.5 million car accidents medically consulted injuries were recorded. The total motor-vehicle injury costs were estimated at $463.0 billion.
Our attorneys from Arash Law will fight to recover the financial resources they need for lost income due to the injuries caused, medical bills, and pain and suffering. Also, we will assist with getting you the best health care, physical therapy, mental health needs.
San Francisco County Personal Injury Attorney for Victims of Multi-Vehicle Collisions
Intersection accidents, like in this case, involve extensive medical bills, pain, and suffering. At our California injury law firm specializing in accidents at street intersections, we can help the victim recover from all the damages.
In cases of severe injuries, such as paralysis or head trauma, the victim may require special care, in addition to expensive medical treatments, surgeries, therapies, and other injury-related care.
Families may have to make sacrifices to pay for these costly yet necessary health care treatments. If you have been injured in an intersection accident, the aggressive car accident legal team at the Arash Law may be able to recover compensation for your injuries, medical costs, loss of wages, pain and suffering, and other accident-related expenses.
Our California auto accident attorneys from Arash Law have decades of experience, and they know how to stop insurance company tactics that reduce compensation to injury victims. Call (888) 488-1391 or contact us online to schedule your free consultation.