A 70-year-old male pedestrian was seriously injured after getting struck by a passing vehicle in the Mission District neighborhood on Tuesday evening, January 19.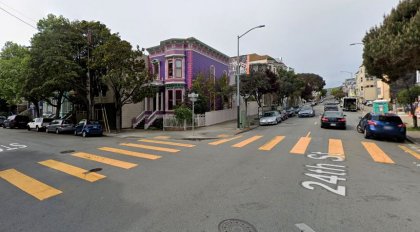 The accident took place at the 24th Street and San Jose Avenue in San Francisco at around 8:31 p.m.
The pedestrian was reportedly walking on a marked crosswalk when he was suddenly hit by an unspecified vehicle. How the collision occurred, and the reason why it happened has not been established.
The unidentified pedestrian sustained severe injuries from the accident. He was immediately taken to an area hospital for treatment.
Local authorities are currently investigating the case. Additional information about the accident is unavailable at the moment.
Pedestrian Accident Statistics
Pedestrian accidents in the U.S. have been on the rise over recent years. Pedestrians currently make up a large percentage of traffic fatalities in the past 33 years. According to the Governors Highway Safety Association, pedestrian fatalities in the U.S. have increased by 27 percent from 2007-2016, while other traffic-related deaths decreased by 14 percent.
Pedestrian accidents often lead to severe injuries and even death to those who are unlucky enough to be involved in such an accident. Common damages resulting from pedestrian accidents are head trauma like concussions or brain bleeds, traumatic brain injuries, and many other debilitating injuries.
Many pedestrian accident injuries can result in either functional impairments or long-term conditions. Some common reasons for pedestrian accidents are negligent driving, speeding, and drivers failing to yield to pedestrians.
Personal Injury Attorney for Victims of Fatal Pedestrian Accidents in San Francisco County
It is usually rare for a pedestrian who has been struck by a car to recover quickly and go back to his or her life. Recognizing this, California personal injury law protects you if you have been hit by a car.
If the driver's negligence caused the accident that left you with injuries, you might be able to file a personal injury lawsuit to recover compensation. Some of the most common challenges facing victims after an accident like this are missed time at work, long recovery periods, and costly medical bills.
The experienced personal injury attorneys at Arash Law are different from personal injury attorneys at other firms in the careful attention we give to each case and the meticulous preparation to build every client's best case. As a result of this philosophy and approach, we have been able to successfully recover for our clients in the form of both sizable settlements and jury verdicts on behalf of a large percentage of our clients.

If you are interested in our services, you may contact us through our hotline (888) 488-1391 today to arrange a free consultation or use our contact form to reach us online. You may also visit our offices in Los Angeles, Sacramento, San Francisco, Riverside, Orange County, San Jose, and San Diego for any inquiries and concerns.