One person was killed while two people were hurt after a multi-vehicle traffic collision in Tracy on early Sunday morning, March 21.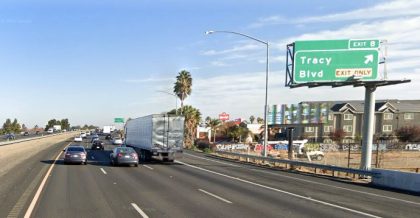 The accident happened at around 1:40 a.m. on Interstate 205 near the 11th Street exit off-ramp in Tracy.
One vehicle was initially traveling on Interstate 205 when it attempted to make a turn. The driver overcorrected and rolled over as a result.
The driver and his two passengers were ejected from the vehicle. The first vehicle then became disabled in the southbound No. 2 and 3 lanes. A few minutes later, another vehicle crashed into the disabled car.
A third vehicle then struck one of the passengers who were lying on the roadway. A fourth vehicle was also involved. The fourth vehicle was unable to avoid the second vehicle and slammed into it.
A passenger from the first vehicle suffered from life-threatening injuries and was pronounced dead at the scene.
The driver of the first vehicle and another one of his passengers were injured due to the accident. They were taken to an area hospital for treatment. The California Highway Patrol is currently investigating the case.

Fatal Multi-Vehicle Collision Statistics
Tens of thousands of drivers and passengers lose their lives each year due to crashes. According to the United States Department of Transportation's Fatality Analysis Reporting System (FARS), there were 33,654 fatal vehicle crashes in 2018, which caused 36,560 deaths.
Multi-vehicle collisions are just one type of car accident. This type of accident usually occurs when three or more cars are involved in the accident. They commonly stem from a "chain-reaction" crash, wherein one vehicle will bump into another, causing it to crash into other cars on the roadway potentially.
These types of crashes are commonly caused by drunk driving, speeding, and distracted driving.
When a car accident occurs, the victims, their families, and the entire community are often devastated. Thousands of people must deal with grief and sudden loss in the wake of California's deadly accidents. Motorists are encouraged to be responsible drivers to avoid these devastating accidents from occurring.
San Joaquin County Wrongful Death Attorney for Victims of Multi-Vehicle Collisions
If you lost a loved one or sustained a severe injury in a car crash because of another driver's carelessness and negligence, you have a legal right to hold that driver accountable for their actions.
A fatal car accident attorney can't turn back the clock to make things the way they were before the car accident. However, we can help you obtain compensation for the awful, unexpected losses the crash caused in your life.
One step that many families find helpful after losing a loved one in a car accident is meeting with a compassionate fatal car accident attorney.
Our team of compassionate and experienced California fatal car accident lawyers is available to help you after a loved one's death in a car accident. Arash Law has recovered more than $500 million for previous clients just like you. We serve victims and their families in San Francisco, Riverside, San Jose, San Diego, Sacramento, Sherman Oaks, and many other areas in California. We also offer legal services in many different languages.
Call Arash Law today at (888) 488-1391 or contact us online to schedule your free no-obligation fatal car accident case review.