One unidentified person was killed after a fatal motorcycle crash involving a truck near Lodi on Tuesday afternoon, April 27.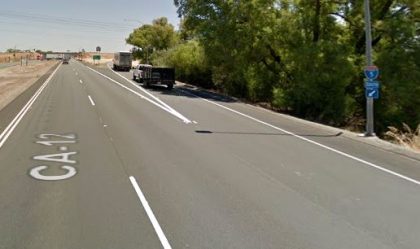 The collision happened at around 3:45 p.m. on the northbound lanes of Interstate 5, just south of State Road 12 in Lodi.
A motorcyclist was initially heading northbound on Interstate 5 when it collided with a northbound big rig for unclear reasons.
The motorcycle rider sustained fatal injuries from the crash. He was pronounced dead at the scene.
Details about the collision are limited at the moment. It is unclear whether drugs or alcohol were a factor in the collision. Local authorities are further investigating the accident.

Fatal Motorcycle Accident Statistics
Motorcyclists are highly vulnerable in collisions and can easily sustain catastrophic and fatal injuries. According to the National Highway Traffic Safety Administration's National Center for Statistics and Analysis, approximately 5,286 motorcyclists were killed in the U.S. in 2016.
Some of the common causes of motorcycle accidents are distracted driving, speeding, drunk driving, reckless driving, bad weather, wrong-way driving, and failure to observe traffic laws. Motorcycle riders are encouraged to dress appropriately and wear a helmet every time they ride their motorcycle to prevent fatal injuries. Wearing helmets were estimated to be 37% effective in preventing motorcycle deaths.
Wrongful Death Claim for Victims of Fatal Motorcycle Accidents in San Joaquin County
Motorcycle accidents can be overwhelming to victims. They may face a lifetime of chronic pain or disability from a traumatic brain or spinal cord injury. They may have lost a loved one in the collision.
The most important thing to remember is that you aren't alone during this tough time. The California motorcycle accident lawyers at Arash Law are ready and waiting to assist you.
The victim's family should pursue a wrongful death claim with their attorney to receive the justice and compensation they deserve. The liable party will be required by law to provide financial compensation for medical bills, funeral expenses, pain, and the decedent's suffering through the wrongful death claim.
At Arash Law, we know compensation won't bring back your loved one after a motorcycle accident. It can, however, can go a long way toward improving your family's financial future. We want to help you seek justice, compensation, and closure after the tragic death of someone you loved. Get in touch online or call (888) 488-1391