One person was hurt after a broadside collision near Paso Robles on Wednesday morning, September 29.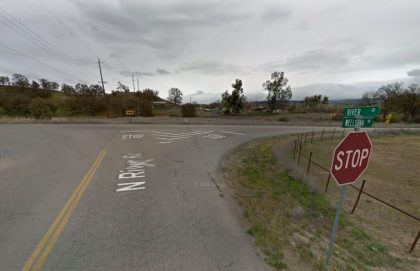 The major T-bone crash took place on Highway 101 at Wellsona Road in Paso Robles at approximately 11:15 a.m.
A Hyundai Kona was reportedly waiting to make a left turn on northbound Highway 101 when it failed to yield the right of way and struck an oncoming southbound Nissan Frontier that was traveling at 65 mph.
The Hyundai T-boned the Nissan, and as a result of the impact, the Nissan overturned and landed back on its wheels near the center median.
The Nissan driver sustained minor injuries and complained of pain in his left hand but was not taken to an area hospital. The identities of both drivers have not been disclosed.
Highway 101 was closed down in both directions for half an hour to give way for the cleanup and investigation. Local authorities are further investigating the case.

Broadside Crash Statistics
Driving a car, whether for a short trip or a long one, almost always involves passing through an intersection. Unfortunately, serious accidents still happen at intersections despite traffic control devices like stop signs and traffic lights and crash avoidance mechanisms on newer vehicles.
According to crash studies and analyses of accident data, 13 percent of all car accidents in the US involve a T-bone. T-bone collisions account for 18% of fatal car accidents involving one or more people.
T-bone accidents happen when a car is hit on the side by the front or rear of another motor vehicle. As a broadside collision, these accidents often cause severe injuries for each vehicle involved.
San Luis Obispo County Personal Injury Attorney for Victims of Broadside Collisions
A car accident injury can be both stressful and overwhelming. Medical bills and other expenses like property damage can quickly run into the tens of thousands of dollars. In some cases, victims would see specialists for years, getting second opinions or consultations, and then returning to see a primary care provider for follow-up treatment. They'll most likely require medication and special equipment to help them (such as a wheelchair or walker).
California accident lawyers can help if you've been injured in a car crash and need representation. There is an insurance company working against you. Your employer's job is to underpay you. This is why having an attorney help you with your claim is crucial.
The best car accident lawyers in California are tough to come by. But the accident attorneys at Arash Law are available to help clients throughout California, including San Francisco, Los Angeles, Sacramento, and the San Fernando Valley.
We have successfully collected around $200 million for our clients across the state. To schedule a free consultation, call us at (888) 488-1391 or email us. So that you can concentrate on recovering from your injuries, let us take care of the insurance paperwork and claims process.