One person was killed while three people were injured after a hit-and-run DUI crash in Nipomo Saturday night, March 27.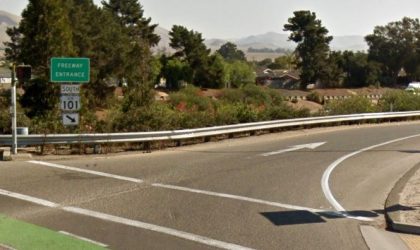 The accident transpired at approximately 11:10 p.m. on northbound Highway 101, just south of Tefft Street in Nipomo. A Chevrolet Tahoe suddenly struck a northbound Honda CR-V driven by Jose C Jr. The Chevrolet driver did not stop to render aid and fled the scene.
A male passenger from the Honda sustained life-threatening injuries after getting ejected from the vehicle. He was rushed to Marian Regional Medical Center.
The male passenger unfortunately later succumbed to his injuries and was pronounced dead. The Honda driver and another passenger were also seriously injured from the crash.
They were also rushed to an area hospital and are expected to recover from their injuries.
Local authorities later identified the hit-and-run driver as 24-year-old Ernesto H. It was determined that he was driving while under the influence at the time of the accident. The suspect was arrested on suspicion of felony DUI and felony hit-and-run.
The case is currently under investigation. Witnesses that can give more information about the accident are urged to contact the CHP San Luis Obispo office at (805) 594-8700 and ask for Officer T. Henry.

Hit-and-Run DUI Statistics
Everyone deserves to drive on safe roads. Unfortunately, some irresponsible drivers put other people's lives at risk.
Intoxicated drivers put innocent people — and themselves — at severe and unacceptable risk. While there has been some remarkable progress in California and the United States when it came to drunk driving prevention, there is still a long way to go.
According to the National Highway Traffic Safety Administration (NHTSA), approximately 30 people in the U.S. die every day due to drunk driving accidents. Drunk driving accounts for about 29 percent of all motor vehicle accident fatalities in the U.S. Around sixty-one percent of these drivers have a Blood Alcohol Content of .08 percent or higher.
In this case, the DUI driver also fled the scene after the accident. Driving away from the accident is a crime in itself. Sadly hit-and-run accidents have been increasing at an alarming rate. Since 2009, hit-and-run deaths have been steadily rising by seven percent annually.
San Luis Obispo County Personal Injury Attorney for Victims of Hit-and-Run DUI Accidents
Under California's wrongful death statute (California Code of Civil Procedure 377.60), family members of the victim could be entitled to recovery for financial losses — such as medical bills, funeral expenses, and loss of benefits — and noneconomic damages — including loss of love, companionship, consortium. Wrongful death claims are highly complex. Family members of the victims should speak to an experienced California DUI accident wrongful death attorney who can protect their rights.
At Arash Law, our California drunk driving accident attorneys are influential, aggressive advocates for DUI accident victims. Drunk drivers must be held accountable for their egregious and dangerous behavior. DUI accident victims deserve justice.
Our law firm is committed to helping victims maximize their compensation so that they can pay their medical bills and provide financial support to their families. If you or your loved one have been involved in a drunk driving accident in California, please do not hesitate to contact our legal team for legal guidance.
Call our office at (888) 488-1391 today to discuss your accident with a lawyer for hit-and-run cases.