An unidentified 51-year-old woman was killed after a deadly bicycle crash in Coyote on Saturday morning, June 19.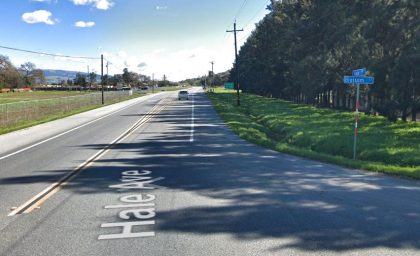 The accident happened on Hale Avenue, just north of Blossom Court in the unincorporated community of Coyote, at around 7:40 a.m. A southbound 2003 Honda veered onto the shoulder and struck a 51-year-old woman riding a Schwinn bicycle.
Due to the severity of the impact, the woman was ejected from her bicycle. The woman sustained fatal injuries from the accident. Unfortunately, the woman later succumbed to her injuries and was pronounced dead.
The Honda driver remained at the scene and immediately called 911 after the accident. The driver did not appear to be intoxicated at the time of the accident. Local authorities are further investigating the crash. Witnesses that can give more information about the accident are urged to contact the Hollister-Gilroy area CHP office at 408-848-2324.

Fatal Bicycle Accident Statistics
In a collision between a bicycle and a motor vehicle, the vehicle always wins. Bicyclists are what the law calls "vulnerable road users," or those at the highest risk of injury in an accident. Even with bicycle helmets, bicyclists can sustain serious and life-threatening injuries in collisions with vehicles.
California is not as bicycle-friendly as other states. The golden state is one of the most dangerous places for bicyclists. California leads the nation in the number of bicycle fatalities per year. According to the National Highway Traffic Safety Administration, approximately 455 cyclists in California died from 2016 to 2018.
Wrongful Death Attorney for Victims of Fatal Bicycle Accidents in Santa Clara
The unexpected death of a loved one from a fatal bicycle accident can be quite overwhelming and stressful to deal with. The pain and grief that the victim's family is going through is no joke. Pending the official investigation results, the victim's family is encouraged to pursue a wrongful death claim with their attorney's help. The liable party will be required by law to provide financial compensation for the victim's medical expenses, lost earnings, emotional trauma, and pain and suffering.
Our lawyers from Arash Law can serve as a helpful legal fight and vigorously fight for your rights. We will ensure that you will receive the compensation that you rightfully deserve. In the event of any bicycle accident in California, speak to Arash Law about your possible options. Call (888) 488-1391 or contact us online.