An unidentified pedestrian sustained serious injuries after getting hit by a passing vehicle near an intersection in Aptos on Friday night, December 4.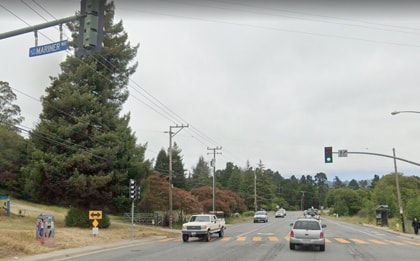 According to the initial reports from local authorities, the accident occurred near Freedom Boulevard and Mariner Way, just in front of Aptos High School, at around 6:44 p.m. 
A purple Honda sedan struck the pedestrian in unclear circumstances. How the accident occurred, and the reason why it happened has not been established. 
The pedestrian sustained serious injuries as a result of the accident. They were taken to an area hospital for treatment. 
The driver that struck the pedestrian remained at the scene and cooperated with local authorities. 
Pedestrian Accident Investigation is Underway
Local authorities are currently investigating the cause of the case. They will attempt to determine the factors and the liability in the accident. 
Pedestrians are more vulnerable to the dangers of the roadway compared to passengers of private vehicles. Unlike passengers of private cars with airbags and seat belts to protect them, pedestrians do not have any protection that can help them avoid sustaining fatal injuries. 
According to the Governors Highway Safety Association, approximately 6,227 pedestrians were killed in the U.S. back in 2018, a 250 increase from the previous year. 
Hiring a capable attorney to represent you is highly recommended. Attorneys have the resources that can help them prove the negligence of the liable party. They can utilize their resources to re-interview important witnesses, review relevant surveillance footage from the scene, and obtain phone and texting records of the responsible party. 
Personal Injury Attorney for Victims of Pedestrian Accidents in Santa Cruz County 
It can be quite challenging to deal with significant injuries caused by pedestrian accidents as it has the potential to disrupt all aspects of your life, such as family, work, and finances. 
When facing cases like this, it's vital to have an experienced Santa Cruz County personal injury attorney conduct an independent probe and process a personal injury claim. Through the personal injury claim, attorneys can negotiate with insurance companies on behalf of their clients to ensure that they will be fairly compensated. 

If you have a nagging suspicion that someone is to blame for your spouse or family member's death or injury, contact Arash Law. We have the resources you need to pursue justice for wrongful death and the experience to ensure that you get fair compensation. We're conveniently located throughout California, with offices in Los Angeles, Sacramento, San Francisco, Riverside, Orange County, and San Diego. We are more than happy to visit you at your home or office—call (888) 488-1391 for a Free Consultation with a California personal injury attorney.