A 59-year-old man identified as Martin C. was killed was a fatal pedestrian crash in a Fairfield Gas Station on early Friday morning, June 11.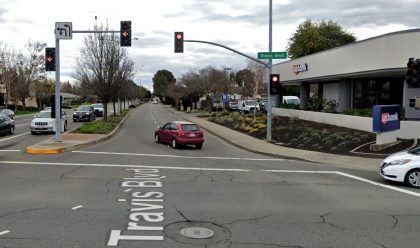 The accident happened at approximately 5:20 a.m. at a gas station on Travis Boulevard in Fairfield. The truck driver was reportedly pumping gas into his truck at the time of the accident. For unclear reasons, the victim climbed onto the back of a truck that was at one of the pumps and tucked himself between its bed and the attached trailer.
Unfortunately, the truck driver was unable to notice him and drove away. The victim reportedly fell off and was ran over by the truck. Authorities were later able to track down the truck driver. The truck driver claimed that he was unaware that he ran over the victim.
The truck driver is now cooperating with local authorities. The accident is not considered a hit-and-run at the moment. Witnesses that can provide more information about the accident are urged to call the Fairfield Police Department at 428-7300.

Fatal Pedestrian Accident Statistics
Pedestrian accidents often lead to severe injury and even death. This is because pedestrians do not have protection against fatal accidents, unlike passengers of private vehicles and motorcycle riders. Pedestrian accidents have been increasingly becoming an issue throughout the United States. According to the Governors Highway Safety Association, pedestrian fatalities in the U.S. have increased by 27 percent from 2007-2016, while other traffic-related deaths decreased by 14 percent.
Nearly 7,500 pedestrians have died in California between 2009 and 2018. California currently leads in pedestrian deaths in 2020 despite the global pandemic. In 2019, 460 pedestrian deaths were recorded, but the number rose to 485 in the first six months of 2020. Some common reasons pedestrian accidents occur are negligent driving, speeding, and drivers failing to yield to pedestrians. It is vital to seek the help of an experienced attorney when facing cases like this.
Solano County Wrongful Death Attorney for Victims of Fatal Pedestrian Accidents
The sudden death of a loved one can be quite devastating for the victim's family. It may leave them vulnerable to manipulation by both insurance companies and other parties. To avoid this, it is necessary to have an attorney by your side to fight for your rights.
A wrongful death claim can help the victim's family receive compensation for the damage they've accrued from the accident. Through the wrongful death claim, the victim's family can seek compensation for the damages (such as loss of income and companionship, funeral costs, pain and suffering, and emotional distress) that the fatal accident has caused them.
Our lawyers from Arash Law are available 24/7 to help. A pedestrian accident lawyer from Arash Law will help you stay one step ahead of the insurance company or responsible party and avoid mistakes that jeopardize your claim. Call our office at (888) 488-1391 today to discuss your accident with a lawyer for hit-and-run cases.