Three drivers sustained varying injuries after a multi-vehicle traffic collision north of Kenwood on Thursday morning, October 28.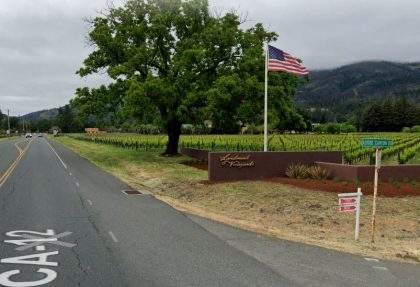 The major multi-vehicle crash happened in the area of Highway 12 and Adobe Canyon Road at around 8:00 a.m. Three vehicles were involved in the collision. A Kia Soul was initially heading eastbound on Highway 12 when the driver put her turn signal on and slowed to make a left turn to Adobe Canyon Road.
Unfortunately, the Kia Soul was rear-ended by a Saab for unclear reasons. Due to the severity of the impact, the Kia was pushed into oncoming traffic and collided head-on with a Chevy Express van. The van flipped over and ended up in a ditch at the northernmost part of the road.
According to deRutte, the Saab drove east before colliding with a wall at TIPS Roadside Restaurant. The Kia driver sustained severe injuries from the crash. Meanwhile, the two other drivers sustained minor injuries.
All three drivers were taken to Santa Rosa Memorial Hospital to receive treatment. Local authorities are further investigating the case. They will attempt to determine the cause and the liability in the crash.

Multi-Vehicle Collision Statistics
Multi-vehicle collisions involve three or more vehicles and are called such. They frequently occur due to a "chain-reaction" crash, in which one vehicle collides with another, potentially leading to yet another collision.
There are many fatal car accidents in California. There is no denying that in the last decade, California's population has grown significantly. Car use is on the rise, and more people are traveling by car to their destinations.
According to the OTS (Office of Traffic Safety), a total of 3,563 people lost their lives in car accidents in California last year, according to the OTS (Office of Traffic Safety). Thousands of people are grieving and dealing with new losses due to the deadly accidents that have occurred in California.
According to the MTC, there are more fatalities in Napa and Sonoma counties than in any other area in the Bay Area. In these outlying areas, vehicle occupants – including drivers and passengers – account for most fatalities, whereas in San Francisco, bicyclists and pedestrians account for the majority of deaths. Most of these collisions result from intoxicated or distracted driving, as well as speeding or being distracted while driving.
Sonoma County Personal Injury Attorney for Car Accident Victims
Even though it's unfortunate, being seriously injured in a car accident calls for swift and aggressive legal action. After being in a car accident, our car accident lawyer believes that you should immediately begin a legal process to protect your legal rights. Consultation with a car accident lawyer is the best place to begin the process. An attorney will look over the details of your accident and provide you with advice on your legal options.
Traffic collisions account for a large percentage of personal injury and wrongful death claims in California. There are a lot of similarities among these claims, but each one has its specifics. An experienced California car crash attorney team should look into each case thoroughly because they all deserve it.
Arash Law has Sonoma County personal injury attorneys that specialize in automobile accident cases. A full financial recovery is unlikely without a thorough investigation of the situation. Call (888) 488-1391 for a Free Consultation with one of our Sonoma County car crash lawyers.