One person reportedly sustained fatal injuries after a major motorcycle collision in Petaluma on Friday morning, October 2.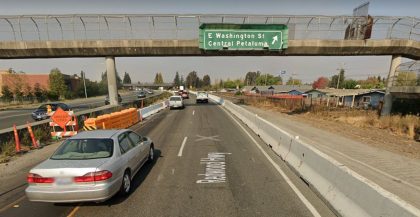 According to the initial reports from local authorities, the crash transpired on northbound Highway 101, just north of the E Washington Street onramp at around 1:19 a.m.  A Harley Davidson motorcycle was traveling northbound in the southbound lanes of the freeway, it then collided head-on with a Honda Fit.
Due to the severity of the impact, the motorcycle rider was pronounced dead at the scene.  The driver of the Honda, who was identified as a 24-year-old woman, was trapped inside her burning vehicle. A civilian who was in the area attempted to rescue the woman from the wreckage. The woman was then rushed to an area hospital where she is expected to recover.
Motorcycle Accident Investigation Is Underway
The California Highway Patrol is currently investigating the cause of the fatal crash.  Motorcycle accidents can often lead to catastrophic and even devastating results.
According to the National Highway Traffic Safety Administration's National Center for Statistics and Analysis, approximately 5,286 motorcyclists were killed in the U.S. in 2016 alone. Some of the common causes of motorcycle accidents are distracted driving, speeding, drunk driving, reckless driving, bad weather, wrong-way driving, and failure to observe traffic laws.
Motorcycle riders are more vulnerable to the road's dangers than passengers of private cars as seat belts, or airbags do not protect them. To avoid sustaining life-threatening injuries and possibly death, motorcycle riders are encouraged to dress appropriately and wear a helmet every time they ride their motorcycle to prevent fatal injuries. Wearing helmets were estimated to be 37% effective in preventing motorcycle deaths.
Personal Injury Attorney for Victims of Fatal Motorcycle Accidents in Petaluma
Dealing with injuries caused by fatal motorcycle-vehicle crashes can be quite challenging for the victim as it can potentially disrupt all aspects of life, such as family, work, and finances. When facing cases like this, it's vital to have an experienced Petaluma County personal injury attorney conduct an independent probe and process a personal injury claim. Through the personal injury claim, attorneys can negotiate with insurance companies on behalf of their clients to ensure that they will be fairly compensated.

If you have a nagging suspicion that someone is to blame for your spouse or family member's death or injury, contact Arash Law. We have the resources you need to pursue justice for wrongful death and the experience to ensure that you get fair compensation. We're conveniently located throughout California, with offices in Los Angeles, Sacramento, San Francisco, Riverside, Orange County, and San Diego. We are more than happy to visit you at your home or office—call (888) 488-1391 for a Free Consultation with a California personal injury attorney.