A 38-year-old San Rafael resident Rene Alverez-DeLeon was killed in Petaluma's fatal crash on Wednesday night, September 23.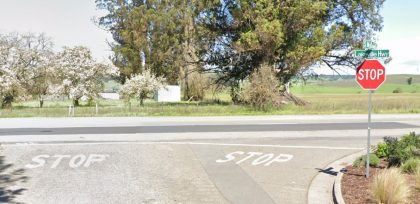 The fatal crash transpired at around 6:30 p.m. on Lakeville Highway and South McDowell in Petaluma. The victim was a delivery driver for a Lily Kai restaurant. He was driving a Toyota sedan on Lakeville Highway when a truck crashed into his vehicle. The truck apparently ran a red light at the intersection of South Mcdowell, causing the two vehicles to collide.
The victim was pronounced dead at the scene. The operator of the truck sustained non-life-threatening injuries from the crash and was transported to an area hospital. No arrests have been made at the moment.
Fatal Crash Investigation is Underway
The accident is currently under investigation by the local police. Witnesses that can provide additional information about the fatal crash are encouraged to call the Petaluma police at 707-778-4372. Motor vehicle accidents in the country are getting rampant. Annually, around 37,000 people die, while 2.3 million people are injured due to motor vehicle crashes. These accidents are caused mainly by reckless driving, including road rage, tailgating, drunken driving, distracted driving, speeding, and erratic lane changes.
Facing cases like this alone can be quite challenging. With the help of an experienced Sonoma County wrongful death attorney, the victims won't need to deal with the stressful paperwork that comes with filing a claim. Attorneys have the resources that can help them prove the negligence of the liable party. They can utilize their resources to re-interview important witnesses, review relevant surveillance footage from the scene, and obtain phone and texting records of the responsible party. Attorneys can also conduct an independent investigation to help the victims receive the justice they deserve.
Sonoma County Wrongful Death Attorney for Victims of Fatal Crashes
While the investigation is on-going, the victim's family is entitled to pursue a wrongful death claim. Through the wrongful death claim, families can seek compensation for the damages (such as loss of companionship, pain, suffering, and emotional distress) that the tragic incident has caused them.
The stress and sorrow following a loved one's death due to a car accident can be extremely overwhelming. Professional wrongful death attorneys can stay updated on the official investigation on behalf of the family while ensuring that their client's legal rights and best interests are protected.

If you have a nagging suspicion that someone is to blame for your spouse or family member's death, contact Arash Law. We have the resources you need to pursue justice for wrongful death and the experience to ensure fair compensation. We're conveniently located throughout California, with offices in Los Angeles, Sacramento, San Francisco, Riverside, Orange County, and San Diego, and are happy to visit you. Call (888) 488-1391 for a FREE Consultation with a wrongful death attorney in California.