A 67-year-old man identified as David P.  was killed after a deadly motorcycle crash involving a big rig in Petaluma on Friday morning, August 27.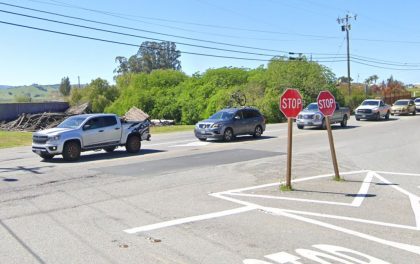 The crash took place at the intersection of Lakeville Highway and Stage Gulch Road at approximately 11:05 a.m. A westbound Harley Davidson motorcycle was traveling on Stage Gulch Road when the rider failed to stop for a posted stop sign at the intersection.
The Harley Davidson motorcycle then struck the side of a northbound big rig tanker truck that was traveling on Lakeville Highway. The motorcycle rider sustained life-threatening injuries in the accident. Unfortunately, he succumbed to his injuries and was pronounced dead at the scene.
The other driver was uninjured in the mishap. He remained at the scene and cooperated with authorities. Local authorities are further investigating the cause of the accident. Witnesses that can give more information about the accident are urged to call Santa Rosa CHP Office at 707-588-1400.

Fatal Motorcycle Accident Statistics
Motorcycle fatalities had been declining since the early 1980s but began to rise in 1998 and continued to rise through 2008. In 2019, a total of 5,014 motorcycle riders were killed in accidents. Although motorcycles only make up 3% of all registered vehicles, they still account for 14% of all traffic fatalities. It's because motorcyclists are highly vulnerable to fatal injuries in an accident.
According to the U.S. National Highway Traffic Safety Administration (NHTSA) statistics, motorcycle riders have 16 times the risk of injury and 35 times the risk of a fatal crash compared to car passengers. To avoid life-threatening injuries, motorcyclists are encouraged to dress appropriately and wear a helmet whenever they ride their motorcycle. Helmets are estimated to be 37% effective in preventing motorcycle fatalities.
Sonoma County Wrongful Death Attorney for Victims of Fatal Motorcycle Accidents
Following the unexpected death of a loved one in a fatal motorcycle accident, the victim's family may be exploited by the opposing party and insurance companies. Insurance companies may attempt to press injury victims to settle quickly before consulting with a lawyer. Before making any decisions about your case, you have the right to consult with your attorney.
During this difficult time, our attorneys at Arash Law can be a compassionate and helpful guide for the victims' families. They will fight diligently for their client's rights and best interests while ensuring that the responsible party is held accountable for their negligence. To schedule your free consultation anywhere in California, call (888) 488-1391. We have offices in Los Angeles, San Diego, San Francisco, and Riverside, and we serve the Irvine, Orange County, Fresno, and Sacramento areas, to name a few.