Two people were killed following a two-vehicle traffic collision in Sonoma Valley on Monday morning, January 4.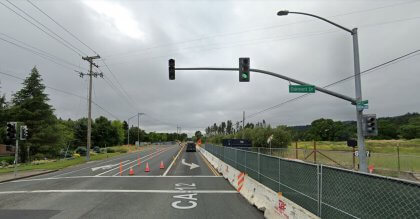 The accident occurred at approximately 8:20 a.m. on Highway 12, east of Oakmont Drive in Sonoma Valley. A Nissan Sentra was driving westbound on Highway 12 when the driver suddenly lost control on a curved and veered opposite lane.
The Nissan Sentra then collided with an eastbound Chevrolet truck. The Chevrolet crashed into the right side of the Nissan. The driver and one occupant of the Nissan Sentra died from the crash. They were later identified as Alondra Brandt V., 21, and Tomasa Valero Vargas, 44.
The Chevrolet driver was identified as Michale Williams. He sustained moderate injuries after the accident and was rushed to Santa Rosa Memorial Hospital for treatment.
Fatal Two-Vehicle Collision Investigation is Underway
The California Highway Patrol is currently investigating the case. They will attempt to determine the factors that affected the crash and liability.
Witnesses that can give more information about the accident are urged to contact the Santa Rosa CHP Office at 707-588-1400. Car accidents are one of the leading factors of injury deaths in California. According to the National Highway Traffic Safety Administration (NHTSA), over 3,304 recorded fatal car accidents in California in 2017.
When facing cases like this, it's vital to have an experienced Sonoma County wrongful death attorney specializing in fatal car accidents to conduct an independent investigation. Attorneys are capable of assisting their clients throughout the process. They will also re-interview important witnesses, review relevant surveillance footage from the scene, and obtain the responsible party's phone and texting records.
Sonoma County Wrongful Death Attorney for Victims of Fatal Two-Vehicle Collisions
It can be quite devastating and stressful to suddenly lose a loved one due to a fatal two-vehicle collision.
Pending the official investigation results, the victim's family is entitled to pursue a wrongful death claim with their attorney's help. Attorneys can help their clients receive financial compensation for their medical bills, funeral expenses, pain and suffering of the victim's family, wages the decedent would have earned in their lifetime, and loss of companionship.

If your loved one passed away from a car accident and you wish to bring justice for them, Arash law is capable of giving you the justice you deserve. Our firm has decades of experience handling injury and wrongful death cases. We will ensure that you will get the compensation that you rightfully deserve. Our offices are conveniently spread throughout California. If you have any inquiries, visit us at our firms in Los Angeles, Sacramento, San Francisco, Riverside, Orange County, and San Diego. You may also call us at (888) 488-1391 for a FREE Consultation.