One child was seriously hurt after a multi-vehicle traffic collision involving a Sheriff's patrol car in Modesto on Sunday night, July 25th.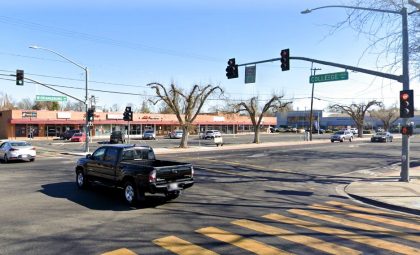 The major collision transpired at approximately 9:30 p.m. in the area of College and Orangeburg avenues in Modesto. A Sheriff's patrol car reportedly collided with two vehicles on the roadway. The deputy driving the patrol car drove Code 3, with lights and sirens on, when it crashed into a westbound Chevrolet.
The Chevrolet then struck an eastbound Ford after the initial crash. The Chevrolet driver sustained minor injuries in the accident. A child that was riding the Chevrolet had moderate injuries, including a head injury. The child was airlifted to an area hospital in Madera for treatment.
The Ford driver and the deputy were also taken to an area hospital for non-life-threatening injuries. The deputy sustained lacerations to the head. Information about the accident is limited at the moment.  The identities of the involved parties have not been disclosed. Local authorities are further investigating the cause of the collision.

Multi-Vehicle Collision Statistics
Car accidents in the U.S. happen more often than you think. According to the National Highway Traffic Administration, a car accident occurs every 60 seconds. This means approximately 5.25 million car accidents occur every year throughout the country. On average, there are at least 6 million traffic accidents that occur in the U.S. every year. In 2019 alone, approximately 33,244 fatal motor vehicle crashes occurred, which resulted in 36,096 deaths.
In this case, a multi-vehicle collision occurred. Multiple-vehicle collisions are uncommon, but they can result in a staggering amount of personal injuries and property damage when they do happen. They can lead to bitter legal battles over who was to blame for such a catastrophic accident. Your legal right to compensation for your injuries may be jeopardized if you are involved in a dispute. These types of crashes are commonly caused by drunk driving, speeding, and distracted driving.
Stanislaus County Personal Injury Attorney for Victims of Multi-Vehicle Collisions
The stress and trauma that victims experience due to a multi-vehicle collision can be extremely difficult for them to deal with after the accident occurs. Speaking with an attorney is frequently the first step in obtaining payment for your medical bills. Your accident may have resulted in high hospital bills, ambulance fees, surgeries, medical equipment, disability, rehabilitation, or the need for live-in care as a result of your injuries and illness.
There will be many insurance companies involved, and each one is protecting its financial interests. Other injury victims might have their lawyers. The only way to protect your legal right to compensation is to be sure that you have someone fighting on your side.
Your lawyer will fight to prove who was at fault for causing the accident and what it will take to compensate you for your injuries and losses fairly. Your attorney can also protect your rights when there is not enough insurance coverage to pay for all the injuries that occurred. Call Arash Law today at (888) 488-1391 or contact us online to schedule your free no-obligation car accident case review.