One person was killed while two others were seriously hurt after a major DUI crash in Modesto on Thursday morning, June 24.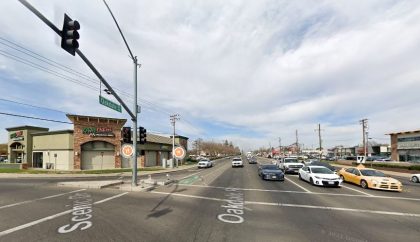 The accident transpired at approximately 2:30 a.m. on Oakdale Road, just north of Scenic Drive in Modesto. A sedan was heading northbound on Oakdale Road when the vehicle veered into the opposite lanes and crashed into an oncoming truck.
A female passenger from the sedan was pronounced dead at the scene, while the male driver was moderately injured and taken to a nearby area hospital. The truck driver sustained minor injuries from the mishap. The identities of the involved parties have not been disclosed.
Authorities were later able to determine that the sedan driver was under the influence at the time of the accident. The impaired driver is expected to face charges of homicide, DUI, and vehicular homicide after being released from the hospital. The crash is currently under further investigation.

Fatal DUI Accident Statistics
Driving while under the influence is one of the most reckless and dangerous things a driver can do. It won't only endanger their own lives, but it can potentially put other drivers on the roadway at risk as well. Unfortunately, DUI accidents in the U.S. have been on the rise over recent years.
According to the National Highway Traffic Safety Administration (NHTSA), approximately 30 people in the U.S. die every day due to drunk driving accidents. Drunk driving accounts for about 29 percent of all motor vehicle accident fatalities in the U.S. Around sixty-one percent of these drivers have a Blood Alcohol Content of .08 percent or higher.
Stanislaus County Wrongful Death Attorney for Victims of Fatal DUI Accidents
Losing a loved one from a fatal DUI accident can be devastating and stressful for the victim's family. The trauma and grief can have a lasting impact on their lives. Although they won't bring their loved ones back to life, they can still receive compensation and justice from the accident.
While waiting for the official investigation results, the victim's family is encouraged to pursue a wrongful death claim with their attorney's help. Through the wrongful death claim, the victim's family can seek financial compensation for the damages such as funeral costs, loss of income and companionship, pain and suffering, and emotional trauma that the fatal accident has caused them.
Our lawyers from Arash Law are capable of assisting you throughout the entire process. Our attorneys can serve as a compassionate, helpful legal guide during this difficult time for the grieving family. They will vigorously fight for their client's rights and best interests while ensuring that the liable party will be held accountable for their negligence. Visit our offices in Los Angeles, Sacramento, San Francisco, Riverside, Orange County, and San Diego for any inquiries and concerns. You may also contact us through our hotline (888) 488-1391 for a free consultation with one of our attorneys.