An unidentified person was killed after a deadly motorcycle collision involving a tractor-trailer in Turlock on Friday morning, July 9.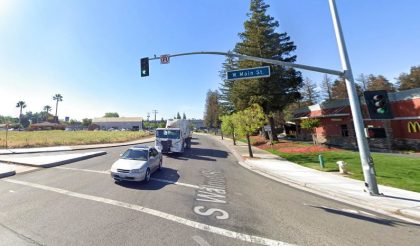 The deadly collision happened in the 4000 block of West Main Street in Turlock at approximately 9:00 a.m. A motorcycle reportedly rear-ended a tractor-trailer. How the collision occurred, and the reason why it happened have not been established.
Authorities suspect that speeding may have been a factor in the accident. The tractor-trailer driver remained at the scene and cooperated with authorities. Emergency personnel later arrived at the scene and found the motorcyclist lying on the roadway.
He sustained serious injuries in the crash. Emergency personnel performed life-saving measures on the motorcyclist, but unfortunately, he later succumbed to his injuries and was pronounced dead at the scene. Local authorities are currently investigating the case.
Witnesses that can provide more information about the accident are urged to contact Traffic Officer Michael Simbalenko at (209) 668-6523 or the Turlock Police Department's Tip Line at (209) 668-5550 extension 6780 or email at tpdtipline@turlock.ca.us. For those that want to submit an anonymous report, you may call Crime Stoppers at (209) 521-4636 and may be eligible for a cash reward.

Fatal Motorcycle Accident Statistics
Motorcyclists are more vulnerable to road hazards than passengers in private vehicles. According to the National Highway Traffic Safety Administration (NHTSA), motorcycle riders have 16 times the risk of injury and 35 times the risk of a fatal crash compared to car passengers. Approximately 5,286 motorcyclists were killed in the U.S. in 2016 alone. California has one of the largest numbers of registered motorcycles in the U.S.
There are over 800,000 registered motorcycles in California. In 2017, 16,505 motorcycle accidents occurred on California roadways, which resulted in 15,527 injuries and 541 deaths. Some of the common causes of motorcycle accidents are distracted driving, speeding, drunk driving, reckless driving, bad weather, wrong-way driving, and failure to observe traffic laws.
Stanislaus County Wrongful Death Attorney for Victims of Fatal Motorcycle Accidents
While nothing can undo the damage caused by a motorcycle accident, the civil courts provide a financial remedy to those injured in such an accident. Consult with an experienced attorney as soon as possible following a motorcycle accident. Professional wrongful death attorneys can keep the family informed of the progress of the official investigation while also ensuring that their client's legal rights and best interests are safeguarded.
If you have reason to believe that someone is responsible for the death or injury of your spouse or a member of your family, contact Arash Law. We have the resources you require to pursue justice for wrongful death, as well as the experience necessary to ensure that you receive fair compensation. We have offices in Los Angeles, Sacramento, San Francisco, Riverside, Orange County, and San Diego and are easily accessible from anywhere in the state. For a FREE Consultation with a wrongful death attorney in California, call (888) 488-1391. We are happy to come to you at your home or place of business.