An unidentified man was killed after a motorcycle collision in Modesto on Friday afternoon, May 28.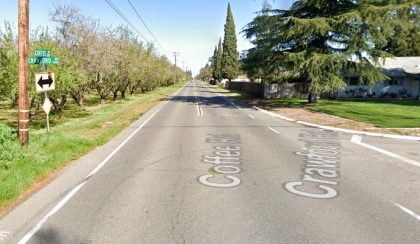 The accident transpired at approximately 1:45 p.m. in the area of Coffee and Crawrford roads in Modesto.
A northbound 1996 Ford Explorer was driving on Coffee road when the motorcyclist suddenly struck the front left side of the vehicle.
The rider was ejected from his motorcycle due to the severity of the impact. The motorcycle rider was immediately taken to an area hospital, where he was later pronounced dead.
Drugs and alcohol were not suspected to be factors in the accident. Local authorities are further investigating the accident. They will attempt to determine the reason and the liability in the crash.

Fatal Motorcycle Accident Statistics
Motorcycle riders are more vulnerable to the dangers on the road in comparison to passengers of private cars. According to the U.S. National Highway Traffic Safety Administration (NHTSA) statistics, motorcycle riders have 16 times the risk of injury and 35 times the risk of a fatal crash compared to car passengers.
California has over 800,000 registered motorcycles. This, of course, means that there are also more motorcycle accidents in California than in other states. In 2017 alone, 16,505 motorcycle accidents happened in California, leaving 15,527 injured and 541 people dead.
Some of the common factors why motorcycle accidents occur are distracted driving, speeding, drunk driving, reckless driving, bad weather, wrong-way driving, and failure to observe traffic laws.
Wrongful Death Attorney for Victims of Fatal Motorcycle Accidents in Stanislaus County
The stress and sorrow following a loved one's death due to an accident can be too overwhelming. Professional wrongful death attorneys can stay updated on the official investigation on behalf of the family while ensuring that their client's legal rights and best interests are protected.
Attorneys will vigorously fight for their client's rights and best interests while ensuring that the liable party will be held accountable for their negligence. Attorneys can also negotiate with insurance companies on behalf of their clients to ensure they are compensated fairly.
Our motorcycle accident lawyers at Arash Law have decades of experience handling these types of wrecks throughout California. We've helped thousands of people recover after accidents similar to yours. Our goal is to protect crash victims' rights and assist them in negotiations with large insurance companies that don't have their best interests at heart.
We offer free consultations with no obligation to retain our firm. We also work on a contingency-fee-basis, meaning you don't pay a dime unless we win you compensation. Get in touch online or call (888) 488-1391