The COVID-19 pandemic has brought up many interesting new legal issues. For all the things that have changed, however, auto insurance has mainly remained the same. You are still entitled to compensation from an at-fault driver for your property damage, injuries, and other losses. You are still entitled to have your claim handled promptly and appropriately by a qualified claims handler.
In addition to car accidents and injury claims, you might also have questions about your auto insurance. Many drivers are using their vehicles much less due to working from home and government shutdown orders. Here are some answers to the most common questions our attorneys get about auto insurance during the coronavirus pandemic:
---
What If I Am Driving Less Due to the Quarantine – Can I Get an Insurance Discount?
Yes. Many auto insurance carriers are offering discounts during the coronavirus. Many of these discounts are dependent on you driving less. Others might be a prorated refund for all insured drivers. Check with your insurance carrier to see what deals they are offering during the pandemic – especially if you are driving less.
Is There Any Way to Get Cheaper Car Insurance?
Besides shopping for rates and comparing carriers, it might also be time to check on the coverage you already have. Many drivers have optional coverages that they might not even know about. Be sure that you actually want all the coverage for which you are paying. And be sure to learn more about these specific coverages:
Medical payments
This coverage applies to any injury sustained in an accident by a covered driver. It might apply to all occupants of your vehicle, and it can even apply if the covered driver is injured in an accident in another vehicle. Check with your insurance agent about the exact coverage offered on your medical payments (MedPay) policy. While this can be a helpful optional coverage, it also raises your rates.
Uninsured motorist/underinsured motorist (UM/UIM)
This coverage applies if you are injured by a driver who has no insurance (uninsured motorist) or insufficient coverage to pay for all your losses (underinsured motorist). Remember, the state requirements for auto liability insurance is $15,000 per person and $30,000 per accident. This might sound like a lot, but you can easily hit your policy limits if you require surgery or inpatient hospitalization. This is why many drivers choose to supplement their auto insurance with UM and UIM coverage.
Glass coverage
Glass coverage is a small cost that many drivers do not even realize has been added onto their insurance. The added premium might be small, but over time it does add up. It is also important to consider the trade-off: what are you getting for your money? A new windshield is often $200 or less. Unlike many other auto insurance losses, many drivers can afford to pay this expense out of pocket, and would prefer to do so rather than continually paying added insurance premiums.
Rental car coverage
If you are hit by someone else, the at-fault driver is responsible for repairing the damage to your vehicle and paying for your rental car while your vehicle is repaired. Some drivers also pay to add rental car coverage to their insurance policy in the event their car is damaged by fire, flood, or other specified disasters and events. This is an optional cost that might be worth it to some drivers – but it does increase your premiums.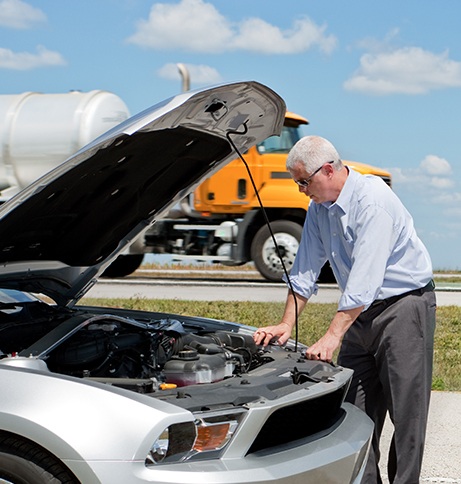 Comprehensive coverage
The state requires you to carry a minimum amount of liability coverage on an auto insurance policy. This only covers damage that you cause to other people. It does not cover damage you cause to your own vehicle or damage that is caused by theft, fire, and other natural disasters. A comprehensive auto insurance can provide coverage for these events. But comprehensive coverage can be pricey because it does cover the entire cost of your vehicle. If your vehicle is not worth very much, you might choose to skip this costly coverage. But be very careful before you cancel your comprehensive coverage: remember, without it, your vehicle could be stolen or destroyed with absolutely no reimbursement. If you have a loan on your car, your lienholder will almost certainly require comprehensive coverage to insure the amount of your loan.
What Insurance Do I Need to Be a Rideshare or Delivery Driver?
Many California drivers are supplementing their income during the pandemic with "gig" employment. Rideshares (like Uber and Lyft) and food delivery services (like Grub Hub, Postmates, Door Dash, and Uber Eats) have created many opportunities for added income. But drivers need to be sure that they have the appropriate insurance coverage. Many personal auto insurance policies have exclusions for employment and other "commercial activities." This means that your insurance carrier could deny a claim if your accident occurred while you were working as a rideshare or delivery driver.
So what can you do to protect yourself while working as a driver for a rideshare, restaurant, or grocery delivery service. First, call your insurance agent and ask what coverage options are available. Many insurance carriers are offering special "rideshare policies" that address this exact situation. Others might have an affordable commercial auto insurance policy that will protect you.
What If I Can't Pay My Auto Insurance Premiums Because of COVID-19? 
Many, many people in California and throughout the country have had trouble paying their bills due to the coronavirus. Unemployment hit record highs this year. Many businesses are still closed, and many people still can't pay their rent and mortgages. This has been one of the most difficult financial years in American history.
So what can you do if you can't afford to pay for your auto insurance. There are options. Many insurance companies are offering "grace periods" or forgiveness programs to help drivers keep their coverage. You might also be able to switch to paying smaller increments on a more frequent schedule if this is more manageable.
What if I Can't Get Through to My Insurance Company?
Customer service has been something of a nightmare during the coronavirus pandemic. Many call centers are shut down, and many insurance agents are still working from home. This means that it might still be difficult to get through on the phone. This is especially true for large companies that have a single toll-free number for customers all across the country.
How are Auto Claims Being Handled During the Coronavirus Pandemic?
For the most part, auto insurance claims are being handled now exactly as they were before the pandemic, as most large insurers automate claims processing. Many claims handlers already worked from home prior to the COVID-19 outbreak, so it has been a relatively smooth transition for many of these claims handlers and adjusters. Insurance companies are also still subject to regulations that require the timely handling of all claims. "Timely" has a different meaning when there are unforeseeable problems and delays due to the global health and financial situations, but it does not mean claims handlers can abandon their duties and obligations altogether.
Auto repair shops have also been designated as essential businesses during prior lockdowns. Even if the state should need to close again, it is likely that you would still be able to have your vehicle repaired in a timely manner. Healthcare has always been an essential business, so you should be able to get the medical care you need, as well. 
How Can I Keep My Car in Good Shape if I Am Not Driving it Often?
Maintaining your car in good working order is an important step toward preventing auto accidents. If you are driving your vehicle less these days, it is even more important to check it before you go out on the road – and into traffic. Check your tire pressures before you leave the house. Pop the hood and look for leaks, cracks, or anything else that does not look right.
When you do hit the road, keep a very close eye on your vehicle. Monitor your engine temperature and all your gauges. If anything seems to be wrong, pull off of the road before you make the problem worse. Consult with a mechanic about any problems or questions that come up. 
If I Do Get Into an Accident, How Can I Protect Myself From the Coronavirus?
Social distancing is an important step to stop the spread of the coronavirus. It is difficult to know what to do in the chaotic aftermath of a car accident, but it is still important to remember your PPE and social distancing measures. You should always keep a mask in your car. Put it on before you get out of the vehicle to speak with the other driver, police, or emergency medical personnel. You can also keep disposable gloves in your vehicle.
If you do need to go to the hospital, the medical professionals there will be trained in coronavirus precautions. But it is still important to wear your mask, wash your hands frequently, and keep your distance from others as much as possible. Medical facilities tend to have a lot of germs, bacteria, and viruses. Because of this, your doctor will likely try to treat you and get you home as quickly as possible, in order to reduce your risk of being infected at the hospital.
Experienced California Car Accident Lawyers for All Your COVID-19 Auto Insurance Questions
The coronavirus has created many new problems in the legal world. Many courts are facing legal issues that have never come up before. But car accidents and insurance claims are operating much the same as they always have. The experienced car accident lawyers at Arash Law know how to handle all types of car accident cases – even with complications due to the coronavirus pandemic. We serve clients in San Francisco, Riverside, San Jose, San Diego, Sacramento, Sherman Oaks, and throughout California.
We have collected over 150 million dollars for clients across the state. Our California auto accident lawyers have decades of experience, and they know how to negotiate fair settlement offers with insurance companies. Call (888) 488-1391 to schedule your free consultation. Don't delay – the sooner you have an experienced lawyer fighting on your side, the better protected your legal rights will be.