An unidentified pedestrian was killed after a fatal hit-and-run accident in Dinuba on Tuesday night, February 9.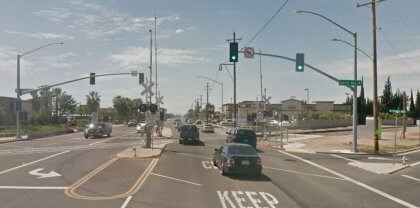 The deadly accident occurred at the intersection of Euclid Avenue and El Monte Way at approximately 10:30 p.m.
The unidentified man was crossing the road when he was struck by a Ford F-150 on El Monte Way. The Ford driver reportedly exited his vehicle only to pick up a broken truck part then drove away.
The victim was then struck by another passing vehicle. Unfortunately, the victim sustained fatal wounds from the accident and was later pronounced dead at the scene.
The second driver initially left the scene but later returned and cooperated with local authorities.
Local authorities are actively pursuing the first driver. Information about the driver's identity and whereabouts are unavailable at the moment. They are actively investigating the case.

Hit-and-Run Pedestrian Accident Statistics
Pedestrians currently make up a large percentage of traffic fatalities in the past 33 years. According to the Governors Highway Safety Association, pedestrian fatalities in the U.S. have increased by 27 percent from 2007-2016, while other traffic-related deaths decreased by 14 percent.
Walking away from a pedestrian accident is also more comfortable. Leaving the scene after an accident is a crime in itself. Unfortunately, hit-and-run accidents still occur on U.S roadways every day.
Pedestrians are completely defenseless and vulnerable in the event of someone else's negligence in the circumstances in which most pedestrian accidents occur.
California law is clear that if a motorist bumps or hits an unattended parked car, the driver must leave his or her name and contact information for the driver of the damaged vehicle. If someone's property has been damaged, it is illegal to drive away in an attempt to go undetected. To do so is a misdemeanor that can carry the maximum sentence of up to six months in jail and a fine of up to $1,000.
Tulare County Wrongful Death Claim for Victims of Fatal Hit-and-Run Accidents
If you or your loved one was injured – or worse – in a hit and run accident, you're likely to be overwhelmed in the aftermath. While you attend to the vital task of moving forward toward a full physical and emotional recovery, allow your hit and run accident lawyer to help guide your claim toward its best possible resolution. You may be concerned about a hit and run lawyer's costs, but don't let this dissuade you from seeking legal counsel.
Even if you don't realize it, it's likely that, as a California driver, you carry uninsured motorist coverage. Most California policies include such coverage. However, it is not strictly necessary that you have uninsured motorist coverage to collect on the damages you suffer in a hit and run crash. Lawyers for hit and run cases can often help you collect even if you do not have UM coverage.
Arash Law's experienced personal injury lawyers have extensive expertise and knowledge representing California pedestrians who have been injured or killed in pedestrian accident cases. We have an intimate understanding of the law that applies in such circumstances. We take the time to get to know our clients and their cases in intimate detail, enabling us to obtain the most favourable settlements or jury verdicts possible for our clients.
Call our office at (888) 488-1391 today to discuss your accident with a lawyer for hit and run cases.