A 13-year-old boy was killed after a fatal two-vehicle traffic collision in Oxnard on Tuesday afternoon, July 13.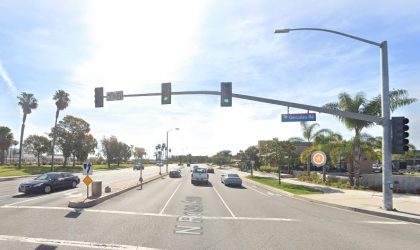 The fatal collision transpired at approximately 2:00 p.m. at the intersection of Rose Avenue and Gonzales Road in Oxnard. A 1999 Honda Civic was attempting to turn left from northbound Rose onto westbound Gonzales Avenue when it collided with a southbound white 2012 Dodge Ram 2500 truck.
It is unclear what triggered the collision. Three occupants of the Honda sustained serious injuries from the mishap. They were taken to Ventura County Medical Center. Unfortunately, a 13-year-old boy riding the Honda later succumbed to his injuries in the hospital and was pronounced dead.
The driver and the passenger of the Dodge were uninjured from the mishap. The identities of the involved parties have not been disclosed. It is unclear whether drugs or alcohol played a role in the accident.
The case is currently under investigation. Witnesses that can give more information about the crash are encouraged to call Senior Officer Paul K. at 805-385-7750 or via email at paul.knapp@oxnardpd.org.

Fatal Two-Vehicle Collision
Car accidents can be life-threatening and traumatic. Because cars are so common in our lives, drivers often overlook the dangers and risks involved in driving a car. The number of people killed or injured in car accidents in the United States has risen dramatically over the years.
According to the National Safety Council (NSC), approximately 38,000 people were killed in motor vehicle accidents in the United States in 2019. California is no stranger to these traffic accidents. Fatal crashes frequently occur on California's roadways which causes congestion and traffic jams.
The California Office of Traffic Safety (OTS) reports that there were 3,563 car accident fatalities throughout the state in 2018 alone. Thousands of people must deal with grief and sudden loss in the wake of California's deadly accidents.
Wrongful Death Attorney for Victims of Fatal Two-Vehicle Collisions in Ventura County
Car accidents are terrible tragedies that often leave victims with extreme pain, trauma, and expensive medical bills or funeral costs. One step that many families find helpful after losing a loved one in a car accident is meeting with a compassionate fatal car accident attorney.
In any car accident, determining fault and liability is critical. Even if you are confident that you are not at fault, don't point fingers or accuse the other party of wrongdoing. Allow your California motor vehicle accident lawyer and the authorities to handle that aspect of the case. It's one less thing for you to be concerned about during this trying time.
When you hire a California motor vehicle accident attorney, they will assess the circumstances of your accident from all angles. They will determine who is liable and what insurance policies there might be to draw from so that you can receive full and fair compensation for your damages.
Have you lost a loved one due to the negligence of another driver? Call our attorneys from Arash Law now for a free initial consultation. We have the resources and experience that can help you win your wrongful death claim. Call Arash Law today at (888) 488-1391 or fill out our online contact form to schedule your free, no-obligation fatal car accident case evaluation.