The novel coronavirus has changed every aspect of American life. We work, shop, and socialize is entirely different. Perhaps nobody knows how much life has changed more than essential workers and nursing home residents. The unsafe conditions in hospitals have already caused high-profile lawsuits.
As the virus spreads, conditions may also be hazardous in other workplaces and nursing homes. We expect that more lawsuits will follow.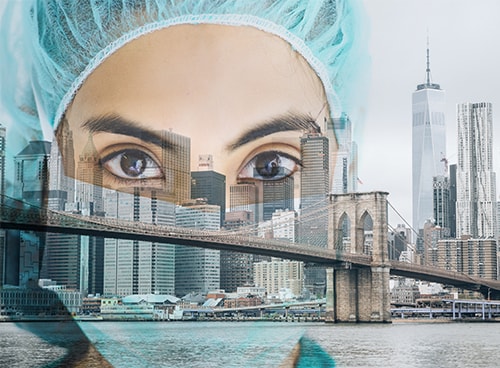 New York Nurses Sue the State
On Monday, April 20th, the New York State Nurses Association (NYSNA) filed lawsuits that made headlines. The organization alleges that the state and two hospital systems created dangerous conditions. These conditions allegedly worsened the outbreak in New York and threatened the lives of healthcare workers. 
The association sued on behalf of its approximately 42,000 members. One lawsuit alleges that the state failed to provide necessary protective equipment. Furthermore, the nurses claim that those who tested positive for COVID-19 were forced to return to work too early. These actions allegedly made the outbreak and conditions worse. 
This lawsuit marks one of the first collective legal actions taken due to how organizations have handled the pandemic. NYSNA Executive Director Pat Kane has said that 70 percent of nurses have been exposed to the virus. However, most of these nurses have not been tested.
The NYSNA also sued the Montefiore Medical Center system and the Westchester Medical Center on behalf of registered nurses. These suits claim that the conditions within the facilities are like "war zones." Furthermore, the nurses say that the hospital systems failed to provide "essential tools they need to do their job and keep themselves safe."
Nurses in the suit say that they were forced to obtain testing on their own and had to work without masks and gowns. The suit hinges on the idea that the employers' failures to prepare created unsafe work environments for the nurses.
---
Similar Suits May Follow in California
While these initial lawsuits are taking place in New York, we can expect this trend to move across the country as the virus does. As of April 24th, California has experienced more than 39,000 cases and 1,562 deaths from COVID-19. This number continues to rise despite strict shelter-in-place orders.
Like all Californians, we hope that the curve flattens, and this crisis ends quickly. However, we also know that we must be prepared to take action if things get worse. Healthcare workers, other essential employees, and nursing home residents may need to file lawsuits. These suits hold powerful entities accountable for their actions and allow individuals to get the money they need to recover from the crisis.
Suing Your Employer for Unsafe Conditions
Just like the nurses in New York, you are entitled to safe working conditions. In the midst of a pandemic, this should include access to protective equipment you need. If your employer does not provide you with the necessary equipment, you may have grounds for a lawsuit. 
Like all workers' compensation claims and lawsuits, your case hinges on two things:
Your employer was negligent.

You were harmed as a result of this negligence.
Employer negligence may be that your employer did not provide the face masks or other protective equipment you need. Other ways in which your employer may be negligent include:
Failing to provide testing, even when you have symptoms and were exposed

Remaining open when the company is not essential

Failing to staff the workplace at safe levels
If you contract COVID-19, you can claim this was due to your employer's negligence. You may also have a lawsuit if the unsafe conditions caused other problems, even if you do not get sick. Consulting a California workers' comp attorney is the only way to know for sure whether you have a case.
Nurses are not the only essential employees who may have unsafe working conditions during this time. If you are another type of healthcare worker, work in a grocery store, or complete other essential duties, you may be entitled to compensation.
Lawsuits Over Unsafe Nursing Home Conditions 
The coronavirus has hit many nursing homes hard. Due to the close living quarters and the lack of protective equipment, the virus can spread quickly in nursing homes. Furthermore, the ages of the residents make the virus particularly deadly.
If you or a loved one experiences the horrors of COVID-19 in a nursing home, a California personal injury attorney can help. Depending on the facts of the case, you may need to file a wrongful death or nursing home abuse lawsuit. 
To file these suits, you need to prove that the nursing home was negligent. This may include failing to provide face masks or understaffing the home. A lawsuit can help you recover expenses such as:
Treatment for related health problems

Funeral expenses

Pain and suffering
Although you cannot physically check-in on your elders in nursing homes, we highly recommend checking in over the phone. Taking care of senior citizens is always important, but especially in this crisis. Be sure to ask if the employees and residents have the equipment they need to stay safe.
---
Work With Experienced California Personal Injury Attorneys
The coronavirus crisis and resulting lawsuits are unprecedented in many ways. If you or someone you love one experiences unsafe working or living conditions during this crisis, you may have a claim. However, you will need experience and determination on your side. 
The California personal injury attorneys at Arash Law bring decades of experience to your case. We often recover 7-figure settlements for our clients. How? Because we fight like winning is the only option. 
During the coronavirus outbreak, we are still seeing clients through phone calls and video conferencing. We offer free consultations and don't get paid unless you do. In personal injury cases, it's important to hire an attorney as soon as you believe you have a case. Contact us through our online portal today or call us at (888) 488-1391 to get started.