California is one of the hardest-hit states when it comes to the spread and severity of the coronavirus. It is also a state that has thousands of traffic accidents and resulting injuries and deaths every year. Having a pending injury claim can cause some uncertainty and stress, especially if you do not have an experienced California car accident lawyer. 
If you currently have a pending car accident case or are considering filing one, you may be anxious and worried about how the COVID-19 pandemic will impact your case. Will you have to wait longer for it to be resolved? Will you still get the money you deserve for your injuries? Are there other impacts on your case to be aware of? Should you wait to file your claim? Can you still meet with your attorney? Are insurance offices still open? There are several factors to consider when looking for answers to these questions. 
The Statute of Limitations for California Car Accident Cases
A statute of limitations is a time limit for filing a legal case. In California, the statute of limitations for car accident cases is two years from the date of that accident as per California Code of Civil Procedure section 335.1. Once this time limit has elapsed, your claim is no longer valid, and it is highly unlikely that you will recover fair compensation for your damages. It is yet to be seen if the courts will extend this deadline in light of the pandemic and the closures. Until you know for sure, it is best to act as if the statute is truly two years from the date of your accident. 
If you are waiting to file a legal claim or to contact a California car accident attorney until after the coronavirus crisis subsides, you could potentially run the risk of not getting your claim filed within this two-year deadline.
You should also consider that the longer you wait to contact a California car accident lawyer after your accident, the higher the chances that valuable evidence in your case will be lost or destroyed. Gathering evidence like pictures of the vehicles, witness statements, or the area in which the accident occurred can all be used to prove your case.
---
What about Court Closures?
Chief Justice Tani Cantil-Sakauye signed a statewide order on March 30, implementing temporary emergency measures that were approved by the Judicial Council. As such, California courts are currently under emergency orders to remain closed to help prevent the spread of COVID-19. How does this impact your case? 
If you have not yet filed a claim, an attorney can still file your claim electronically while the courts are closed. It is best to speak with your California car accident attorney to find out court closures specifically apply to you. However, most claims are settled out of court before the plaintiff's lawyer files a lawsuit.  Lawyers for the defendant's insurance company and your attorney will likely reach a settlement agreement. The majority of car accident claims settle out of court. While California courts are closed, cases that are settled out of court with insurance companies will likely suffer minimal disruption.
If you have a deposition, a trial date, or another type of hearing schedule, be aware that due to court closures, it will be delayed. While we cannot control this, we will do everything in our power to get you rescheduled as soon as possible and keep your case moving along as quickly as possible.
Insurance Companies Still Obligated to Comply with the Law
The California Insurance Code (CIC) are the laws that California insurance companies must adhere to when conducting business in the state. Under §790.03, an insurance agency must investigate promptly, process, and pay insurance claims. 
On March 18, 2020, California Insurance Commissioner Ricardo Lara issued a notice to insurance companies. In this notice, he reminded the insurance industry of their legal and commercial obligations and actively encourages all insurance companies to:
Take steps during the crisis necessary to maintain their ability to process and pay insurance claims 

Provide other required consumer services for insureds in a reasonable and timely manner
While factors out of anyone's control may delay inspections or the ability to pay claims, insurance companies are still expected to do all they can to comply with the law. For instance, having employees working from home to adhere to the stay-at-home order yet still conduct business as close to normal as possible. Since many settlement negotiations take place by phone or can be done with video conferencing, your California car accident lawyer can still speak to the defendant's attorneys to negotiate a fair settlement for your claim. 
Medical Attention Will Maximize Your Claim's Value
It is highly likely that many Californians are not getting the medical care they need because they are afraid of exposure to the coronavirus. While you may be remiss to venture out to seek medical attention or treatment during this outbreak of COVID-19, skipping medical appointments or avoiding the emergency room after an accident will not help your claim. Being afraid to get medical care due to the virus will not generally be an acceptable excuse for not getting medical attention. Keep in mind that even under California's stay-at-home orders, going out to get medical care is an exception.
If you were recently in an accident, make sure you go to the ER or see a doctor elsewhere as soon as possible to document your injuries and begin any treatments you might need. If your accident happened a while ago, and you are still receiving treatments, therapies, or need further follow-up care, be sure to continue to follow through with your healthcare team's advice and orders. Not receiving the care you require can signal to the insurance company and their attorneys that your injuries must not be that bad. Therefore, you do not need as much compensation. 
It is normal to have fears about coronavirus when going to your medical appointments, but to protect the validity and value of your claim; you still need to go whenever possible. When you do go to doctor's appointments, be sure to use the protective measures recommended to the World Health Organization and the U.S. Centers for Disease Control. For example:
Using social distancing

Frequent hand washing

Avoid touching your eyes nose and mouth

Wearing a non-medical mask

Practicing good respiratory hygiene
There could come a time that your hospital or doctor's office is so overrun with the influx of COVID-19 patients that your appointments are canceled, or you are unable to make future appointments. If this situation occurs, let your California car accident attorney know as soon as possible and keep a record of what appointments were canceled and why. Furthermore, be diligent in rescheduling those appointments when you can. 
Californians Might Stop Paying Their Car Insurance Premiums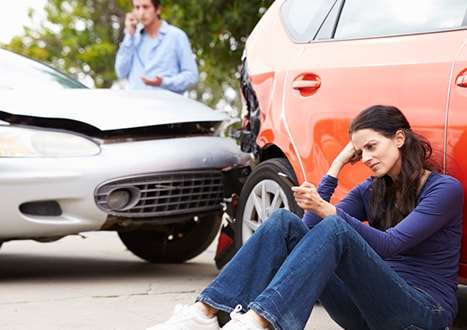 The Federal Reserve Bank of St. Louis estimates that unemployment in America could reach as high as 40 percent in the wake of COVID-19's American infiltration.
With so many people out of work and the recession of the economy, it can be expected that more and more Californians will not be able to pay their car insurance premiums. More drivers on the road will be without any insurance coverage or coverage that is adequate.
Even still, drivers are legally mandated to carry the following amounts and types of insurance coverage:
$15,000 for injury or death to one person

$30,000 for injury or death to more than one person

$5,000 for damage to property
If you are in an accident with an uninsured or underinsured motorist, you still may have legal recourse. Schedule an appointment with a skilled California car accident lawyer as soon as possible after your accident to determine your next steps. If you have uninsured/underinsured motorist coverage, you can file a claim with your own insurance company to be compensated for your damages. 
Insurance Companies May Try to Pay Less in Claims
Because of the economic downturn caused by the coronavirus pandemic, insurance companies might be vigorously protecting their bottom line, more than they usually would. It could be more difficult for you to receive fair compensation for your injuries and damages. Now more than ever, you need a seasoned California car accident attorney to stand up for your rights and hold the insurance companies accountable.
Do not let COVID-19 keep you from getting a fair settlement for your claim. Our attorneys will pressure the insurance company to take your claim to trial if needed, which is the last thing most insurance companies want.  
---
Protect Your Case While Quarantining
The recent weeks may have brought several changes to your everyday life. You might be without a job or temporarily at home. You probably have a lot more spare time on your hands and miss seeing your friends, family, and colleagues.
Connecting with them via telephone, video chats, and social media is now more critical than ever. It can be tempting to discuss your personal injury case and to post about it on social media. After all, you want those close to you to know what has happened and how you are progressing. 
Talking about your case with others or posting about it on social media can impact the integrity of your case. Insurance companies often hire people to scour the social media accounts of their claimants.
Sometimes plaintiffs are even asked for their social media usernames and passwords in the discovery process, although we can object to this. The insurance companies look for any clues that might help them reduce the amount of your claim, such as posts about the accident that might admit fault or make your injuries seem less significant, such as pictures or posts of you out with friends or going on vacation or even being active at home. 
Even if you think the security settings on your social media accounts will keep these people out, you could be wrong, and it is not worth the risk. Talk to your California car accident lawyer to find out how to handle social media while your case is pending. They may recommend that you close your accounts or stay off of social media sites entirely until your case is settled. 

A California Car Accident Lawyer Can Help Without Meeting You in Person
The pandemic is changing the way that many businesses practice, including ours. Although attorneys are considered essential services, we want to keep you and your family safe and healthy. Instead of traditional face-to-face meetings, we offer and encourage alternative methods of conducting your case evaluation and pursuing your legal claim. Your California car accident attorney may work remotely to handle your claim while still collaborating with our staff. We are leveraging technology to meet with clients and to organize and access records while keeping them secure. No matter what, we are here for you 24 hours a day, seven days a week, 365 days a year, even during the coronavirus crisis.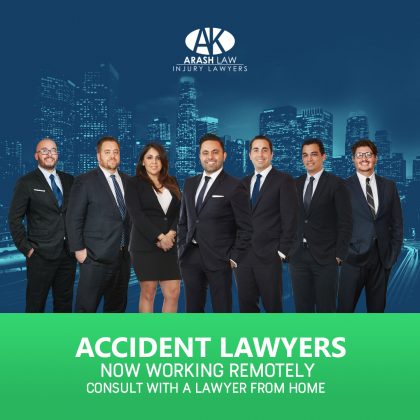 Call Our Office to Speak With an Experienced California Car Accident Attorney During The COViD-19 Pandemic
Unfortunately, car accidents are not going to cease due to the presence of the coronavirus in our state. Remember that just because there is a public health emergency, you still have legal rights and options, and you deserve justice. Do not delay your car accident claim due to COVID-19.
Although there may be some delays or variations in how your legal claim is handled, we are still here for you and will do everything we can to keep your case on track to be successful.
Contact Arash Law today by phone (888) 488-1391 or online to receive your free case consultation with an experienced California car accident lawyer from our firm.
Our dedicated lawyers have recovered over 200 million dollars for clients, just like you, with a 98 percent success rate. We have decades of experience serving car accident victims in San Francisco, Riverside, San Jose, San Diego, Sacramento, Sherman Oaks, Fresno, and throughout California.  
---
The Personal Injury Pre-Litigation Process