Two people were killed after a deadly head-on collision in Olivehurst on Wednesday morning, September 15.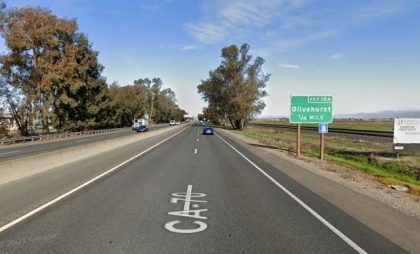 The fatal accident transpired at approximately 2:09 p.m. on Highway 65 near Highway 70 in Olivehurst. Officers on Highway 70 were chasing a northbound stolen Ford truck towing a trailer.
For unclear reasons, the suspect veered into the southbound lanes and collided head-on with an oncoming Dodge Durango. The trailer of the Ford then struck a Chevrolet Silverado.
Due to the severity of the impact, the Dodge overturned, trapping the occupants inside. Emergency personnel then extricated the trapped parties.
The two women inside the Dodge were then rushed to an area hospital, where they were later pronounced dead. The deceased women were identified as Deanna Hernandez and Cary Ojeda.
The suspect attempted to flee the scene on foot, but local authorities later apprehended him. The suspect was identified as 25-year-old Chase H.
He is now being charged with two counts of murder, along with charges of vehicle theft, evading police, crossing a divided highway, and hit-and-run. Local authorities are further investigating the case.

Fatal Head-On Collision Statistics
Leaving the scene after an accident is a crime in itself. Unfortunately, hit-and-run accidents still occur on U.S roadways every day. In 2016, approximately 2,049 hit-and-run fatalities were reported in the U.S. Annually, around 682,000 hit-and-run accidents occurred in the country.
According to the National Authority for Automotive Traffic Safety (NHTS), in 2020, 38,680 people died, up 7.2% from the previous year, even though fewer people were expected to die on the road due to the coronavirus pandemic. In this case, a head-on collision occurred. Head-on collisions occur when two or more vehicles collide on the front ends. They are often fatal as a result of the collision force when the vehicles collide.
Only 2% of traffic collisions are head-on collisions, representing more than 10% of driving fatalities. There are different reasons why these accidents occur, including distracted driving, drunk driving, driver overfatigue, and mechanical failure.
Yuba County Wrongful Death Attorney for Victims of Fatal Head-On Collisions
Proving liability can be more complex than it sounds, as liability involves complex legal issues and defenses. The defendant could even try to say you were partly responsible for your injuries. It is essential to work with an experienced California accident lawyer who knows how to prove liability and can communicate with the other party's insurance company on your behalf.
Lawyers can also help the family of the victim file a wrongful death claim. A wrongful death claim can help you pay for the high medical expenses and other expenses caused by the accident. It can also assist those who lost their income due to injury or unexpected death of their loved one in the accident.
Were you involved in a deadly head-on collision? Consult our Arash Law attorneys now. We are glad to guide you throughout your claims process. We have offices in Los Angeles, Sacramento, San Francisco, Riverside, Orange, and San Diego. You can also visit our offices.