Our San Luis Obispo Injury Law Firm

DOESN'T JUST WIN,


WE WIN BIG!
You May Be Entitled to Compensation

For our San Luis Obispo Accident Lawyers

Winning isn't everything, It's the only thing.
San Luis Obispo is a city and county seat of San Luis Obispo County in the U.S. state of California. Located on the Central Coast of California, San Luis Obispo is roughly halfway between the San Francisco Bay Area north and Greater Los Angeles south. The population was 47,063 at the 2020 census.
In addition to its large population, San Luis Obispo has a lot of traffic. Like most cities in California, the motor vehicle is the primary transportation in SLO, which sits near many major freeways and highways. For this reason, the area is not immune to accidents and injuries.
Fortunately, our award-winning San Luis Obispo personal injury firm is available to assist you! Look no further for the leading law firm in personal injury law.
April 2019: $14M settlement in a traumatic brain injury case involving a defective piece of equipment at a factory.
– 
BRIAN BEECHER
Statistics:

Traffic Accidents In San Luis Obispo
While San Luis Obispo is breathtaking, it can be challenging to enjoy the tranquility and peace of SLO because everything is expensive. Accidents and tragedies may also overshadow the peace and serenity of the city.
Our firm represents clients who have suffered severe injuries due to the carelessness and negligence of others in and around San Luis Obispo. Survivors and their families may experience financial, emotional, and physical trauma due to these wounds.
According to the California Highway Patrol, there were 4,207 motor vehicle collisions in San Luis Obispo County alone between January 2019 and January 2020. The COVID-19 pandemic is responsible for halving that number from April 2020 to April 2021, dropping it to 2,708. With more people taking to the streets and more marches in 2021, that number is expected to rise again.
Top 5 Most Dangerous Intersections in San Luis Obispo
Santa Rosa & Foothill | 82 accidents – Most collisions at this intersection were rear-end collisions, followed by broadsides (where a vehicle's side is struck by another's front or rear, forming a "T"). 39 people were hurt in accidents, four of which involved pedestrians and three of which involved bicyclists.
Los Osos Valley & Calle Joaquin | 76 accidents – In this case, rear-end collisions were also the most frequent, followed by broadside collisions. Eight people were injured, three cyclists and one pedestrian.
California & Foothill | 48 accidents – This intersection was prone to rear-end collisions, followed by broadside collisions. Among the 53 people injured, four were cyclists, and two were pedestrians.
Los Osos Valley & Froom Ranch | 44 accidents – A broadside collision was the most common at this intersection, followed by a hit object. One pedestrian was injured out of nine people injured here.
Santa Rosa & Olive | 42 accidents – Two of the most common collisions are rear-end and sideswipe collisions, which occur when two cars collide in the same direction. Injuries to 2 people happened at this intersection.
IF YES, You may be able to recover financial compensation. TELL US MORE: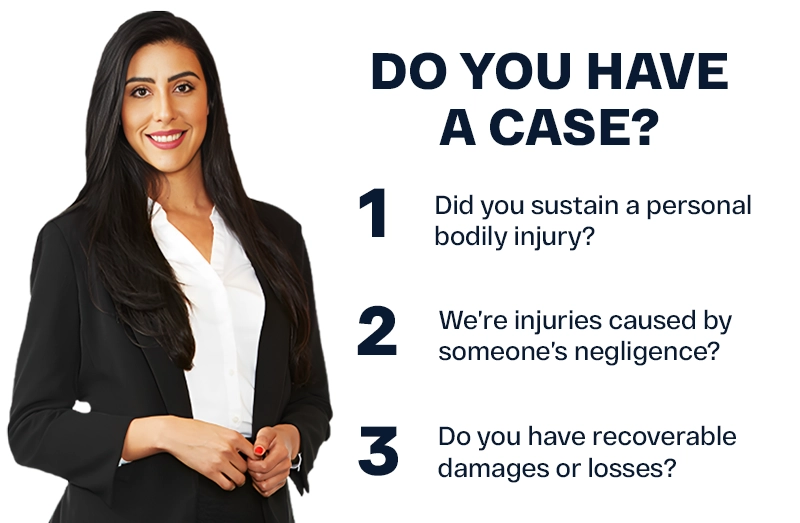 IF YES

, You may be able to recover financial compensation.

TELL US MORE:
Common Types Of Personal Injury Claims We Handle in San Luis Obispo, CA
Car Accidents – Whether the accident was a minor collision or a serious one requiring personal injury litigation, we will fight for the highest compensation for your injuries.
Medical Malpractice – Medical malpractice occurs when medical care is provided negligently. You may experience this in a hospital, during surgery, or as an outpatient. Carelessness or poor performance on the part of a medical professional constitutes medical malpractice.
Wrongful Death – Wrongful death claims are made when another party's negligence causes the death of a victim. A victim's demise after suffering severe injuries in a car accident is an example of wrongful death. A lawsuit can then be filed on their behalf by their family.
Slip And Fall – A slip and fall claim is made when a victim slips or falls on another person's property because of an unsafe condition. Whether it's at work, at home, on someone's lawn, or even in a store, slips and falls can happen anywhere. The property owner is often responsible for injuries in these areas.
Product Liability – Victims may bring product liability claims if their injuries are caused by faulty or defective products and products that lack adequate instructions or warnings.
Premises Liability – Premises liability claims are made when injuries are sustained due to dangerous conditions on another person's property.
Truck Accident – Truck accidents often result in severe injuries due to the size and speed of a truck. A successful truck accident claim requires specialized knowledge and experience because multiple parties may be at fault, including the driver's employer.
Workplace Accident – Personal injury claims may result from injuries sustained while working in dangerous or unsafe conditions.
Dog Bites – It is also essential to consider the location of the bite and any involvement of the dog's owner since animals cannot be sued. Thus, hiring an experienced personal
Common Types Of Personal Injuries
Back injuries – Injuries to the back are some of the most common personal injury claims. All types of spinal injuries fall under this category.
Concussion – This is an injury to the brain caused by an impact.
Broken Bones – Accidents can result in broken bones due to strong impact.
Neck Injuries – A neck injury occurs when the neck's muscles, tendons, and ligaments are damaged due to an accident.
Scarring – This is a type of disfigurement brought on by burns and lacerations.
Contusions– Even though bruises are one of the most common injuries, they are not frequently considered personal injuries by insurance companies.
What To Do After A Traffic Accident in San Luis Obispo, CA
You must be prepared for anything the other driver(s) or insurance company might say or do after a collision. If you are well-equipped, you will have a much better chance of making a successful car insurance claim, regardless of whether you caused the crash or played a role in it. In addition, it will protect you if the other driver falsely accuses you of causing the collision.
The following five things should be done if you are involved in an accident:
Move your vehicle to a safe location. – When possible, pull your vehicle to the side of the road, preferably where others can see you and where it is well-lit. If other drivers witnessed the collision, the at-fault driver would have a more challenging time holding you responsible for a car accident.
Check yourself and your passenger(s) for injuries. – After moving your car to a safer area, check your body for any apparent injuries. After a car accident, the adrenaline rush may prevent you from feeling your injuries right away. If you or your passengers are seriously injured, call an ambulance immediately. If you must leave the scene, you should request a copy of the police officer's report.
Call the police. – If a driver is involved in an accident resulting in injuries or fatalities, they should contact the California Highway Patrol or the police within 24 hours. The police aren't required to be called in other situations, but calling them is a good idea. A police officer can resolve any argument or retaliation from the other driver. Accident victims have been threatened or bribed by at-fault drivers not to report accidents, even when the victims were not at fault.
When an officer is present, that won't happen, and no matter how kind you are to the other driver, keep in mind that they aren't looking out for you. When faced with these circumstances, you must prioritize your interests even if it goes against your natural tendencies. The officer will also write a police report crucial to your claim. When assessing your claim, insurance companies will first consider the police report. Insurance adjusters highly regard these records.
Gather evidence at the scene. – It is unnecessary to wait for your attorney or the police officer to arrive to complete this step. It would be helpful if you could gather as much information about the scene as possible. The images should include images of the vehicles involved, stop and traffic signs, the surrounding environment, tire marks on the road, and any apparent injuries. Evidence from the scene can demonstrate, among other things, that you were not at fault for the collision, that the other driver was at fault, and that the crash caused harm to you.
File an insurance claim. – It is almost a given that you will have to file an insurance claim after a collision. Contact your insurance company immediately after the crash to begin the claims and compensation process.
Let a San Luis Obispo Traffic Accident Law Firm Fight for Your Compensation
A car accident can cause excruciating pain, exhaustion, and confusion. You shouldn't worry about the next steps in your legal recovery and how to get fair compensation for your injuries. After an accident, the best course of action is to contact a reputable law firm specializing in personal injury law.
Our San Luis Obispo accident lawyers at Arash Law, led by Arash Khorsandi, Esq., can assist you in obtaining compensation from the responsible party if you have been injured in an accident. Not all law firms are equally qualified to handle personal injury cases in California, so it is crucial to choose an accident law firm with years of experience handling car accident cases.
Our firm focuses on assisting car accident victims. You can contact us for a free consultation, and we respond to all emails and phone calls within 24 hours. If you cannot come to our California office, we can arrange a meeting at your home or hospital. Please call our law office at (888) 488-1391 to schedule an appointment.
We can also assist in settlement negotiations with major insurance companies in the following areas across California: Alameda, Bakersfield, Berkeley, Contra Costa, Fresno, Irvine, Kern County, Long Beach, Los Angeles, Marin County, Merced, Modesto, Monterey, Newport Beach, Oakland, Orange County, Pasadena, Placer, Riverside, Sacramento, San Bernardino, San Francisco, San Joaquin, San Jose, San Luis Obispo, San Mateo, Santa Barbara, Santa Clara, Santa Cruz, Sherman Oaks, Solano, Sonoma, Stanislaus, Stockton, Tulare, Ventura, and West Hollywood.
Get The Latest News from

The Best California Accident Law Firm Today