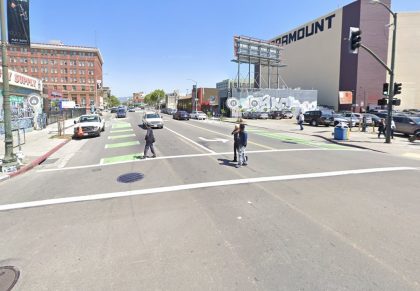 An unidentified 91-year-old man was killed after a fatal pedestrian accident in Oakland on Friday morning, April 22, 2022.
The fatal accident happened in the area of Telegraph Avenue and 20th Street in Oakland at approximately 7:00 a.m.
A northbound vehicle struck the 91-year-old man for unclear reasons. The elderly pedestrian was walking in a marked crosswalk at the time of the accident.
Unfortunately, the victim was killed in the crash and was pronounced dead at the scene. The driver stayed and cooperated with authorities.
An active investigation of the crash is currently underway. Witnesses who can give more information about the accident are urged to call the Police Department's traffic investigation unit at (510)-777-8570.


Fatal Pedestrian Accident Statistics
Pedestrians are more likely to die in a collision than passengers in an enclosed vehicle. This is because pedestrians are fully unprotected in the case of an accident.
The incidence of pedestrian deaths in the United States has climbed drastically. Between 2007 and 2016, pedestrian deaths increased by 27%, while traffic-related deaths decreased by 14%.
In 2017, 5,977 pedestrians were killed in car accidents in the United States. One person dies every 88 minutes, according to estimates. In 2017, an estimated 137,000 pedestrians were treated in emergency rooms for non-fatal crash-related injuries.
Statistics demonstrate that California is very unsafe for pedestrians compared to other states. In 2018, 893 pedestrians were murdered, and 14,000 were injured on California roadways.
Driver irresponsibility, speeding, and failure to yield to pedestrians are common causes of pedestrian accidents. It is vital to seek the guidance of an experienced attorney when dealing with difficulties like this.
Pedestrians can avoid getting involved in accidents by crossing streets at crosswalks or intersections, and looking for cars in all directions, including those turning left or right.
Alameda County Fatal Pedestrian Accident Lawyers
All drivers are expected to slow down whether or not a pedestrian is in a designated crosswalk. In regulated junctions, pedestrians must also be given priority. Authorities will investigate if the driver broke any traffic laws if they collide with a pedestrian.
The surviving members of the deceased's family can seek compensation for the accident's damages with the help of a lawyer in a wrongful death claim. Injuries may include compensation for lost pay, funeral expenses, pain and suffering, and mental anguish.
To hold the negligent party accountable, Arash Law will do everything to protect our clients' interests. An experienced Alameda County pedestrian accident lawyer at Arash Law can help you get the compensation you deserve after a collision.
It doesn't matter if a truck, car, motorcycle, or bike struck and injured the pedestrian we're representing; Arash Law has ample resources to perform the most thorough investigations on their behalf. Please call our toll-free number (888) 488-1391 for a free consultation with one of our attorneys.