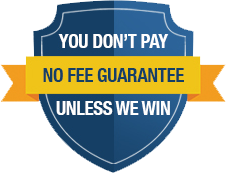 YOU MAY BE ENTITLED TO COMPENSATION FOR YOUR

BICYCLE ACCIDENT

We can tell you if you have a case or not within five minutes, Call (888) 488-1391
FREE CONSULTATION  |  PAY NOTHING UPFRONT  |  OVER $200 MILLION RECOVERED  |  ZERO-FEES UNTIL WE WIN
---
Bicycle Accidents Law Firm Trusted by All of California
In a collision between a bicycle and a motor vehicle, the vehicle always wins. Bicyclists are what the law calls "vulnerable road users," or those at the highest risk of injury in an accident. Even with bicycle helmets, bicyclists can sustain serious and life-threatening injuries in collisions with vehicles.
Common bike accident injuries include broken bones, road rash, head and brain injuries, crush injuries and internal organ damage. If you or someone you love was recently involved in a collision with a vehicle, call the California bicycle accident lawyers at Arash Law. We have experience representing clients in these scenarios.
California Bicyclist Rights and Responsibilities
California law classifies bicycles as vehicles. Therefore, bicyclists must behave as they would when driving a motor vehicle. They must obey roadway rules, including stopping at red lights and riding in the same direction as traffic.
Bicycles also have the same rights as other vehicles. They have a right to ride in the roadway when there is no bike lane and to ride two abreast in a single lane. Motorists often disregard the rights of bicyclists and ride too closely or try to pass them when it is unsafe to do so. This leads to serious injuries and deaths.
Statistics show that California leads the nation in the number of bicycling crash deaths per year. The majority of these crashes occur in urban areas, where cars and bicycles interact most often. Cars striking bicycles is the number one cause of bicyclist injuries and deaths throughout the state.
In many of these cases, the driver failed to yield the right of way, didn't check for bikes before pulling out, ran a stop sign or red light, or wasn't paying attention while driving. Texting and driving, drunk driving, and careless driving can all lead to a bicycle collision.
Sadly, motor vehicle drivers often escape unscathed while bicyclists suffer catastrophic or even fatal injuries. As a bicyclist in California, you must use prudence and common sense while navigating the roadways. Do not assume cars will stop for you or yield the right of way. Practice defensive cycling to help reduce your risk of a collision.
Still, it is not always possible to avoid a crash when a car's driver is acting negligently or recklessly. After a wreck, don't wait to speak to an bycicle accident lawyer. No matter what the extent of your injuries, you deserve to discuss your eligibility for compensation with an experienced personal injury lawyer. You can likely recover for your medical bills, pain and suffering, property damage, and more.
| | |
| --- | --- |
| As featured On | |
You Need Experienced Attorneys Who Will Fight For You!
Hit and Run Bicycle Accidents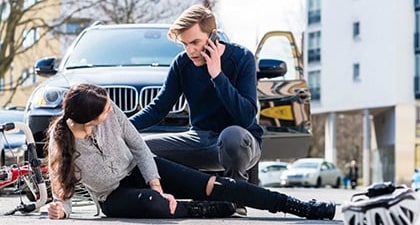 Many drivers that strike bicyclists illegally flee the scene. They may realize that they were at fault for driving under the influence, texting and driving, or otherwise failing to pay attention, and might panic or try to avoid liability.
If you were the victim of a hit-and-run bicycle accident, you have options. While finding the perpetrator is unlikely, you may have uninsured/under-insured motorist insurance that can cover your medical expenses and property damage.
After a hit-and-run, gather information from any eyewitnesses. Their statements may help investigators identify the person who struck your bike and hold him/her responsible for damages. File a police report immediately. They have resources that can help track down the driver.
Even if they cannot, your insurance company likely requires a police report. Seek medical attention for your injuries right away. As soon as you're able, call your auto insurance company and find out if you have uninsured/underinsured motorist insurance. If you do, your claim can end there.
CALIFORNIA IS FAILING TO MEET VISION ZERO'S GOALS FOR BICYCLISTS
Now in its fourth full year, Vision Zero, the program initiated to prevent traffic-related deaths in Los Angeles, has failed to decrease the number of fatalities. According to new data released, the deaths from auto accidents remain high.
In 2019, 244 people lost their lives in auto accidents on city streets. It represents only a decrease of 0.8 percent from 2018, per preliminary figures released by the city. Among the victims were 134 pedestrians and 19 bicyclists. While these numbers may change slightly as further analysis is performed, this early data represents another year of Vision Zero's dismal progress.
Mayor Eric Garcetti launched Vision Zero in 2015; since then, annual deaths caused by auto accidents have increased by 33 percent. Fatalities for pedestrians, vehicle drivers and passengers, motorcyclists, and bicyclists surged in 2016, rising from 183 to an astounding 253. Since 2016, the figure has decreased by only 3.6 percent.
Los Angeles has missed the mark regarding Vision Zero, which required a 20 percent decrease in deaths by 2017. The next goal outlined by Vision Zero and city officials is reducing traffic deaths by half no later than 2020. This goal means that fatalities must be reduced by more than 100 this year.
"Any life lost on our streets is one too many — and we will continue to pursue our goal of zero traffic deaths until we meet that mark," expressed Alex Comisar, a spokesman for the mayor, in a statement. He said that the mayor "urges everyone to use our streets as responsibly and safely as possible so that we can save lives together.
In the event of any type of bicycle accident in California, speak to Arash Law about your possible options. Call (888) 488-1391 or contact us online.
OUR RESULTS
DO THE TALKING