California

Dump Truck Accident Attorneys
PAY NOTHING UPFRONT

OVER $

400

MILLION RECOVERED

ZERO-FEES UNTIL WE WIN
You May Be Entitled To Compensation

Experienced Dump Truck Accident Attorneys in California You Can Trust
Dump trucks are essential to construction work, which is what keeps the State of California moving forward. Construction work is essential to maintaining a strong physical infrastructure, to housing our citizens, and to making progress in general. Dump trucks make this critical work possible. In fact, of all the large vehicles that swarm our roadways, dump trucks are among the most common.
Dump trucks usually have an open bed that is operated by hydraulics, which allow these trucks to smoothly dump their contents behind or beside them at the point of delivery. These trucks often move large cargos of loose construction materials, including sand, dirt, and gravel. When dump trucks are driven responsibly by appropriately trained and experienced drivers, they safely provide an essential service.
When, on the other hand, either the company in charge of the dump truck and/or its drivers fail to meet their essential responsibilities, dangerous accidents can happen. If you or someone you love has been injured in a dump truck accident, do not delay in consulting with experienced dump truck accident attorneys.
If a Dump Truck Accident Leaves You Injured, Contact an Experienced California Injury Attorney
Dump truck accidents are exceedingly dangerous, and if such an accident leaves you or your loved one injured, Arash Khorsandi and his dedicated legal team at Arash Law in California are here to help. Our experienced dump-truck accident attorneys in California have the knowledge, skill, and compassion to fight for the best possible resolution of your claim. We're here to help 24/7, so please don't hesitate to give us a call at (888-488-1391) today.
What's Considered a Dump Truck? Here Are the 5 Most Common
As their name implies, dump trucks use hydraulic systems to dump important building materials at construction sites. There are a variety of different kinds of dump trucks on our highways and byways:
A standard dump truck is the kind you're probably most used to seeing. It includes a moving bed that's mounted to the frame. Standard dump trucks have greater maneuverability than most other types.
A transfer dump truck amounts to a standard dump truck that pulls a separate trailer with a moveable cargo container that is powered by its own electric motor. This setup maximizes payload without sacrificing too much maneuverability.
3
Semitrailer End Dump Truck
A semitrailer end dump truck is a semitrailer whose trailer is connected to a hydraulic hoist that dumps the load from the trailer's back and that allows for an extremely large payload.
4
Semitrailer Bottom Dump Truck
A semitrailer bottom dump truck is a standard semi with a belly dump on its trailer. This belly dump has a dump gate like a clamshell that opens at the bottom of the trailer and can leave its contents in a linear heap (unlike standard dumping mechanisms).
A side dump truck – as the name implies – is a semi-truck that pulls a semitrailer with hydraulic rams that allow it to dump the contents of its trailer either to the right or to the left side, which results in very rapid unloading.
There are many kinds of dump trucks on our roadways, and because of their immense weight, their massive size, and the nature of their cargos, they are often associated with extremely serious traffic accidents.
Paz v. Airfax Logistics (settled on 5/26/2020) – settlement in a case involving a client who was involved in a trucking accident and sustained a traumatic brain injury and other trauma.
– 
Tina Eshghieh
Dump Truck Loads: The Heavier, The More Dangerous
Dump trucks play an important role in construction work, but the main function of this work is to make repeated hauls. In fact, many dump truck drivers are paid by the weight of their haul and by the number of hauls they can complete in a day. This leads to a variety of inherent dangers that make dump truck accidents that much more likely:
Being paid by the weight of one's load incentivizes truckers to overload their dump trucks.
The heavier the dump truck, the more difficult it is to maneuver safely and the longer it takes to bring it to a safe stop. Both of these factors can contribute to dangerous accidents.
Overloaded dump trucks are more likely to roll over in accidents.
Overloaded dump trucks are more likely to release dangerous debris on the roadway, which can strike cars and lead to extremely dangerous accidents.
Being paid by the number of runs made per day can incentivize dump truck drivers to fit in as many hauls as possible. This can lead to speeding and other forms of reckless driving – as well as driving under the influence of exhaustion.
Dump trucks and their drivers are held to the same exacting standards as big-rig trucks and their drivers are. The nuanced intricacies of these regulations are extremely complicated. If you are injured in an accident involving a dump truck, you need the professional legal counsel of an experienced California dump truck attorney.

Emperatriz Ayala
My husband had an accident 2 years ago, a 85 years old man hit him, the Arash law group works very well on my husband case that took 9 month and he won the case and my husband was happy with the results. A year later I got into an accident as well and I'm still waiting in my case is almost resolving and it's 9 months already. This people knows the law and they do their job right to help you out in getting the most for you to fight on your behalf. I strongly recommend the Arash Law firm they do things right in a efficient and professional manner.

Chris Zavala
Had a great experience with all the people at Arash law. Long story short was in a bad car accident. It was overwhelming and the whole process was a lot, but they kept me in the loop. They answered all my questions and gave me great advice. Couldn't be any happier. Would definitely recommend anyone looking for a personal injury lawyer. They'll guide you through the whole process!

Jill Smith
Having Arash Law handle my auto accident was the best decision I could have made. Everyone I interacted with was kind, professional and detail oriented. I am extremely happy with the outcome and would recommend them highly.

Joseph R. Porter
From start to finish, Arash Law firm is there every step of the way with close, constant, personal contact and attention. I never knew a Law firm could actually care so much for me as a person and what I was personally going through as well as the settlement I was going to recieve once my case was finally completed. Thank you to everyone at Arash Law for your ongoing support and communication. You are the ONLY firm I will ever recommend to someone who is need of a great attorny.

Monica Parra
I had an excellent experience with Arash Law. I will definitely recommend to my family and friends. I interviewed a few firms before deciding to work with Arash Law. What made my experience excellent was (i.e. head attorney being accessible to talk to and he answered all my questions and concerns, sensitive and thorough personel who completed in home intake & follow up process, being connected immediately to quality Physicians who addressed my injuries and recovery process, clear contract-read throughly to ensure its something you can commit to). Being in a car accident is a traumatic experience and I had a sense of peace knowing Arash Firm was walking with me throughout the whole process. Thank you Arash Firm for all your hard work and help. I am so grateful and appreciative for you all! 🙏 With Gratitude, Monica Parra
What Are Some Causes of Dump Truck Accidents?
Dump trucks are massive vehicles that are used to haul loose construction materials that include such things as sand, gravel, and concrete. Because they can haul a tremendous amount of weight, dump trucks are among the heaviest vehicles on our roads and are, thus, involved in some of our most deadly accidents.  There are certain physical qualities related to dumping trucks that make them more prone to dangerous accidents:
Dump trucks sit higher off the ground than do other vehicles, which makes them at far greater risk of being involved in dangerous underride accidents.
Dump trucks have massive blind spots – or no zones – all the way around them. This makes passing dump trucks or driving near them that much more dangerous (the dump truck driver can't see you when your vehicle enters one of its no zones).
The way that dump trucks are constructed leaves them with a high center of gravity in the dumper section and with a trailer that is relatively light – this can lead to physical imbalances that can cause unintended movement and even rollovers.
Because dump trucks are intended to dump their loads, some deadly accidents are caused when loads are dumped inadvertently or prematurely.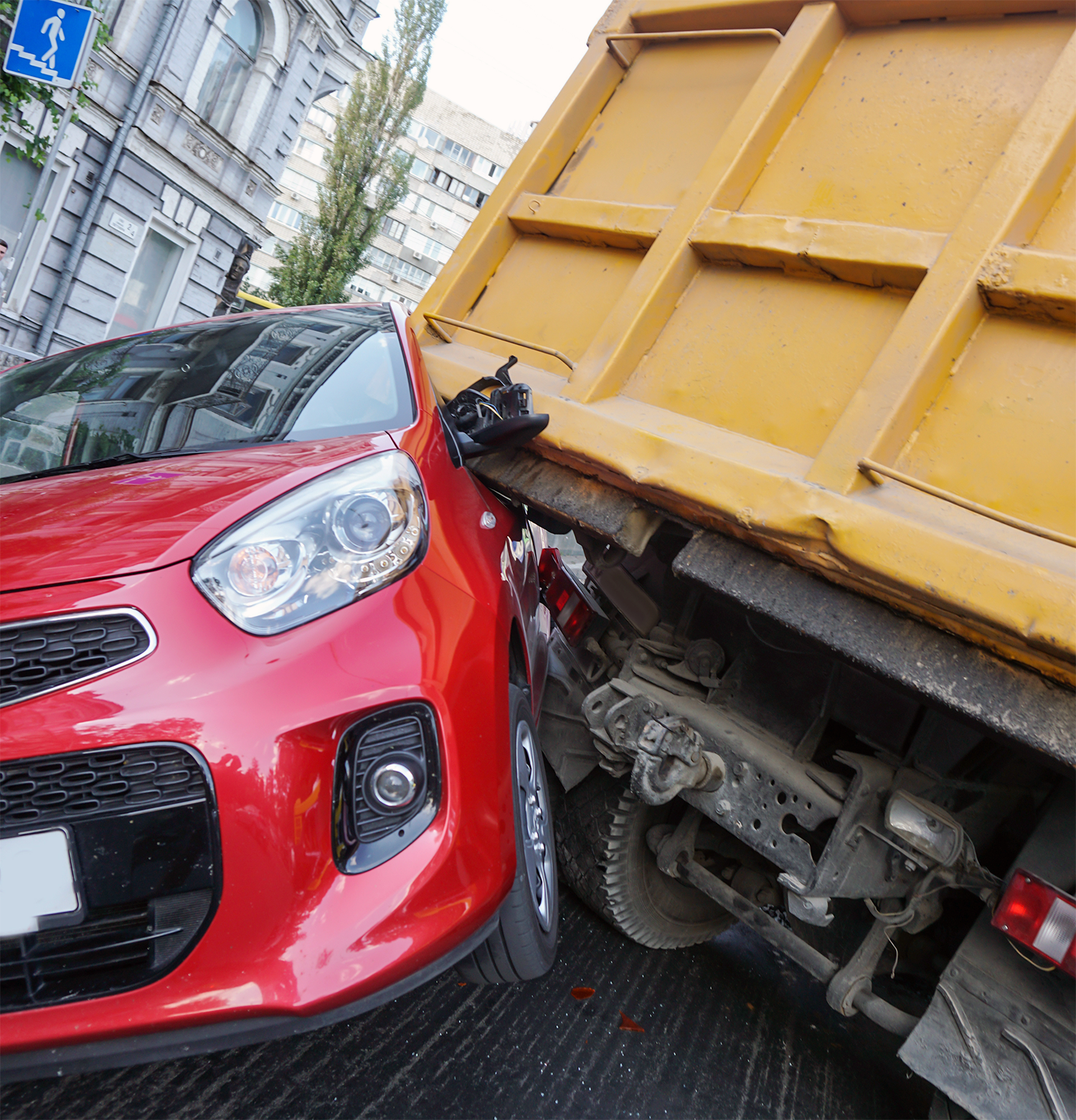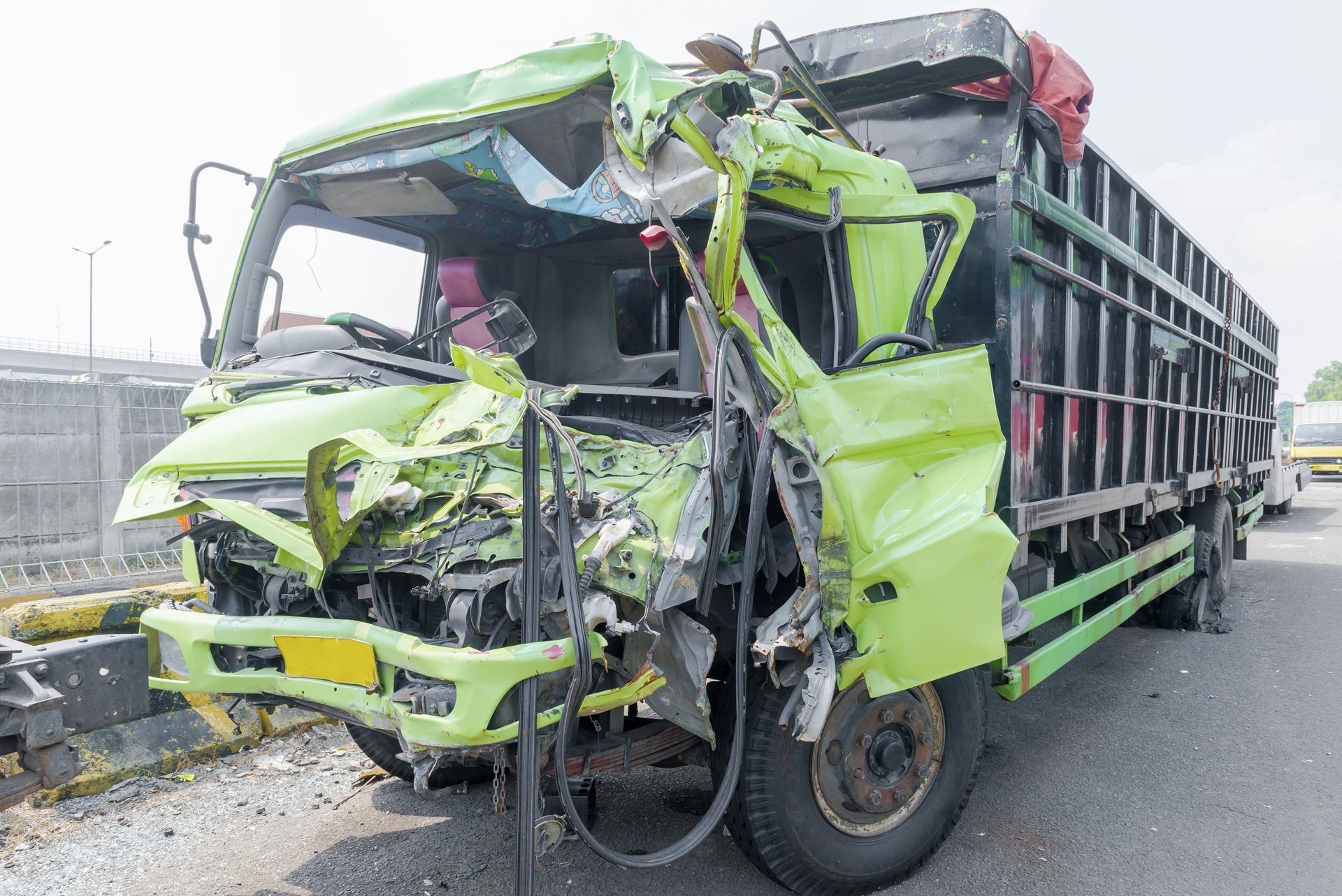 Who's Responsible for Dump Truck Accidents?
Every dump truck accident is caused by its own unique set of circumstances. There are, nevertheless, several major causes that often play a role in these dangerous accidents:
1
Dump Truck Driver Negligence
When a dump truck driver is negligent, he or she endangers everyone else on the road. These truckers are professional drivers who must adhere to stringent regulations in the course of their work. When they fail to do this, they are negligent and are likely to be held responsible for any accidents that occur as a result. Dump truck drivers who drive under the influence of alcohol or drugs, who drive while distracted, who drive while drowsy, or who do not follow all posted traffic signs and signals are dangerous drivers who are far more likely to cause serious, often deadly, accidents.
2
Poorly Maintained Equipment
Federal and state regulations require that dump trucks be maintained in good working order. This includes frequent regular maintenance. When the construction company fails to keep a dump truck in safe working order, it can lead to deadly accidents. The construction company is responsible for sending out road-worthy dump trucks, and it can be held legally accountable when failing to do so leads to an accident.
3
Faulty or Defective Manufacture
Heavy equipment like dump trucks must be manufactured with utmost integrity. When a manufacturer sends out an unsafe, unstable, unreliable, or otherwise dangerous machine, it can be held liable for any resulting accidents and injuries.
California's cities are generally responsible for keeping their roadways in a reasonably safe condition. If a fully loaded dump truck hits a particularly bad pothole, for instance, it can cause an incredible amount of damage. Conversely, if the dump truck swerves to avoid the unexpected obstacle, it represents another kind of obvious danger on the roadway. Malfunctioning traffic lights and signal can also lead to dangerous dump truck accidents. In such commercial accidents, the city's negligence can be cited in the legal claim.  
Dump truck accidents don't always take place on our roadways. Because it is the nature of dump trucks to dump extremely heavy loads at construction sites, accidents at these worksites are not uncommon.
What to Do if You've Been Injured in a California Dump Truck Accident
If you've been injured in a California dump truck accident, you are no doubt feeling overwhelmed. There are, however, some basic steps forward that it is helpful to know:
1
Seek Immediate Medical Attention
Even if you don't think you were seriously injured in the accident, seek immediate medical attention. The fact is that some types of dangerous injuries, including some traumatic brain injuries and some spinal cord injuries, don't present with symptoms until after they've become more serious and more difficult to treat. Remember that early diagnosis is very closely associated with improved prognosis, and always err on the side of caution.
2
Contact Experienced California Dump Truck Accident Attorneys
The sooner you consult with an experienced California dump truck lawyer, the better protected you and your legal claim will be. Dump truck accident claims are complicated, and the sooner your skilled dump truck accident attorney begins attending to your case, the better able he or she will be to gather and preserve evidence, to collect eyewitness testimony, to carefully research the details of the accident, and more.
If you've been involved in a dump truck accident, it's important to understand your role as you move forward. You are going to be hearing from an insurance company, but you are not obligated to give a formal, recorded statement. In fact, your dump truck accident lawyer will deal with the insurance company on your behalf. Further, you should not admit to being at fault regarding the accident. Your attorney will help determine who's to blame, and even if you are partially at fault, it does not mean that you can't collect on your damages. Finally, write down everything you can remember about the accident (in as much detail as possible) as soon as you have the opportunity to do so. In this way, you can preserve as much important information as possible before the stress of the situation begins to play tricks with your memories. This document can prove invaluable as your case progresses.
Dump Truck Accidents and Insurance Companies
Because dump truck accidents are often so serious, they can involve millions of dollars in damages. Insurance companies are in the business of turning enormous profits, and they are willing to invest their significant resources to avoid making gigantic payouts. In other words, the insurance company is not on your side.
In fact, the insurance company is likely to get started immediately in an attempt to disprove liability. Recovering fully on your damages, however, is critical to your ability to move forward on the path toward your most complete recovery. Your dedicated California dump truck accident attorney will skillfully advocate for your rights and for the compensation to which you are entitled.