California

Semi-Truck Accident Lawyers
PAY NOTHING UPFRONT

OVER $

500

MILLION RECOVERED

ZERO-FEES UNTIL WE WIN
You May Be Entitled to Compensation

California Semi-Truck
Accident Lawyers Helping Victims Receive The Maximum Compensation Possible – We're Available 24hrs!
If you or someone you care about has been injured in a semi-truck accident, you have endured one of the most terrifying, dangerous, and violent kinds of accidents that occur on our beautiful California roadways. In fact, it's difficult to overstate exactly how devastating such accidents can be. The negative consequences that arise from accidents involving semi-trucks usually include extreme physical, emotional, and financial damages.
If a semi-truck driver has left you or your loved one injured, or worse, in a traffic accident, you need the professional legal services of experienced California semi-truck accident lawyers. Our semi-truck accident law firm in California has been helping victims of truck accidents like you for several decades. Our dedicated semi-truck accident firm is committed to helping you obtain the compensation you deserve!
In fact, throughout our tenure, our firm has won thousands of cases and secured millions of dollars in damages for our clients. Our tractor-trailer attorneys are here to help, and we're available 24 hours a day and 7 days a week! If you've been injured in a commercial truck accident, don't hesitate to contact us – day or night at (888) 488-1391.
California Semi-Truck Basics
A semi-truck is only one of the terms used for the massive commercial trucks that roam our highways and byways. Other terms include big rig, 18-wheeler, tractor-trailer, and semi-trailer truck.
Whatever name you use, however, it refers to an extremely large, heavy, and cumbersome commercial truck that is comprised of two parts:
The tractor is the motorized front portion of the semi-truck that houses the driver's cab and which has a coupling device that connects it to whatever kind of cargo trailer is attached behind it. This coupling device works something like a hinge that allows the tractor and the trailer to move in unison while allowing some flexibility in that movement.
The trailer is the long rear portion of the truck that usually has a cargo area connected. Sometimes, tractor-trailers will pull more than one trailer, turning them into what some call "road trains" or "land trains."
Semi-truck accidents are exceedingly dangerous accidents, and semi-truck claims are exceedingly complicated claims. Your rights and the financial compensation to which you are entitled matter far too much, however, not to advocate for justice in your case aggressively. If a big rig leaves you injured, consult with a knowledgeable semi-accident attorney today.
Paz v. Airfax Logistics (settled on 5/26/2020) – settlement in a case involving a client who was involved in a trucking accident and sustained a traumatic brain injury and other trauma.
– 
Tina Eshghieh
Truck Drivers vs Non-Commercial Drivers in California
Truck drivers are professional drivers who move gigantic vehicles across the great State of California with increasing frequency. As such, these drivers are held to far more exacting state and federal regulations than are noncommercial drivers (like the rest of us).
The Federal Motor Carrier Safety Administration (FMCSA) maintains strict hours of service (HOS) regulations for professional truckers that carry hefty fines and penalties for noncompliance:
There is an 11-hour driving limit for professional truck drivers, which means that a trucker may not drive more than 11 hours after having at least 10 consecutive hours off duty.
After coming on duty following 10 consecutive hours off duty, truckers may not drive beyond a 14th consecutive hour, and additional time spent off duty does not extend this 14-hour maximum.
Professional truckers can't drive if more than 8 hours have passed since their last break from duty or from a break in the sleeper berth of at least 30 minutes.
Professional truckers may not drive beyond 60/70 hours in 7/8 consecutive days. A 7/8 consecutive day restart can only occur after being off duty for at least 34 consecutive hours.
Truck drivers are held to these strict rules and regulations for one very good reason: to help keep everyone on our roadways safer. Truck drivers make their livings by putting miles behind them, and the booming trucking industry sometimes pushes them beyond the parameters of established regulations.
The fact is, however, that overworked truck drivers are dangerous truck drivers. If a negligent truck driver leaves you or your loved one injured, you need the professional guidance that only a dedicated legal team at an 18-wheeler accident law firm can provide.
Semi-Trucks are Subject to Federal and State Safety Standards
Trucking accidents are so potentially dangerous that both the State of California and the federal government impose regulations from nearly every conceivable safety angle:
More restrictive standards for obtaining a commercial driver's license (CDL), which is necessary to operate a big rig
Far less tolerance for a commercial driver's use of alcohol and/or drugs – including testing for such usage
Strict regulatory standards related to the transportation of hazardous materials
Closely monitored requirements related to the safety standards and the physical health of commercial truckers and the safety standards of trucking companies
The trucking industry and its truckers are closely and carefully regulated by both state and federal government, but deadly accidents have not abated. The fact is that the trucking industry often cuts corners in an effort to continue to maximize profits, and this to the safety detriment of everyone on the road. If the trucking industry's negligence – in any form – leaves you or your loved one injured, call a reputable semi-truck crash attorney from California today.
Some Semi-Truck Accidents are the Result of Industry-Wide Safety Failures
Our nation's consumer-driven economy is fueled by the massive commercial trucks that traverse our roads. The goods that we continue to clamor for, after all, have to come from somewhere, and we have the trucking industry to thank. As the demand for consumer goods continues to increase, the trucking industry is under more and more pressure to perform.
The trucking industry is a multi-billion dollar industry that turns over massive profits, however, and it must adhere to strict rules and regulations to help keep everyone on our road-system safe. When the industry chooses to cut safety corners in order to keep up with demand and to improve their bottom line, they endanger motorists everywhere. Trucking companies have many responsibilities related to safety that they must consistently fulfill or risk being responsible for potentially deadly traffic accidents:
Providing the appropriate regularly scheduled truck maintenance required by federal and state regulations
Implementing all mandated equipment-safety checks
Hiring professional truck drivers who are well qualified and experienced
Hiring professional truck mechanics who are well qualified and experienced
Ensuring that every rig is safely and properly loaded for every trip
The trucking industry is critical to our economy, but it is also responsible for taking all the necessary safety precautions as it continues to grow. If a trucking company's negligence causes you to be injured in a tractor-trailer accident, call a skilled semi-truck attorney today.

Emperatriz Ayala
My husband had an accident 2 years ago, a 85 years old man hit him, the Arash law group works very well on my husband case that took 9 month and he won the case and my husband was happy with the results. A year later I got into an accident as well and I'm still waiting in my case is almost resolving and it's 9 months already. This people knows the law and they do their job right to help you out in getting the most for you to fight on your behalf. I strongly recommend the Arash Law firm they do things right in a efficient and professional manner.

Chris Zavala
Had a great experience with all the people at Arash law. Long story short was in a bad car accident. It was overwhelming and the whole process was a lot, but they kept me in the loop. They answered all my questions and gave me great advice. Couldn't be any happier. Would definitely recommend anyone looking for a personal injury lawyer. They'll guide you through the whole process!

Jill Smith
Having Arash Law handle my auto accident was the best decision I could have made. Everyone I interacted with was kind, professional and detail oriented. I am extremely happy with the outcome and would recommend them highly.

Joseph R. Porter
From start to finish, Arash Law firm is there every step of the way with close, constant, personal contact and attention. I never knew a Law firm could actually care so much for me as a person and what I was personally going through as well as the settlement I was going to recieve once my case was finally completed. Thank you to everyone at Arash Law for your ongoing support and communication. You are the ONLY firm I will ever recommend to someone who is need of a great attorny.

Monica Parra
I had an excellent experience with Arash Law. I will definitely recommend to my family and friends. I interviewed a few firms before deciding to work with Arash Law. What made my experience excellent was (i.e. head attorney being accessible to talk to and he answered all my questions and concerns, sensitive and thorough personel who completed in home intake & follow up process, being connected immediately to quality Physicians who addressed my injuries and recovery process, clear contract-read throughly to ensure its something you can commit to). Being in a car accident is a traumatic experience and I had a sense of peace knowing Arash Firm was walking with me throughout the whole process. Thank you Arash Firm for all your hard work and help. I am so grateful and appreciative for you all! 🙏 With Gratitude, Monica Parra
How to Find California Semi-Truck Accident Lawyers "Near Me"
If a big rig accident leaves you injured, you may find yourself wondering, "how can I find experienced semi-truck accident lawyers near me?".
The experienced semi-truck accident attorneys at Arash Law in California. – a semi-truck accident law firm in business founded by Arash Khorsandi for more than three decades are committed to helping accident victims like you recover on the full extent of your damages.
Tractor-trailer (semi-truck) accidents are extremely complicated, but our experienced tractor-trailer attorneys have the skill, knowledge, and compassion to aggressively advocate for your claim's most positive resolution. The fact is that semi accidents are more complex than traffic accidents involving non-commercial vehicles, and if you've been injured in such an accident, you need the professional legal counsel of an experienced semi-truck attorney.
Semi-Truck Accidents Can Leave Victims with Significant Medical Expenses
The 18-wheeler truck accident injuries are often far more serious than those of other types of traffic accidents in California, and the medical expenses associated reflect this fact:
Emergency care at the scene of the accident and emergency transportation to the hospital
Surgery and post-surgical care
Extended hospital stays and attendant care
Outpatient care
Appointments with medical professionals, including doctors, specialists, therapists, and counselors
Ongoing medical care and follow-up appointments
Prescription medications
Adaptive medical devices and medical equipment
Physical adaptations to the home
Home health care
These medical expenses add up very quickly, and the total is likely to be astronomical. Relying upon the insurance company to cover your expenses is not in your best interest; you need a skilled semi-accident attorney from California on your side. Our renowned semi-truck accident law firm will fight the insurance companies while you focus on your recovery.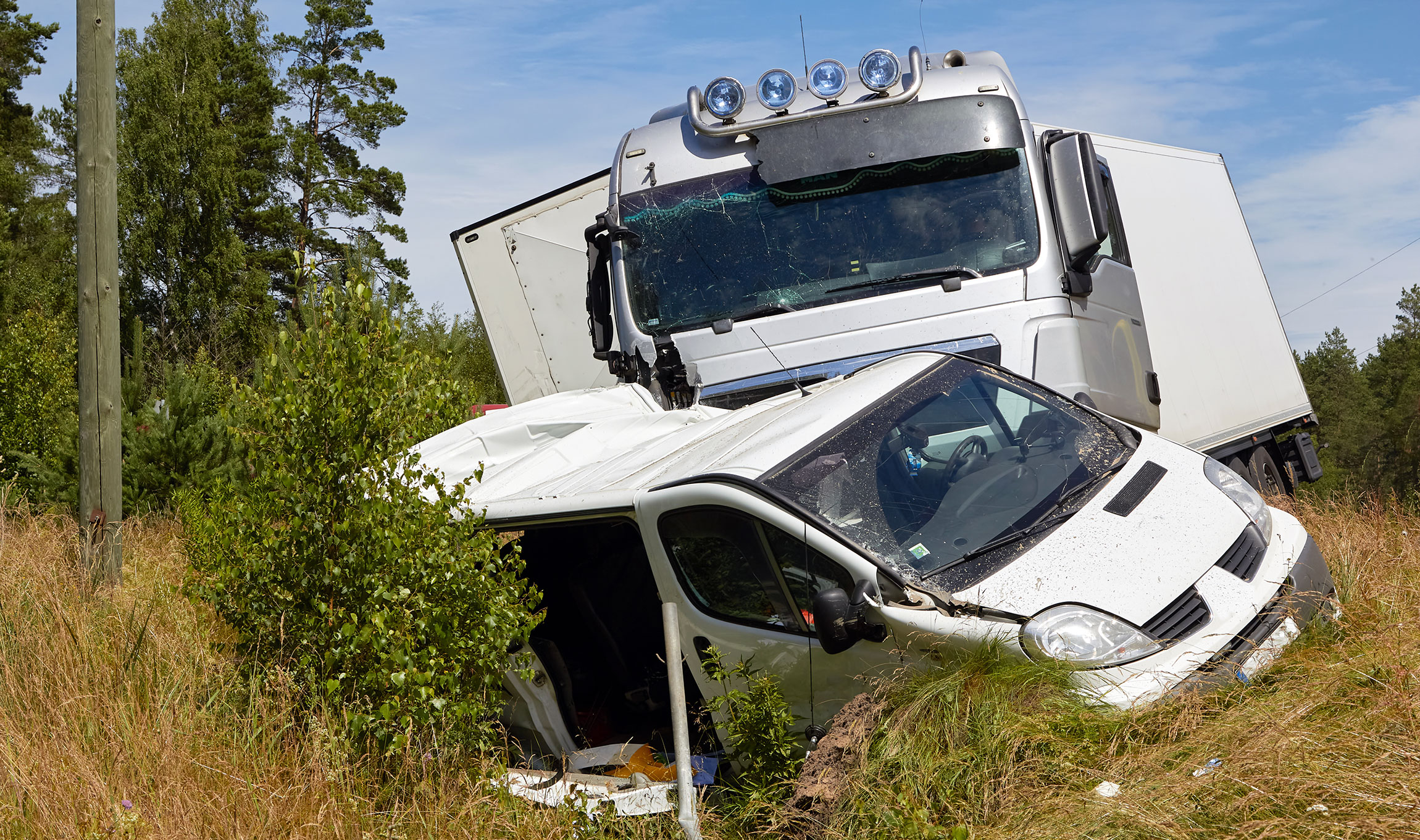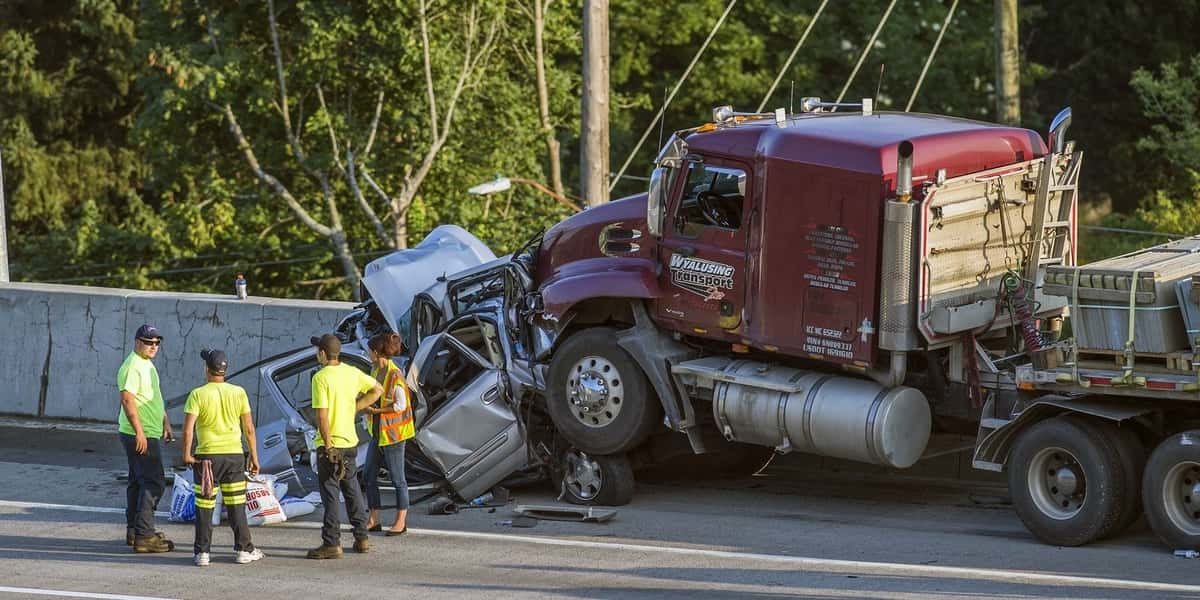 Work-Related
Expenses and Emotional Consequences of a Serious Semi-Truck Crash
The journey toward recovery after a big-rig truck accident is often long and winding, and it is very likely that you won't be returning to work anytime soon. In fact, many semi-truck accident victims aren't able to return to the careers they love. The work-related costs associated with commercial truck accidents can be immense:
Many lost hours on the job and subsequently lost wages
The inability to return to your current position
An altered career trajectory
A diminished earning capacity into your future
A permanent disability
The inability to ever work again
Most of us, to one extent or another, correlate our careers with our sense of selves, and when a violent semi-truck accident significantly alters or destroys that career, it can be emotionally devastating. Suffering a serious personal injury as a result of someone else's negligence – like a truck driver's or a trucking company's – is exceedingly difficult to come to terms with emotionally.
In fact, the emotional and psychological costs of these often deadly accidents can exceed even the immense medical expenses. If you or a loved one is the victim of an 18-wheeler accident, contact an injury firm with dedicated semi-truck accident lawyers today.
Common Truck-Related Causes of Semi Accidents in California
Trucking companies – and their truck drivers – to some extent – are responsible for maintaining rigorous safety standards, including rigidly scheduled maintenance and safety checks on their rigs. Failure to do so can result in deadly accidents on our roadways.
There are several common truck-related causes that contribute to many dangerous accidents:
The Truck's Tires — Massive commercial trucks are called 18-wheelers for one very important reason – they ride on 18 giant tires. These tires are what connect these immense and immensely heavy vehicles to the road, and as such, there is a lot of wear and tear involved. When a semi has a tire that is worn or otherwise defective, it can make it very difficult for the trucker to maintain control, which can lead to extremely dangerous driving conditions for everyone in the truck's midst. Further, a blown tractor-trailer tire often leaves dangerous debris on the road, which can lead to additional accidents. Large chunks of rubber and fast-moving traffic are a dangerous combination.
The Truck's Brakes — Because trucks are many, many times larger and heavier than noncommercial vehicles, they take that much longer to come to complete and safe stops, and their brakes get a good workout in the process. Semis have exceedingly complicated braking systems that must be kept in excellent working order for safety's sake. When they aren't or when these brakes are faulty, to begin with, it can contribute to very dangerous accidents.
The Truck's Coupling Device — A truck's coupling device is the hitch that connects the motorized tractor (which houses the trucker's cab) to the trailer that follows behind. The integrity of this coupling device is essential to a big rig's ability to travel safely over our highways. A faultily manufactured, damaged, defective, or worn coupling device can lead to horrific accidents, the gravity of which is difficult to overstate.
If you are injured in an accident caused by a truck with a defective part – whether it was caused in the manufacturing stage, by inadequate maintenance, and/or by inadequate safety checks – it's time to consult with a reputable California 18-wheeler accident law firm. Only knowledgeable semi-truck accident attorneys have the necessary experience and commitment to skillfully fight for the compensation that you need to travel the long and difficult path toward your fullest recovery.
Semi-Trucks Have Several Danger Zones
In addition to faulty truck parts, semi-trucks are so large and cumbersome that they have inherent danger zones that it's important to pay careful attention to:
Even though truck drivers sit high above the road and seemingly have a great view of everything on the road around them, they actually experience large blind spots on every side of their rigs. If you are traveling in a truck's blind spot, the truck driver can't see you and probably doesn't know you are there. In other words, when you drive in a semi's blind spot, you are in much greater danger of being injured. A truck's largest blind spot is on the trucker's right-hand side, and this makes it especially dangerous to pass on a truck's right – don't take the chance.
2
A Truck's Center of Gravity
Large commercial trucks carry massive amounts of cargo over many, many miles, and they're built for the long haul. Issues related to the center of gravity can be pivotal in semi accidents. The center of gravity can be affected by the truck's very design and/or by faulty loading practices often caused by the trucking company. This is due to Large commercial Truck drivers, and/or the loading crews attempting to cut corners, save time, and increase profits. When an 18-wheeler's center of gravity is compromised by any mitigating factor, it can contribute to or cause dangerous rollover accidents and can exacerbate the damage caused in any truck accident.
A truck's very design can contribute to potentially deadly accidents. Trucks that ride very high off the road can be especially dangerous for the tiny (by comparison) cars with which they share the road. This height discrepancy can lead to exceedingly dangerous underride accidents in which a car drives or is pushed under the truck and into its undercarriage. When it comes to the tractor-trailers with which we share the road, drivers of regular old cars are always at a distinct safety disadvantage. When big rigs are in your midst, always proceed with extreme caution – the life you save could be your own.
If you have been injured in a truck accident anywhere in California, it is in your best interest to consult with a skilled semi-accident attorney as soon after the accident as possible. While you attend to the difficult task of recovering your health, allow your dedicated semi accident attorney to fight for your rights.
Semi-Truck Accidents Are Unfortunately Common in California
Semi-trucks are everywhere, especially in rural areas of California and they aren't going away anytime soon. In fact, our economy is driven by semis that deliver all those consumer goods that we need – and want. Ours is a consumer-based economy, and the trucking industry coupled with consumer demand keeps things moving forward. As the industry continues to expand, the statistics related to commercial truck accidents forwarded by the Insurance Institute for Highway Safety (based on data from the U.S. Department of Transportation) continue to be more and more sobering:
Occupants of the noncommercial vehicles involved in commercial truck accidents have a far greater risk of being injured in a commercial truck accident than do truckers – these occupants made up 97 percent of all such fatalities in 2015.
In 2015, almost 4,000 people were killed in tractor-trailer accidents nationwide.
In the period from 2009 to 2015, the number of semi-accident fatalities rose by 22 percent.
In 2015, 11 percent of all traffic fatalities involved a tractor-trailer.
The fact is that semi-truck accidents happen, and they are often deadly. If your family has been affected by a fatal commercial truck accident, do not hesitate to reach out to a semi-truck accident law firm for professional legal guidance today.
Fatigued Semi-Truck Drivers Put Everyone at Risk of Serious Injury
It's a fact that the trucking industry continues to grow exponentially, and it often cuts safety corners in an effort to keep up and to keep the profits robust. In so doing, truck drivers – who make their livings behind the wheels of their rigs – can be pushed beyond the bounds of safely manning a massive 18-wheeler. While it's easy to recognize the pressure that these truckers are under, they are nevertheless responsible for adhering to all federal and state laws / HOS regulations.
Truckers who fail to do so are often fatigued, and fatigued truckers are dangerous truckers:
Fatigued truckers react less quickly and less well
Fatigued truckers have shorter attention spans and are more easily distracted (distraction is another critical danger)
Fatigued truckers are less alert
Fatigued truckers are more likely to make decisions that aren't safe – as evidenced by the fact that they chose to ignore HOS regulations in the first place
The trucking industry is ever-expanding, but it is charged with assuming the paramount responsibility of incorporating safety regulations in the growth process. When a trucking company puts profits before safety, they make our highway and byways less safe for everyone who travels upon them. If you are the victim of a tractor-trailer accident, you need the professional legal services of an experienced semi-truck attorney.
Distracted Semi-Truck Drivers are a Serious Public Safety Concern
Distracted truck drivers are another major safety concern. When we get behind the wheels of our vehicles, we shoulder the immense responsibility of driving safely, and one major component of this task is not allowing ourselves to be distracted by anything other than driving. Driving a large commercial vehicle safely is a trucker's job, but along with this primary task come many administrative tasks that involve keeping intricate log-books that record miles traveled, HOS, gas breaks, regularly scheduled safety checks, and more.
When truckers allow these additional work tasks to distract them from driving safely, they increase the risk that they will be involved in dangerous traffic accidents. Further, truckers are vulnerable to the same distractions that any other driver might be, including the siren song of the almighty smartphone. The difference is that truckers are professional drivers who maneuver potentially deadly machines over many, many miles, and it is unacceptable to eyeball one's phone while behind the wheel of a big rig.
Injured in an Accident? Consult with an Experienced California Semi-Truck Accident Attorney Today at (888) 488-1391
If an accident involving a tractor-trailer leaves you or someone you love injured, it's time to contact an 18-wheeler accident law firm. The dedicated legal team at Arash Law headed by Arash Khorsandi, Esq. in California has the experience, skill, and compassion to help guide your claim toward its best possible resolution. Your rights and continuing recovery are far too important to leave to chance – or the insurance company involved.
We have locations conveniently found throughout California with offices in Los Angeles, Sacramento, San Francisco, Riverside, Orange County, San Jose, and San Diego but are more than happy to meet with you at your home, office, or anyplace else in the state of C.A. We're here to help you 24 hours a day and 7 days a week – whenever you need us – so to find semi-truck accident lawyers near me, Call (888) 488-1391 today.