Glendale

Personal Injury Lawyers
with over $500 Million Recovered in Compensation for Injury Clients.
You May Be Entitled to Compensation

Our dedicated Glendale personal injury lawyers are focused on helping those individuals who have suffered personal injuries during accidents. Home to two hundred thousand people, Glendale is one of the major cities within Los Angeles County. Los Angeles County is home to millions of people, and many car accidents occur throughout Southern California. Two congested freeways include Highway 101 and Interstate 210, two places where car accidents often happen in Glendale, California. 
Accident victims who have suffered injuries during car accidents in Glendale, California, often find it difficult to assess what kind of compensation they are entitled to under the law. Many of these victims are still recovering from their injuries and feel uncertain about the future. If you have suffered a serious bodily injury during a car accident, you should speak to one of our Glendale personal injury lawyers. Our Glendale personal injury law firm has the experience and knowledge necessary to seek the financial compensation you deserve. 
We will review you case for free and let you know whether we believe you have a claim. You have many options when you choose a personal injury lawyer. We understand that you are facing financial strain, physical discomfort, and lost earnings. Choosing who to represent you is a decision that can affect your future. 
We devote significant time and energy to each client at our firm. We invest ourselves in our clients, and we offer exceptional legal representation. Many different factors and circumstances may cause accidents that lead to serious bodily injury. As you make your way to work one morning, you may get sideswiped by a negligent driver who travels through an intersection without stopping. 
You may also be walking in the grocery store and slip on liquid that causes you to fall and suffer serious bodily injury. You may need to deal with the consequences of your injuries even though you did not cause an accident. You will likely have significant medical bills if you undergo medical treatment for months. Missing time from work to recover from your injuries means you have lost earnings, which often causes financial strain.
You may be unable to participate in your favorite hobbies and activities. Also, you may suffer a temporary or permanent disability due to your injuries. If you are responsible for children or other dependents, you may realize that you can no longer care for them due to your injuries. If we lived in a perfect world, serious bodily injury and death would never occur. 
However, we live in a world where most accident victims need to retain a personal injury lawyer to stand up to insurance companies and seek a just settlement amount. Our Glendale personal injury lawyers are here help you seek financial compensation for your injuries.
Does v. California Farm (confidential) –settlement for a group of farmworkers who were killed when the car they were transported in to work flipped over in Merced County.
– 
BENNY KHORSANDI
Glendale Personal Injury Lawyers With A Proven Track-Record
Our Glendale personal injury lawyers want to make accident victims feel understood. We also focus on giving our clients the attention and devotion that will help them seek monetary compensation for their injuries. 
We form strong attorney-client relationships with our clients. Our personal injury lawyers are not unapproachable or intimidating. We challenge old-fashioned stereotypes of lawyers. 
Reasons to Retain a Personal Injury Lawyer at Our Firm in Glendale, California
We devote ourselves to helping accident victims seek financial compensation for their injuries. When you retain a personal injury lawyer at our firm, you can speak with your California personal injury lawyer any day of the week. You have suffered enough, and dealing with your physical recovery and the financial strain caused by your accident can be overwhelming. 
We will not add stress to your life as we provide you with legal representation. Some of the specific way that a lawyer can you after a injury-causing accident include:
Evaluating your case and determining whether you have a claim
Analyzing all of your economic and non-economic losses
Filing your claim with the insurance company
Negotiating with the insurance company
Taking your case to the court, if necessary
Financial compensation will never erase the painful memories associated with your accident. Our goal is to offer you the best legal representation possible. A personal injury case can be a stressful experience, but the personal injury lawyers at Arash Law led by Arash Khorsandi want you to overcome your injuries and recover financial compensation. 
Relationships are important to us, and our firm's personal injury lawyers want you to feel like you have an advocate on your side who is working tirelessly to help you seek monetary compensation for your injuries. We focus on personal injury law. You do not have to worry about anyone neglecting your case or failing to inform you of important updates regarding your personal injury action.
What Are Common Types of Personal Injuries?
Serious bodily injuries can affect a person physically, mentally, and emotionally. Cognitive impairment, loss of mobility, and muscle atrophy are just some of the possible consequences that can arise with personal injuries. The most severe types of personal injuries are known as "catastrophic" injuries, and they often cause temporary or permanent disability. 
Families, friends, and close acquaintances can all suffer when someone suffers serious bodily injury. Close relatives often have to provide care for the accident victim if in-home medical care is too expensive. The following are some of the most common types of personal injuries:
Injuries to the upper torso and shoulders often occur during car accidents. Neck, back, and head injuries are also quite common in slip-and-fall and car accidents. Accident victims who suffer these types of injuries undergo extensive surgical procedures often. 
Recovery periods may require months or years of rehabilitation. Individuals who recover from these injuries often find it difficult to perform the physical tasks they did before suffering personal injuries during an accident.
Burns often occur in preventable accidents. These often arise during accidents involving gasoline or other flammable liquids. Construction sites and industrial workplaces are places where burn injuries commonly occur. 
Doctors often treat burns with skin grafts and surgeries. Survivors often require psychotherapy, medication, and in-home treatment to recover from the trauma associated with burn injuries.
Slip-and-fall accidents, car accidents, and workplace injuries can all cause fractured bones. Accident victims may not know they have suffered a fracture until a medical professional sees them at the hospital. Depending on the severity of the fracture, physical recovery can take months. Fractured bones may sometimes be treated with surgical procedures.
Car accidents often expose drivers and passengers to shattered glass. Depending on the type of glass in the automobile's windshield, it is likely that debris from a car accident can cause vision loss. Accident victims who have trouble seeing may undergo surgical procedures. Physical therapy and vision aids may also be necessary to help the accident victim recover their vision.
800+ Real Client Reviews Verified by Google
The sudden impact of a car accident can damage the eardrums and the ear canals. Construction sites, industrial workplaces, and concert venues are also settings where accident victims suffer hearing loss.
Accident victims may sometimes lose one limb or several limbs during the accident or after surgical amputation. Prosthetic devices are often necessary to help these accident victims regain a modified form of control over their bodies. Amputations can produce unpredictable consequences for injured victims. Individuals may suffer from depression and anxiety due to the traumatic experience of suffering injuries during an accident and losing a limb.
Car accidents and other serious incidents can cause temporary or permanent paralysis. These injuries contribute to a victim's inability to experience sensations or control their body. Paralysis often causes psychological symptoms, including depression, anxiety, and post-traumatic stress disorder. Often, victims who suffer paralysis must undergo physical therapy, surgical procedures, and psychotherapy.
Spinal cord injuries are some of the most serious injuries accident victims can suffer. Fractured vertebrae can cause victims to suffer extreme pain. However, spinal cord injuries are more likely to cause an accident victim to suffer immobility and long-term disability. 
Hospitalization and surgery are often necessary to treat individuals who suffer spinal cord injuries. Extensive medication management is also often necessary to treat patients who suffer spinal cord injuries. Assisting a family member or friend who suffers a spinal cord injury can be overwhelming.
A traumatic brain injury interferes with the brain's processes and mechanisms. All traumatic brain injuries are serious, and these injuries can produce cognitive problems and structural damage to the brain. Individual victims often require in-home medical treatment, physical therapy, neurocognitive treatment, and pain medication.
Glendale, California Personal Injury Laws: The Basics
Personal injury is an area of law that concerns three subtopics of tort law: intentional torts, negligence, and strict liability. Most personal injury claims arise because of someone else's negligence. Determining whether a party is responsible for an accident victim's injuries is an important aspect of personal injury law. Also, accident victims are entitled to damages for their injuries, including economic and non-economic damages. 
Negligence law entitles the injured plaintiff to recover financial compensation from the defendant to cover economic damages such as medical bills and lost earnings. Strict liability refers to a legal doctrine by which victims can hold certain parties liable in the absence of negligence. Strict liability actions may include product liability cases, dog bite cases, and abnormally hazardous conditions.
Glendale Automobile Accidents
Negligence law covers many different kinds of tortious conduct. Several subcategories of personal injury actions exist, but car accidents are invariably one of the most common types of personal injury accidents. Drivers are legally required to drive reasonably and follow the law. 
However, many drivers fail to maintain this standard of care, and the breach of this duty causes an accident that leads to a victim's serious bodily injury. Negligent drivers may be responsible for the economic and non-economic damages they cause.
Accidents Involving Motorcycles in Glendale
Motorcyclists are often more vulnerable than drivers and passengers inside automobiles, trucks, and SUVs. Their exposure often causes motorcyclists to suffer serious bodily injuries during motorcycle accidents. Also, other motorists may have unfounded judgments regarding how motorcyclists behave while traveling. In some jurisdictions, motorcyclists do not have to wear safety helmets, and this factor can contribute to motorcyclists suffering more severe injuries. 
Glendale Trucking Accidents
Individuals injured during trucking accidents often require extensive surgery and physical rehabilitation. Tractor-trailers, transportation trucks, and commercial delivery vehicles are much larger than compact cars, small trucks, and SUVs. A truck driver must have adequate space to stop a large truck before striking another vehicle. 
Also, large trucks may turn over if they are unevenly or improperly loaded. High winds may cause a large truck to sway and topple over on the road. Drivers and passengers in smaller vehicles may suffer serious bodily injury or death if they collide with a truck. Trucking companies often pressure commercial truck drivers to make deliveries according to a strict and unwavering schedule. 
These conditions cause commercial truck drivers to engage in dangerous behaviors, including speeding, reckless driving, and distracted driving. Federal law regulates how often truck drivers can work. Truck drivers who attempt to circumvent regulatory directives may be more likely to cause truck accidents.
Accidents Involving Bicyclists on Glendale Streets
Many people who reside in Glendale, California, and Los Angeles County enjoy bicycling. Although the activity is healthy and exciting, many bicyclists do not realize their vulnerability when they bike near cars and trucks. Many drivers do not realize how close they are to bicyclists before it is too late and an accident occurs. 
Bicyclists are exposed to many dangers and are at a high risk of dying in a bicycling accident in California. Negligent drivers may have to pay financial compensation for the injuries suffered by bicyclists in Glendale, California. 
Glendale Pedestrian Accidents
Pedestrians are among the most vulnerable people on the road. While airbags, a vehicle's body,  and safety mechanisms protect drivers and passengers, pedestrians are vulnerable during a pedestrian accident. Accidents that do not appear dangerous can still cause pedestrians to suffer serious bodily injury or death. A pedestrian may suffer temporary or permanent disability after being struck by a vehicle.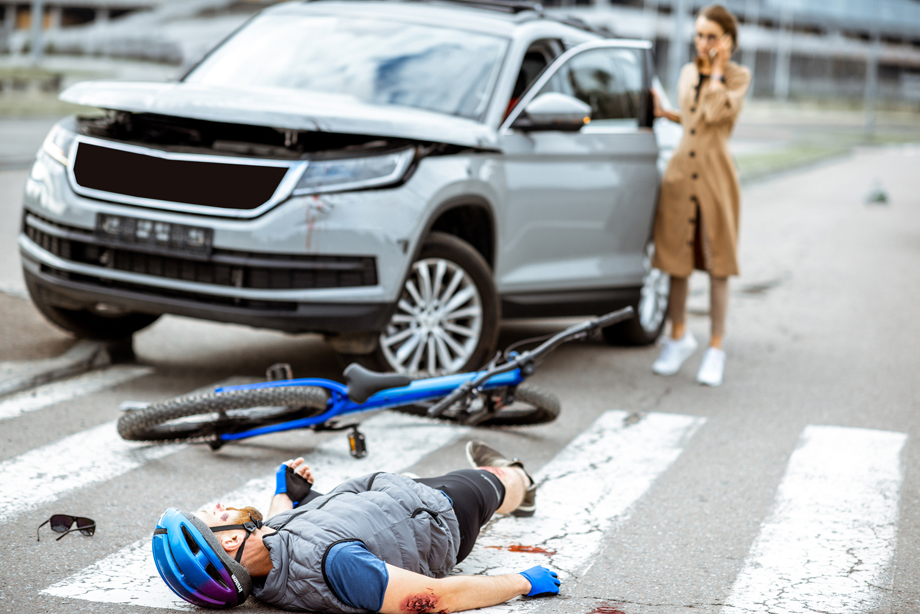 Sports injuries, car accidents, and slip-and-fall accidents can cause a victim to suffer a traumatic brain injury. A brain injury occurs when the head suffers a forceful impact. Cognitive impairment, emotional dysregulation, and memory loss can affect victims after a traumatic brain injury. In the worst cases, victims experience permanent disability and cannot engage with the world as they did before the accident that caused the traumatic brain injury. 
Often, victims who suffer spinal cord injuries experience temporary or permanent disability. Spinal cord injuries can occur during many accidents, and even seemingly benign incidents can cause serious spinal cord injuries. Paralysis, temporary disability, and quadriplegia are some consequences of spinal cord injuries. 
Unfortunately, many victims who suffer spinal cord injuries may be unable to return to the lives they had before the accident. The victims may require 24-hour medical care, extensive surgeries, and rehabilitation. Also, the medical bills associated with spinal cord injuries can be overwhelming.
Whiplash Injuries and Neck Injuries
The sudden back-and-forth motion caused by some car accidents can produce whiplash and serious neck injuries. Automobiles stopping on short notice during rear-end accidents and sideswipe accidents can cause drivers and passengers to suffer neck injuries. These injuries often cause migraines, inflexible shoulders, and neck soreness. Some victims may encounter sleepiness, nausea, and confusion. 
The death of a close family member or friend is emotionally devastating. A wrongful death claim is available to survivors who want to seek financial compensation for the loss of their loved ones. Wrongful death claims permit surviving family members to file a wrongful death claim and seek financial compensation. 
Premises Liability Actions
Owners and occupiers of land are typically property owners and landlords. These owners and occupiers of land must safely maintain the property. Also, the owners and occupiers of land must warn individuals of any abnormally dangerous conditions on the property. Landlords must make sure that common areas are clean and free of any dangerous conditions. 
Also, landlords must repair damaged parts of the property, store owners must keep their aisles free of hazardous conditions, and property owners must replace rotten wood and all damaged property. An owner of a property with actual or constructive knowledge of an abnormally dangerous condition and who does not warn others or prevent the condition from harming others may be liable for a victim's injuries.
Seeking Financial Compensation
It is not always straightforward to accident victims how they should seek financial compensation for their injuries. No two injuries are exactly alike, and one injured victim may require more rehabilitation or long-term care than another injured person. It can be difficult to ascertain the full costs of an individual's injuries. However, seeking financial compensation typically encompasses medical bills, lost earnings, and any other damages. 
These other damages may be economic damages or non-economic damages.  Some of the most common losses victims seek in personal injury cases include:
Current and future medical expenses
Lost income and earning potential
Property damage
Physical and emotional pain and suffering
2019: $27M confidential settlement in a case involving multiple plaintiffs.
– 
BRIAN BEECHER
Our Firm is a Compassionate Personal Injury Law Firm in Glendale
Accident victims sometimes suffer such severe injuries that their lives will never be the same. One main source of anxiety and stress-related to personal injury matters is the rising cost of medical care. An accident victim may require months and years of medical care by different general practitioners and medical specialists. When victims cannot return to work, it often compounds the extreme distress accident victims experience as they look for help. 
Accident victims may feel intimidated by insurance companies and their offensive tactics. Those who suffer personal injuries should not be overburdened with financial and emotional stress as they physically recover. Our team of personal injury lawyers is experienced, knowledgeable, and skilled. We will stand up to the insurance companies and seek financial compensation for your injuries. 
We can recover financial compensation for lost earnings, therapy costs, psychological distress, medical bills, and damage to personal property. You may feel frightened and anxious after suffering a serious bodily injury in an accident. You may not know how you will pay your medical bills or repair your finances. Also, you may want to know how to seek monetary compensation for these injuries. 
Fortunately, you can contact Arash Law and the team led by Arash Khorsandi and speak with an experienced Glendale personal injury lawyer. Our personal injury lawyers work on a contingency basis and do not accept a fee unless we recover financial compensation on your behalf.
Paying For Legal Representation in Glendale, California
The Glendale personal injury lawyers at Arash Law headed by Arash Khorsandi work on a contingency fee basis. Clients do not pay any retainer fees to us for legal representation. Our firm's personal injury lawyers pay for the costs associated with a personal injury case. These costs include travel to and from the courthouse, court filings, and other costs associated with personal injury cases. 
If we obtain a settlement or judgment on your behalf, then our firm will deduct a percentage of the financial award as a fee for legal representation. You will not owe us anything if we do not obtain compensation for you. In this way, you can have exceptional legal representation with no up-front costs.
Personal Injury Lawyers and Legal Fees
Lawyers in other practice areas may charge an hourly fee and a sizable retainer fee. Our personal injury lawyers in Glendale, California, use a contingency fee agreement to ensure that the client only pays a fee if we recover financial compensation on their behalf. This means that we will only collect legal fees if we win your case. In the event that you do not recover compensation, you will not owe us anything.
Schedule a Consultation with a Glendale Personal Injury Attorney Today
The Glendale personal injury lawyers at Arash Law led by Arash Khorsandi, Esq. understand how stressful and frightening it can be to deal with insurance companies after an accident. We have decades of experience representing clients in personal injury cases throughout California. Additionally, we have recovered over $500 million for clients in California.