California

Motorcycle Accident Lawyers
PAY NOTHING UPFRONT

OVER $

500

MILLION RECOVERED

ZERO-FEES UNTIL WE WIN
You May Be Entitled to Compensation

California Motorcycle Accident Lawyers: Turning Your Nightmare into Justice
Getting involved in a motorcycle accident can quickly turn your joyride into a nightmare. Our team of California motorcycle accident lawyers at Arash Law, led by Arash Khorsandi, Esq., is committed to pursuing justice and rescuing you from the wreckage of uncertainty. Call us now at (888) 488-1391, and let us guide you toward the favorable outcome you deserve.
At Arash Law, we aim to protect crash victims' rights and help them negotiate with large insurance companies that don't have their best interests at heart. With decades of experience handling these kinds of cases, our California motorcycle accident lawyers have set records and helped countless individuals recover after accidents similar to yours, recovering $500 Million in settlements so far.
We offer free consultations and work on a contingency fee basis, meaning we will only get paid after we win your case. Today marks your opportunity to take action – reach out to us, and let's join forces to shape a brighter future together.
Motorcycle Accident Statistics in California
Data from the National Highway Traffic Safety Administration (NHTSA) indicates motorcycle riders still face a higher risk of deadly accidents. In 2021, a total of 5,932 motorcyclists lost their lives, making up 14% of all traffic-related deaths. NHTSA's records highlight that this is the largest number of motorcyclist fatalities recorded since 1975.
29% of motorcycle operators who died in 2021 were found to be intoxicated.
Only 65% of motorcyclists in 2021 chose to wear helmets that meet DOT standards.
As a result, motorcycle riders are more likely to suffer fatal accidents when you consider the distance they travel. In 2021, motorcyclists' chances of dying in a traffic accident were about 24 times greater than people in cars.
Experiencing an accident can bring negativity into your life, but our California motorcycle accident lawyers are here to positively impact your journey to recovery. At Arash Law, you have nothing to lose by working with us, as we only charge a fee when we succeed in securing compensation for you.
Important Safety Tips for Motorcyclists
When riding a motorcycle, you are exposed to greater vulnerability from surrounding traffic. Therefore, it's crucial to be familiar with and adhere to the safety regulations:
Wear protective outer gear and a safety helmet that is DOT-compliant.
Be visible by wearing brightly colored clothing and clothing with reflective tape.
Have the appropriate licensure and training necessary in your state, and obey every traffic law.
Use your turn or hand signals to alert other drivers when you intend to change lanes, make a turn, or merge into traffic.
Keep your eyes moving. Don't just stare at the road ahead: check your mirrors and other views frequently.
Position both hands firmly but comfortably on the handlebars.
Never ride while distracted, exhausted, or impaired.
Ride in the middle of your lane (known as 'lane-splitting') so other drivers can see you better.
Tips for Safer Lane-Splitting
Consider the entire environment when lane-splitting; this includes:
Lane's width
Vehicle size around you
Current roadway
Lighting conditions
Weather
Remember that it is against the law to split lanes while riding on the shoulder. Furthermore, higher speeds and larger speed differences between vehicles elevate the level of risk.
In cases of motorcycle accidents, the expertise of our California motorcycle accident lawyers at Arash Law, led by Arash Khorsandi, Esq., is imperative. Our initial consultation is free, so don't hesitate to reach out to our personal injury law firm today!
Largest motorcycle settlement in Tulare County in 2021; client suffered spinal and wrist injuries.
– 
Judd Ross Allen
9 Common Types of Motorcycle Accidents and How to Avoid Them
Another vehicle turns in front of you
Another vehicle might unexpectedly turn in front of you due to their lack of attention or failure to notice your presence. Misjudgment of your speed could also lead to such incidents.
What you can do:
Develop a keen awareness of other drivers while riding your motorcycle. Stay vigilant and look for signs indicating the potential for another driver to turn in front of you.
Remember that you're much more likely to stay safe if you can slow down and maneuver around mistakes made by other drivers. By slightly decreasing your speed by 10 MPH, you can significantly decrease the chances of getting into a crash.
Another vehicle comes into your lane
Other drivers often pull into the traffic lane you already occupy. This commonly happens because motorcycles are difficult to see. Motorcyclists are perfect for fitting into blind spots, and most drivers will not bother to look out for you.
What you can do:
● Be mindful of patterns in traffic. If traffic slows, it is only natural for other drivers to make lane changes to keep going.
● Be alert to signals that another driver is getting ready to switch lanes. For example, pay attention to signals, drifting vehicles, drivers checking mirrors or glancing around, and turning wheels.
● Be aware of where blind spots are located. Know their location so you can do your best to avoid them.
You are going too fast at a corner
As you start turning, you suddenly realize the corner is sharper than expected. Although you understand you won't make it, it's too late to prevent a collision.
What you can do:
Slow down, and do not push your limits while on your motorcycle. Experts recommend that you focus on where you want your motorcycle to go and operate the controls as smoothly as possible.
Your front brake locks up
You are enjoying the freedom of the open road when suddenly, a deer jumps in front of you. Naturally, you hit the brakes but end up on the pavement while your motorcycle continues down the street.
What you can do:
Become a master of your front brake. Even though it is challenging to learn, it is crucial because this brake is the fastest way to decrease your speed in a pinch. Squeeze your brake lever whenever you need to make a quick emergency stop.
Another vehicle hits you from behind
You stop at a red light or stop sign, but the driver behind you doesn't. This often happens because they need to pay more attention and drive at high speed. Usually, they don't get much damage, but it can lead to severe injuries for a motorcyclist like you.
What you can do:
Regrettably, the only way to prevent getting hit from behind is to stay watchful of what's around you. If you must stop, try doing it on the side of the lane rather than in the middle. Tap your brakes to make your lights blink quickly and catch the driver's attention.
Group riding
When you share a lane with other bikers, riding close together can lead to the same crashes. It's not precisely called lane splitting, but the dangers are similar.
Each rider in your group should know and use the staggered arrangement to protect everyone. This way, everyone can see better, and riders can move out of line if needed.
What you can do:
Space is good when you ride around traffic or with your motorcyclist friends.
Slippery roads
The best road condition for motorcyclists is when it's dry. But in California, the weather doesn't always cooperate. Sometimes, you might have to ride when the road is wet and cold.
What you can do:
Get good tires that work well on wet and cold roads to be safer. Slow down, stay in control, and don't panic. Keep your focus on the road to avoid things in your way.
Watch out for other liquids on the road. If you spot something shiny and colorful, it's likely oil. Try to move safely around it. Road conditions are often worse in the first hour after rain because oil is on the water's surface.
A car door opens in front of you
As you travel along urban streets, parked cars line the right side of the road. Inattentive drivers frequently open their car doors without considering your presence, leading to a collision between your vehicle and their door.
What you can do:
Stay out of the lane between heavy traffic and parked cars. If you are about to hit a car door, brake as much as possible. Even if you cannot avoid hitting it, a collision at lower speeds is safer than higher ones.
Driving while under the influence of alcohol
According to the National Highway Traffic Safety Administration (NHTSA), up to 29% of motorcycle deaths involved alcohol-impaired riders at the time of the accident. There is no arguing that alcohol consumption reduces motorcycle safety.
What you can do:
Never drink and ride your motorcycle. This could harm your life and the lives of pedestrians and drivers. It's not worth the risk.
Need a motorcycle accident lawyer California trusts? Our legal team at Arash Law is here to guide riders through legal intricacies, aggressively pursuing rightful compensation after accidents. Contact us today at (888) 488-1391 for expert assistance! Our California motorcycle accident lawyers stand with you.
9 Essential Steps to Take After a Motorcycle Accident in California
After a motorcycle accident, you might feel confused and unsure, with lots of important questions. Whatever the situation, know that you can speak with one of the California motorcycle accident lawyers immediately about your injuries and the damage to your belongings. It is beneficial to consult a legal expert as soon as possible.
Here are the steps you should take after a motorcycle accident in California:
Stay calm
It's normal to feel worried after a crash or get very angry at the other parties involved. But remember, things you do and say right after the accident might not help you later. Stay calm, and don't say it was your fault.
Get to a safe location
If you can, move to the side of the road and wait for the police. If your vehicle is disabled, you should place it on the side of the road to prevent further accidents. Wait for the police and a tow truck if you cannot move it.
Check for injuries
Check for apparent injuries like cuts or fractures on yourself and others. Your legal duty is to remain at the scene until you know no one has been injured or requires assistance. Call for an ambulance immediately. Severe injuries may include traumatic brain injury and spinal cord injury.
Call the police
Ensure to inform the police about the accident to have an official record. They can gather crucial details about the other driver, road conditions, and what witnesses say.
Gather information
Even if the police officer takes notes, writing things down yourself is a wise choice. Get info like the other driver's name and insurance, especially if you're not hurt. If you need to go to the hospital, have a friend or family member collect the information.
Take photographs
Take photos of your motorcycle, the other driver's vehicle, the road, and your injuries. If there's anything else important, like a hidden stop sign or something in the road, take pictures of that, too. The more details you have from your accident, the better it is if your case goes to court.
Seek medical attention
Head to the hospital quickly after an accident; you may have overlooked significant injuries. Motorcycle accidents can harm your head or brain, and these injuries might not be immediately obvious. Hospital tests can detect such injuries before it's too late.
Keep documents organized
Make a folder with all the documents about your accident. This can include photos, medical records, a copy of the police report, statements from witnesses, and information about the other driver.
Organizing your documents before negotiating compensation with the other party's insurance company or pursuing legal action is helpful.
Contact our trusted motorcycle accident firm
You have two years from the date of your injury to initiate a personal injury claim. However, promptly consulting one of the California motorcycle accident lawyers can help protect critical evidence and uphold your legal rights.
Contact us at (888) 488-1391 to discuss the details of your accident. Our motorcycle accident lawyers provide comprehensive coverage across the entire state of California.
Recoverable Damages for Motorcycle Accidents
Damages refer to the financial cost of a motorcycle accident's physical, emotional, and psychological effects, including the injuries it causes. Compensation for affected motorcyclists varies based on the case, covering everything from medical costs to lifestyle adjustments.
There is no way to determine a claim's actual value without the assistance of a legal expert. By consulting medical and accident reconstruction experts, our California motorcycle accident lawyers at Arash Law accurately evaluate the full expenses of a motorcycle accident case. We are dedicated to securing just settlement for those impacted, putting in unwavering efforts on their behalf.
After a motorcycle accident, you may be entitled to various types of damages. These may include:
Medical expenses: This can cover hospital bills, doctor visits, medication costs, rehabilitation services, and any other necessary medical treatments related to your accident.
Lost wages: If the accident has caused you to miss work, you may be able to recover the wages you have lost. Whether temporary or long-term income loss, compensation for lost wages can help maintain financial stability during your recovery.
Property damage: If your property, such as your vehicle, has been damaged in the accident, you may be entitled to reimbursement for the repairs or replacement costs.
Pain and suffering: In some cases, you may be able to seek damages for the physical and emotional pain and suffering caused by the accident.
Loss of enjoyment of life: If the accident has caused you to lose the ability to participate in activities or hobbies that brought you joy, you may be able to seek compensation for the loss of enjoyment of life.
Punitive damages: In specific cases, you might qualify for punitive damages if the other party's actions are found to be highly careless or on purpose. These damages aim to punish that party and discourage similar actions in the future.
Factors Affecting Motorcycle Accident Compensation
The potential compensation you might receive following a motorcycle accident case in California depends on a variety of elements, which encompass:
Nature and Extent of Injuries The severity of injuries sustained plays a significant role in determining the settlement amount. This covers medical expenses, pain, and potential long-term impacts on your life.
Insurance Coverage: The compensation you might obtain can be affected by the insurance policies, including yours and the other party's.
Witnesses and Evidence: Providing strong evidence, such as witness statements and accident reconstruction reports, can enhance your claim and influence the damages or awards you receive.
Legal Representation: California motorcycle accident lawyers can help you obtain a higher settlement level during the compensation negotiation.
The presence of California motorcycle accident lawyers holds significant importance due to the complexity of determining appropriate settlement following a motorcycle accident. Thus, legal experts well-versed in these matters must assess the situation accurately, ensuring fairness throughout the process.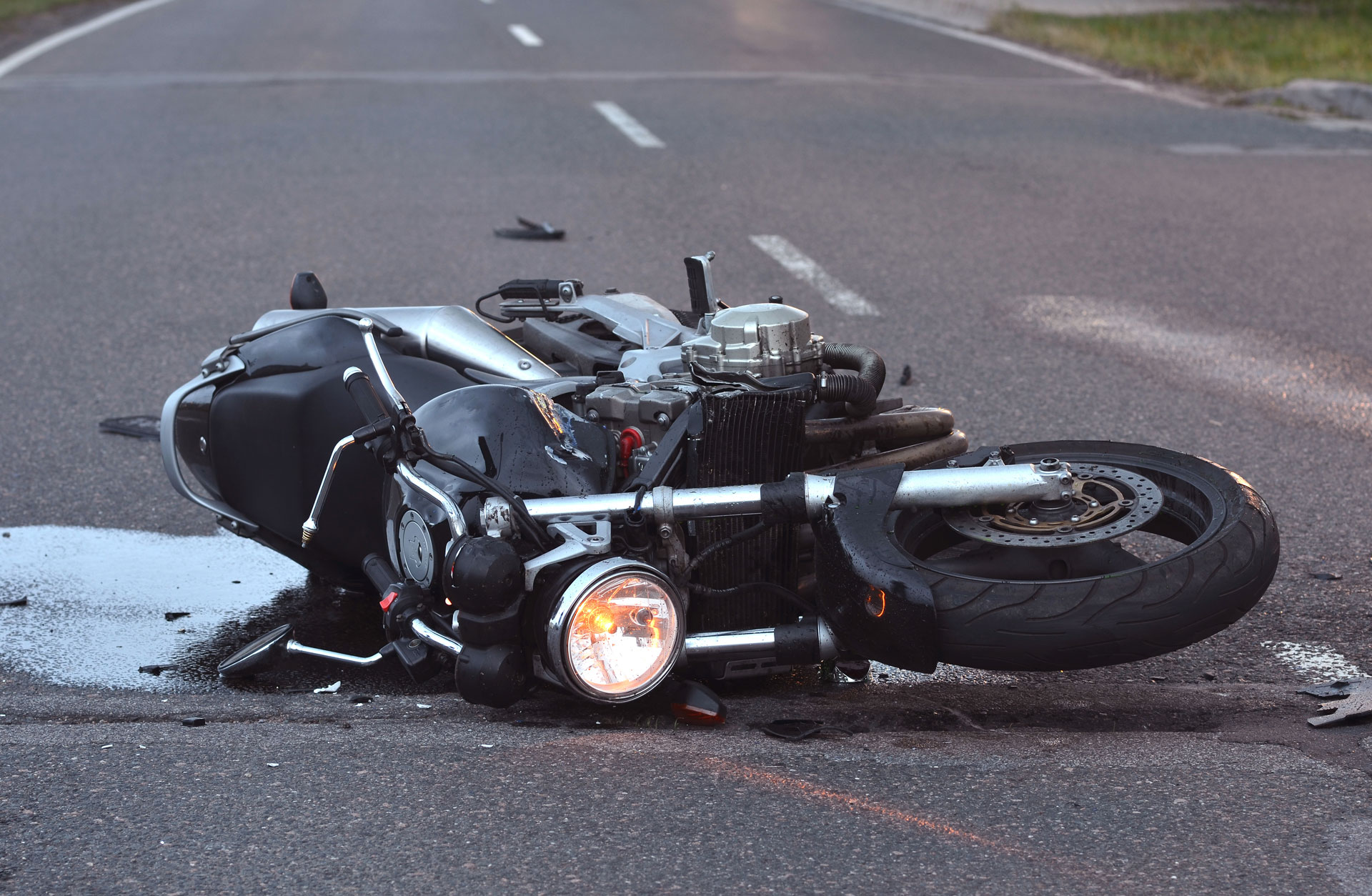 800+ Real Client Reviews Verified by Google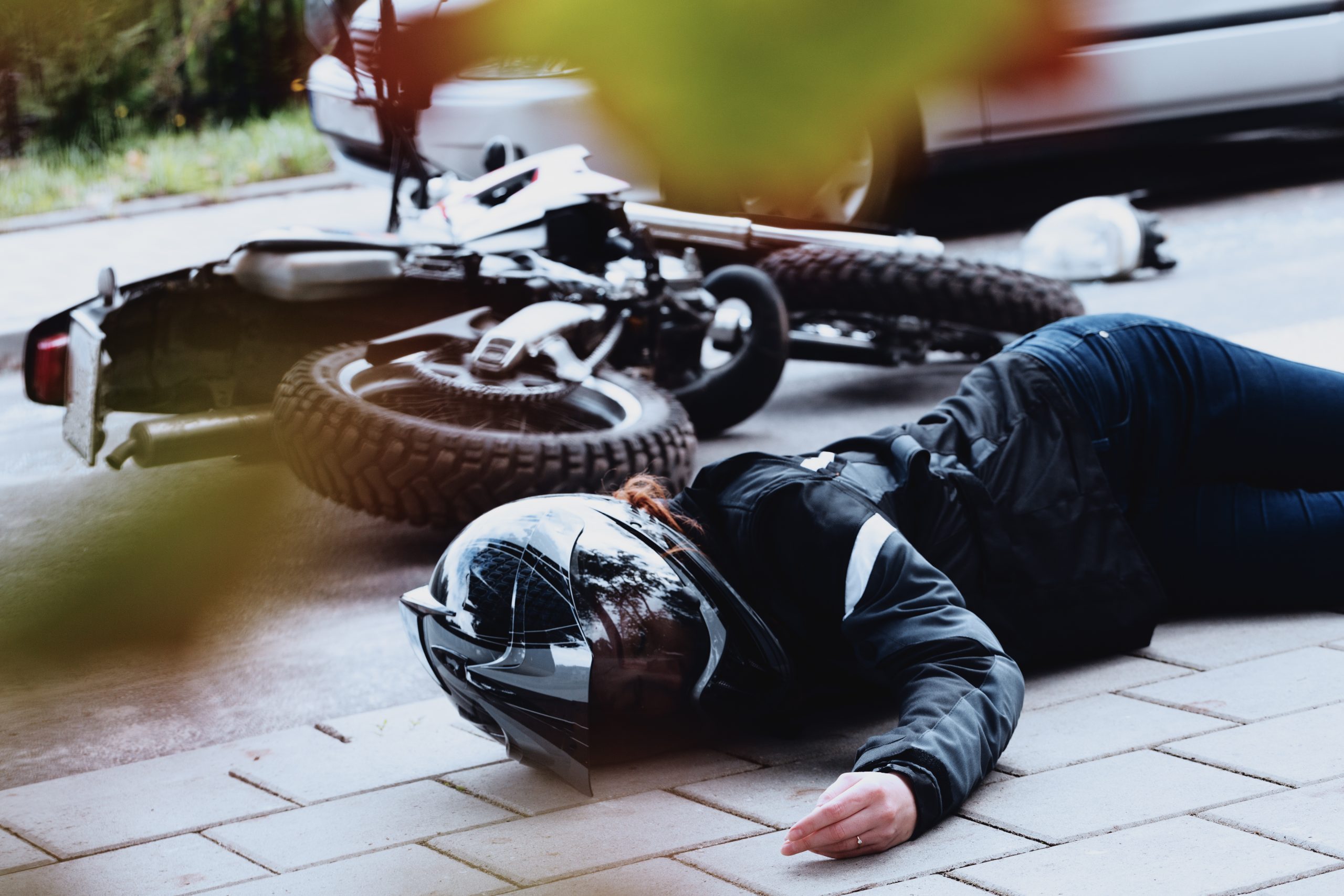 Proving Negligence Following Motorcycle Accidents in California
It is important to prove negligence in order to identify who was at fault and to obtain fair compensation for the victims. In these complex legal situations, having an experienced motorcycle accident lawyer in California on your side is beneficial.
At Arash Law, under the leadership of Arash Khorsandi, Esq., we are equipped with extensive knowledge of California's negligence laws and are available to advocate for accident victims seeking justice.
Four Components of Motorcycle Accident Negligence
Duty: All road users, including motorcyclists, must follow traffic rules and exercise care to prevent harm, establishing a legal duty to others.
Breach: A breach occurs when a party neglects their duty of care. This can include speeding, not signaling, or not yielding right-of-way, which violates the owed responsibility to others on the road.
Causation: This links breach of duty to harm. For example, if a speeding motorcyclist causes a collision and injuries, their actions directly cause the results.
Damages: This aspect encompasses the actual harm and losses experienced by the victim due to a breached duty. Motorcycle accidents cover physical injuries, property damage, medical costs, income loss, and emotional distress.
If you or a loved one has been hurt in a motorcycle accident caused by a negligent driver, it's important to know your rights to seek compensation. Our team of California motorcycle accident lawyers at Arash Law is always ready for immediate legal assistance.
The Benefits of Hiring a Motorcycle Accident Lawyer
Experiencing a motorcycle accident can be deeply distressing, often leaving victims feeling burdened by the aftermath. However, seeking professional assistance, like working with one of the California motorcycle accident lawyers, can provide valuable support in managing the legal complexities and protecting your rights during this challenging time.
The benefits of working with a motorcycle accident lawyer include:
Evaluating Claim: Lawyers assess your case's merits and potential value, guiding you on the financial recoveries you might be entitled to.
Gathering Evidence: Legal professionals gather crucial evidence, such as accident reports, medical records, and witness statements, to build a strong case.
Negotiating with Insurance Companies: Legal experts negotiate with insurance companies and other parties on your behalf to secure a fair settlement.
Maximizing Compensation: Our award-winning California motorcycle accident lawyers strive to maximize your compensation by accounting for all relevant damages, including physical, emotional, and financial.
Providing Legal Representation: Motorcycle accident lawyers represent you in court if insurance companies refuse to settle, ensuring your arguments are well explained and your point of view is understood.
Navigating Deadlines: Our reliable California motorcycle accident lawyers are well-versed in meeting legal deadlines and avoiding potential complications due to missed timelines.
Reducing Stress: Dealing with legal matters alone can be overwhelming; dedicated California motorcycle accident lawyers take on the legal burden, allowing you to focus on recovery.
We at Arash Law stand as your best choice due to our extensive experience and history of successful outcomes. Our California motorcycle accident lawyers prioritize clear communication, responsiveness, and a client-centric approach, ensuring your well-being throughout the legal process. With us, you're in good hands.
Frequently Asked Questions in Motorcycle Accident Cases
How much does a California motorcycle accident lawyer cost?
The cost of California motorcycle accident lawyers can range from a few hundred to several thousand dollars. Factors influencing the final expense include the attorney's experience, case complexity, and chosen fee arrangement, such as hourly rates or a percentage of compensation received. Most of the lawyers work on a contingency fee basis. They don't get paid until they win the case.
What is the average settlement for motorcycle accidents?
The compensation individuals receive following motorcycle accidents can significantly vary. This variance is influenced by factors such as the severity of injuries, the extent of property damage, and the unique circumstances surrounding each incident.
Consequently, a fixed sum cannot be predetermined, leading to a wide range of possible settlement outcomes. This underscores the significance of engaging California motorcycle accident lawyers, who possess the expertise to comprehend these intricate elements and ensure the accurate determination of possible awards or damages.
Do I have to go to court for my motorcycle accident?
Whether you require court involvement for your motorcycle accident case depends on the particular circumstances. In many cases, negotiations or alternative dispute-resolution techniques can achieve agreements outside of court. Nonetheless, the expertise of California motorcycle accident lawyers may become necessary for court proceedings if a mutual settlement cannot be reached.
How long will it take for my motorcycle accident case to be resolved?
The time it takes to resolve a motorcycle accident case will depend on various factors, including the case's complexity, the extent of your injuries, and whether or not liability is clear. Generally speaking, most cases are resolved within a few months to a year.
Can I receive compensation even if I wasn't wearing a helmet?
Yes, it is possible to receive compensation even if you weren't wearing a helmet during a motorcycle accident in California. However, the specific outcome could be influenced by various factors, such as state laws, the extent of your injuries, and the circumstances of the accident. This is where the need for experienced California motorcycle accident lawyers becomes evident.
Reach Out to Us After a Motorcycle Accident – We're Here to Support You Every Step of the Way!
We at Arash Law understand that no amount of money can bring back your physical health after an injury or reverse the loss of a loved one after a motorcycle accident. However, we believe that financial recoveries can make a significant difference in securing your family's financial future.
Our California motorcycle accident lawyers' main goal is to assist you in seeking justice, compensation, and a sense of closure following a debilitating injury or the heartbreaking loss of someone dear to you due to a motorcycle accident.
Whether the accident resulted in severe injuries and disability for you or a family member's tragic death, don't hesitate to contact us at (888) 488-1391 to set up a free consultation, no matter where you are in California. We have offices in convenient locations such as Los Angeles, San Diego, San Francisco, and Riverside. Additionally, we provide services in areas including Irvine, Orange County, Fresno, and Sacramento, just to name a few.